To achieve the best results, whether it's for your home painting, contracts, or any other assigned project, the type of paint sprayer you'll use will determine the success and results of your work.
Therefore, it is critical to understand which is the best paint sprayer that will make your job easier and more effective at an affordable cost.
The Wagner Control Pro 130 Power Tank Paint Sprayer is here for professional results and can be used to spray various latex materials and paints.
It is still ideal for projects small and large, such as painting or staining interior walls, garages, houses, decks, and sheds.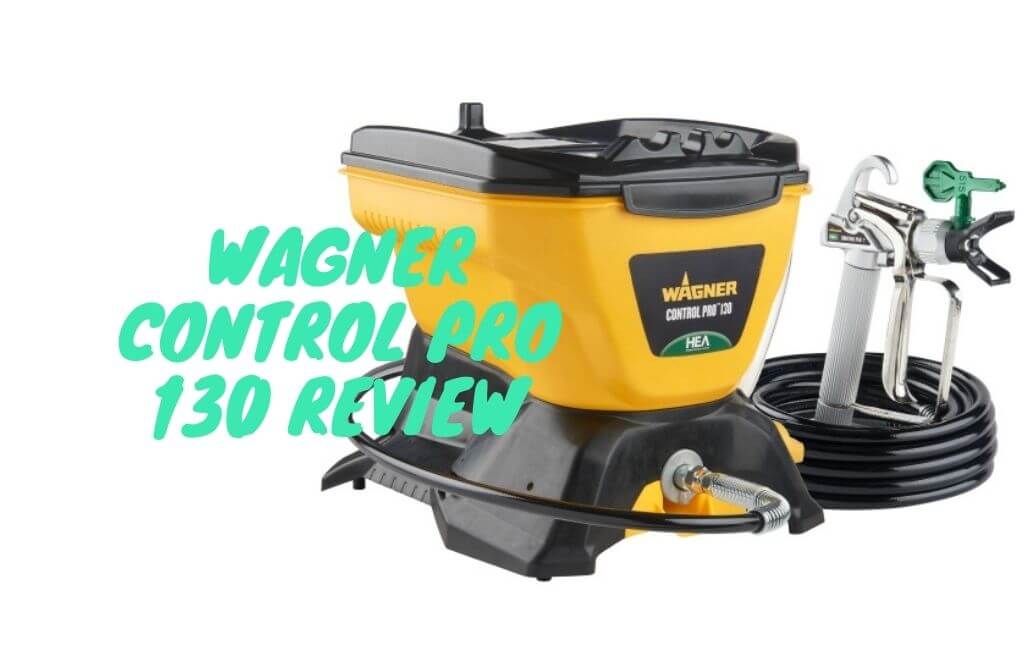 Among the different types of sprayers, airless sprayers are the best choice for painting large projects. Our Wagner Control Pro 130 review will recommend you to one of the best airless paint sprayers on the market.
In this Wagner Control Pro 130 review, we will reveal everything you need to know about this product. We'll also talk about who the tool is designed for, what painting tasks it can perform, what users are saying about it, and its pros and cons.
Introduction to the Wagner Control Pro 130 Paint Sprayer
Wagner is a big name in the paint spraying game for making inexpensive options that are generally best suited for home improvers.
Wagner SprayTech is recognized as the market leader in advanced paint applicators, having originally been founded by Josef Wagner in Germany in 1953.
Still, if you're an average user looking for an affordable way to put a lot of paint on, the Control Pro 130 might look attractive.
Wagner Control Pro 130 Review
This is a personal use airless paint sprayer that is great for both indoor and outdoor projects.
If you are looking for a DIY spray painter to paint your house, the Wagner Control Pro 130 paint sprayer may be a great tool for you.
It can be beneficial if you plan to hold the device and take it with you, but for me personally, it's not a great feature, mainly due to the low capacity, but also because I love the convenience of spraying directly from a paint bucket.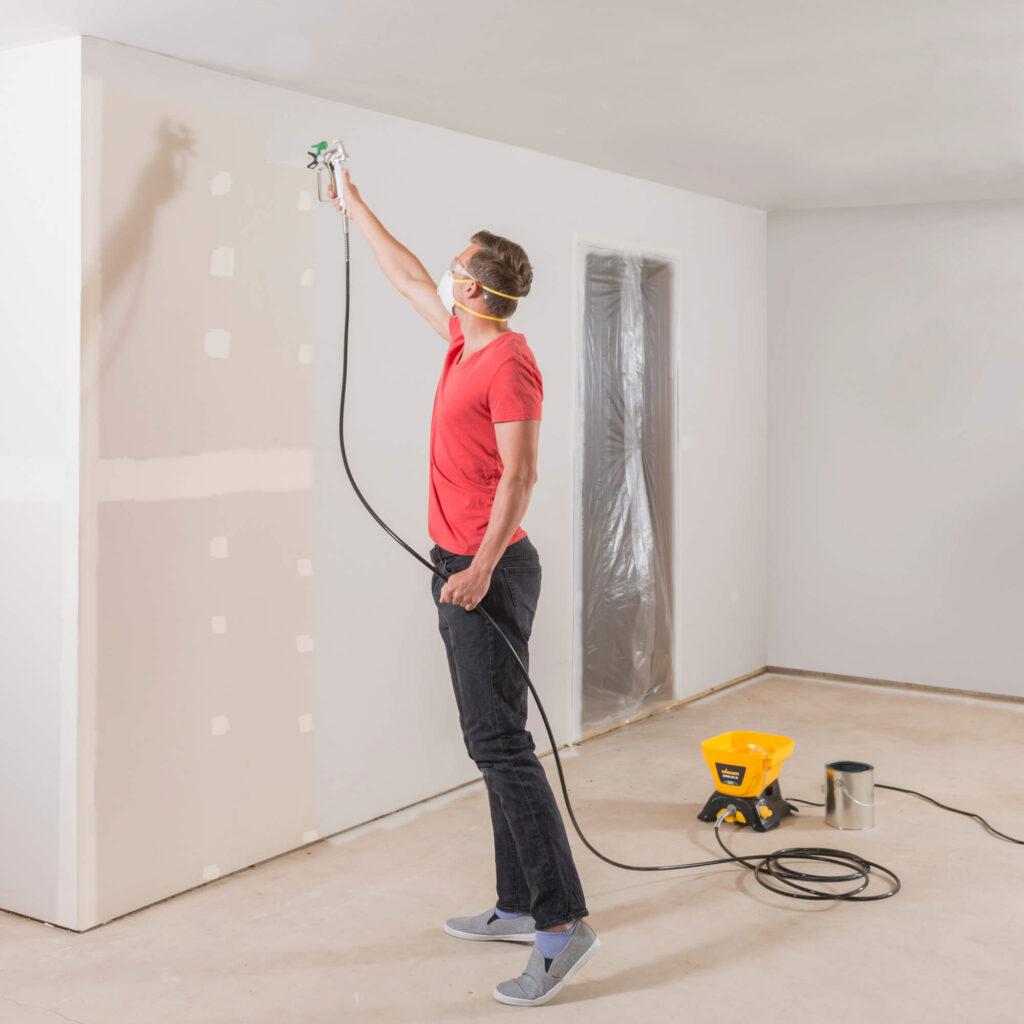 It has a large 1.5-gallon pail of paint and a gravity feed spray gun that allows you to work significantly faster.
It has a 25-foot hose, though it can hold a 50-foot hose, and it holds 1.5 gallons of paint at a time, making it easy to do medium-sized projects without refilling the hopper.
This is a Wagner airless paint sprayer with high-efficiency airless technology that has 55% less overspray compared to other types of paint sprayers.
For a stationary paint sprayer, you might consider the Wagner Control Pro 130 Power Tank Airless Supported Paint Sprayer.
Who is this for
There are plenty of projects that the control pro 130 power tank paint sprayer can work perfectly on; They include:
Basement Renovations
Painting basements has never been easy, as most basements are used infrequently, and when used, they perform some demanding tasks; therefore, special attention is needed when renovating them.
The control airless paint sprayer can make your job easier by reducing a lot of mess with little overspray, which occurs when painting indoors. One can easily paint the remodeled basement or the interior of any home with confidence.
Painting large decks
Everyone would love to get a more professional finish on their decks during renovation. The pro 130 control provides enough control with gentle spray patterns to ensure you get the best results every time.
Well-painted terraces always give your place a feeling of elegance and beauty that reflects the interior.
Painting the exterior of the house
Most home exteriors are always large and long, making them more difficult to paint with typical paint sprayers.
With the Wagner Control Pro 130 Power Tank paint sprayer, this has been made easier; It has a 25-foot hose that can reach two stories high. High-efficiency Airless technology guarantees a perfect finish that resembles superiority and perfection.
Features of the Wagner Control Pro 130
When you're new to the paint industry, searching for the best paint sprayer for your projects is likely to be overwhelming.
With the many brands and features, there will be great chances for confusion, but with the proper knowledge of what you are looking for, you will return home with the best paint sprayer and greater confidence in the job you are going to do.
The Wagner Control Pro 130 Power Tank paint sprayer has the following key features: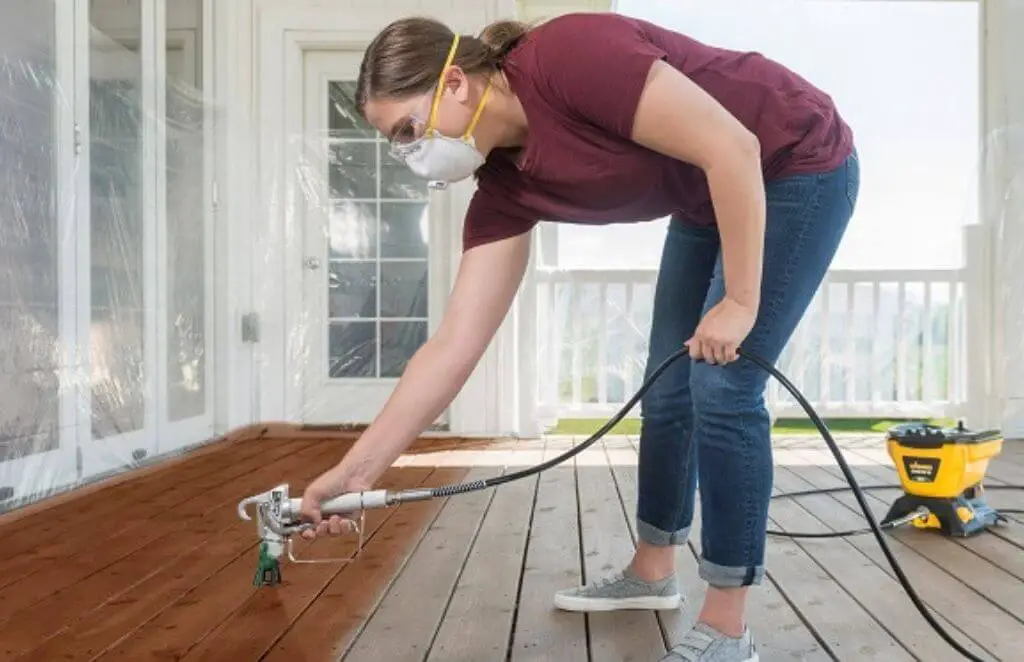 High-efficiency airless technology
One of the disadvantages of airless paint sprayers is overspray. However, due to its 515 high-efficiency airless technology (HEA), not only overspray and waste are reduced by up to 55%, but the coatings are also thinner and the end result will be smoother.
The specially patented high-efficiency technology developed by Wagner SprayTech uses a smoother spray fan pattern.
Features up to 55 percent less overspray than competitive airless sprayers. This means less time spent gluing and masking before starting a project, and of course less waste means less paint is needed.
A lower overspray makes the Control Pro 130 a great option when you need to bring a spray painter indoors. With less mess when painting, it would be ideal for quickly painting a remodeled basement, including the floors or interior of any home.
The advanced design of the gun and professional-grade spray tip means you can spray a two-meter by three-meter wall in less than two minutes.
The spray gun is connected to a 25-foot hose. This offers an easy two-story reach when working on larger home or exterior projects. No more scrambling up a ladder and trying to balance a container of paint to reach those higher levels.
Ease of Use
What makes the Wagner Control Pro 130 stand out to many users is how simple it is to set it up.
Since all parts are contained within the hopper, you can take this sprayer out of the box and be ready to go in minutes.
Many airless sprayers involve balancing a suction cup on a paint bucket. However, with this hopper machine, you simply pour the paint directly into the tank.
Best of all, the spill-resistant cap helps keep residue out of the paint while you work continuously. With the lid securely in place, moving the tank is effortless.
It is much easier than conventional cart-style holders that have an open paint can at the bottom. And there's no chance of knocking over a can full of paint, whether it's yourself or a curious cat or dog.
Quick and Easy to Clean
The cleaning process of this compact airless spray painter is as easy as setup.
Simply wash the hopper with fresh water and rinse it to make sure it is ready for the next job. The spray gun and tip are easily disassembled and flow is reversed to relieve any built-up pressure.
With integrated handles and tip storage, the gun and hose can also fit comfortably inside the hopper for storage.
Great Power
Thanks to its high flow rate of almost 0.3 gallons per minute, the Wagner Control Pro 130 is a commercial-grade that can handle large house painting projects.
Specifically, the maximum pressure of 1500 PSI allows the Control Pro 130 to achieve the capacity to spray 175 gallons per year.
Additionally, the Wagner Control Pro 130 can apply coatings 3 times faster than a low overspray roller. Therefore, it is suitable for painting the exterior or a large terrace, etc.
Due to the 0.55 horsepower of the airless pump and five pressure levels, the Wagner Control Pro 130 can be used in conjunction with undiluted media such as stains, oil, chalk, and latex-based paints.
Durability
Whether you paint professionally or as a hobby, any extensive use of the paint sprayer can put additional stress on the device.
Although the manufacturer claims that they produce a pump that is up to 3 times more durable than the pump of their closest competitors, some parts of the pump will inevitably suffer some damage after use.
One of the vulnerable points of airless sprayers is the connection between the hose and the pump. To minimize this weakness, the manufacturer has equipped the Wagener Control Pro 130 with a stainless steel hose protector that helps strengthen the weak point.
Plus, the flowable composition can be removed, so you can clean it thoroughly after your project is done. As a result, the durability of the machine is increased.
What do users say about the Wagner Control Pro 130?
The Wagner Control Pro 130 has received fantastic reviews.
They are especially pleased that it accepts normal paint and even primer without any dilution. This can save a lot of costs since most paint spray systems only use special paint.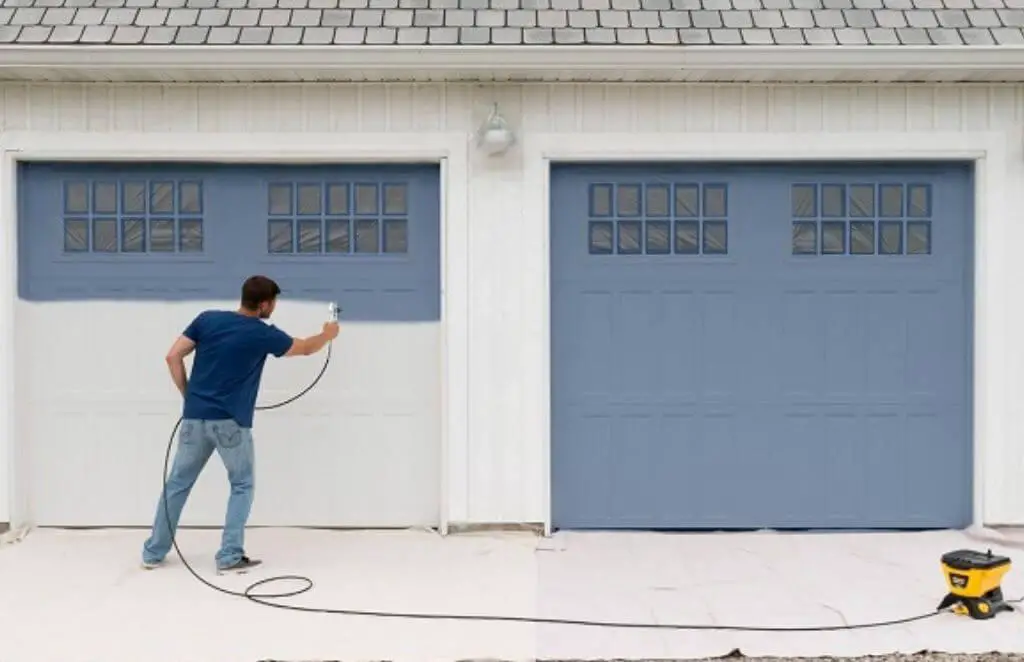 It allows you to finish large painting projects right in your own home without having to worry about finding a suitable paint sprayer store or hiring a professional right away.
You can do everything yourself! Of course, there are always some downsides.
Another reviewer mentioned that this unit doesn't have much power for bigger projects.
Overall, however, most users are delighted with their purchase and recommend it to anyone looking for an easy-to-use paint sprayer at a reasonable price.
Wagner Control Pro 130 FAQs
Is spraying with a Control Pro 130 Airless Sprayer better than rolling?
In the past, paint spraying was known to be faster, but it often involved more extensive prep work. Lamination was always slower, but it was thought that it would result in a better quality coat of paint.
Modern, high-efficiency airless technology, such as that employed by the Wagner Control Pro 130, ensures that more paint adheres to the surface.
How do I know what size spray tip to use?
The coating manufacturer determines the size of the spray tip. You can find the information in the application section on the paint can or pail.
If you cannot find this information, you can contact the paint manufacturer to inquire about the recommended spray tip size.
Although there is a general guideline regarding spray tip size on page 12 of the owner's manual, the above guidelines will provide you with a more accurate size.
Do you have to thin paint for the Wagner Control Pro 130 Sprayer?
No. The Wagner Control Pro 130's gravity feed hopper means you can use almost any material without the need for thinning.
You can pour oil-based paints, enamel paints, latex paints, primers, and sealers directly from the can. The only thing you may need to change is the spray tip depending on the material you use.
Is there a roller attachment available for the HEA sprayers?
Unfortunately, a roller attachment is not available for HEA sprayers.
Do not spray or wipe with liquids that have a flashpoint below 38 degrees Celsius.
Can the HEA sprayer be used with 220volt?
HEA sprayers have a minimum 15 amp circuit and are designed for use at 115 volts, 60 Hz.
In case you want to use a sprayer internationally, you can find a dealer or search for Wagner 220 volt models on their website.
Conclusion
If you want all of your projects to be a success, consider the Wagner Control Pro 130 Power Tank Paint Sprayer, it ensures efficiency and you can trust it.
Our Wagner Control Pro 130 review shows that this paint sprayer model is a perfect choice for home improvers who need a prosumer-level machine for large-scale projects.
The Wagner Control Pro 130 aims to address the problem of overspray with innovative, high-efficiency airless technology. This is intended to reduce overspray rates by up to 50 percent.
However, the Wagner Control Pro 150 would be a better option for experienced sprayers.
Hopefully, after reading this review, the decision will be a lot easier for you.
If you are considering purchasing a high-power paint sprayer, be sure to check out Wagner's amazing control pro 130 paint sprayer today.