Deciding if a paint sprayer is the ideal tool for your paint job is only half the problem. The other is to understand the different types of paint sprayers and select the most suitable for the project.
Fortunately, most paint sprayers will hack you into different paint jobs around your home. You'll apply and get the job done in less time compared to traditional painting tools.
What is a Paint Sprayer?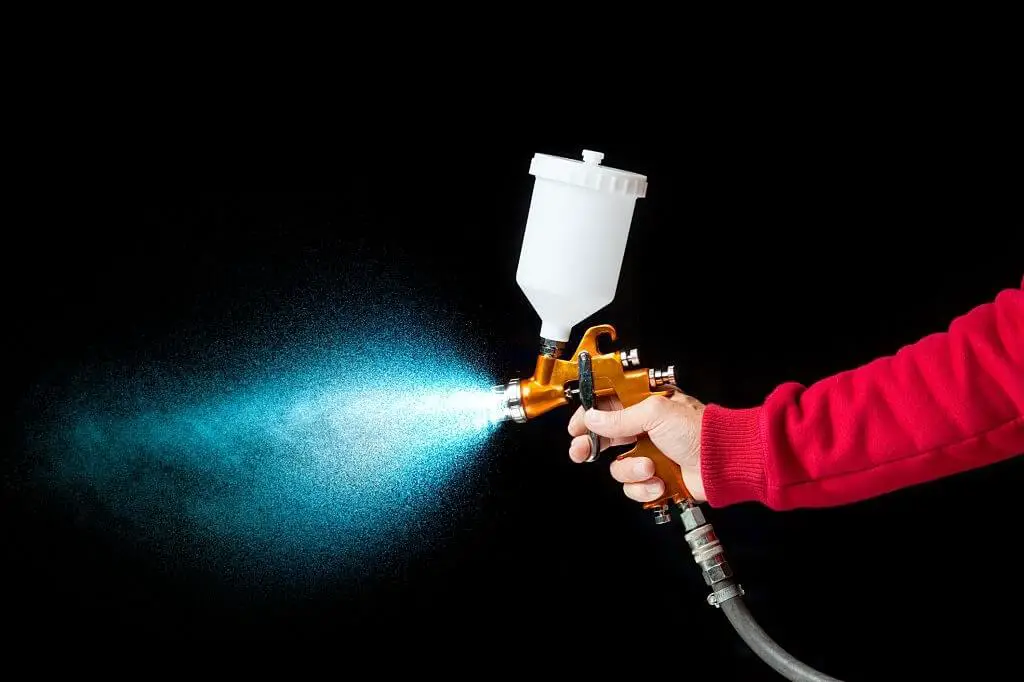 Paint sprayers do exactly what the name suggests, they spray paint in much the same way as spray cans used for graffiti.
The difference is that most paint sprayers are electric and can process much more paint and provide a much better finish.
However, you will never be able to replace brushes entirely, and no matter what you are working on, you will probably still need to do some touch-up work.
The Different Types of Paint Sprayers
The main options are airless, compressed air, and HVLP. The type you need depends on the type of job and your level of experience.
Read also: HVLP vs Airless Paint Sprayer
Your ideal sprayer will depend on your level of experience and the type of project in question.
Below we've included details of the four main paint sprayers, including details of the most common uses for each type and their pros and cons.
Considering the type of work you will do now and in the future is an essential step in making sure you get the best paint sprayer for your needs and helping you decide between the different types of sprayers.
Airless Paint Sprayers
Airless sprayers are one of the most common types of paint sprayers in the home improvement industry, for both DIYers and professionals.
Read our full buying guide of Best Airless Paint Sprayers and Professional Airless Paint Sprayer.
Airless sprayers are generally designed for larger projects and therefore use a suction tube to pull directly from a 1 to 5-gallon can of paint.
Unlike airless sprayers, HVLP and compressed air sprayers easily handle thicker paints. They also come with a variety of nozzles suitable for different paint jobs. Including lacquer, varnish, wood stain, and the more vicious ones like latex paint sprayer for the home.
Most sprayers come with a viscosity cup that allows you to calculate how much dilution you need to do and you should always do a spray test before starting your job.
They use an extremely fast piston pump with specialized chambers that build up extremely high pressure up to 3000 Psi, this then blows the paint through the hose and out of the small spray nozzle breaking the material into small paint particles that will cover most surfaces quickly. and easily.
If you are looking for a reliable way to accurately spray furniture, for example, you are unlikely to get the desired results from something that fast.
Compressed Air Sprayers
Compressed air sprayers are also known as traditional or conventional paint sprayers. You've most likely seen one in your father's workshop.
Compressed air paint sprayers work by projecting paint out of the nozzle with the help of highly compressed air. This results in a thick, broad paint spray that achieves a smooth, even finishes.
Among the three types of paint sprayers, this one has the simplest operating mechanism. Making it ideal for beginners looking to do small paint jobs.
They are easy to use, tend to be less expensive than electric models, but are gradually being replaced because they do not provide the same uniformity or consistency of an electric unit and tend to lack power.
It largely depends on the quality and power of the compressor system you use. However, they are still popular for art and craft use.
This will give you the opportunity to experiment with the proper air pressure to help you control the flow; providing the required finish.
HVLP Paint Sprayer
HVLP stands for High Volume Low Pressure. This system uses a constant volume of air to push paint from the tip of the gun to the desired surface.
Read our full buying guide of Best HVLP Paint Sprayers.
As the name suggests, it operates at lower pressure, which means less paint is expelled from the tip at any one time.
It also mixes with the air molecules that are used to pressurize the paint. This means the HVLP sprayer is easier to control, causes less mess, and can be used for precision work.
HVLP paint sprayers are popular because the lower pressure is easier to control, creating less mess or waste.
HVLP sprayers provide the best results on interior painting jobs such as trim doors, and cabinets. A feature that has won them over the hearts of most beginners and homeowners.
LVLP Paint Sprayer
LVLP stands for low volume, and low pressure, and these devices only require around 10 psi to operate.
This makes them suitable for the DIYer to use because they can use very basic air compressors that are available for a fraction of the cost of those required for other compressed air devices. You can also check out our guide for the best spray gun for small compressor.
They are also much smaller than other devices and their design means that you will carry everything, including the paint tank or reservoir, while you use it.
That is why it is important that the device is really low volume, to ensure that it is portable and can be transported.
It can be tiring, but this type of device will work on large projects like spraying a fence or an entire wall.
However, the low pressure of the system means that the pump is not powerful enough to expel thick and viscous liquids, so it will only work with thin and light paint.
What is the best type of Paint Sprayer for home use?
LVLP spray painter is the most commonly purchased for home use. It's inexpensive, easy to operate, and despite being quite heavy after prolonged use, it can be used for reasonably large jobs.
However, if you intend to use a spray gun to paint every wall in every room in a house, as well as other jobs like painting the exterior of the property, you should consider something more powerful.
What is the easiest Paint Sprayer to use?
Compressed air paint sprayers are very easy to use. Fill the tank with paint, make sure the area is protected, start the compressor and pull the trigger.
This should be enough to get you a spray of paint that you can use to paint individual items or entire walls.
The Bottom Line
There are several types of paint sprayers available, but the most common and increasingly common variant is the electric sprayer.
Painting was never this easy or fun before paint sprayers. Now you can complete any simple or complex painting task yourself without hiring a professional for the job.
Consider all the crucial features when choosing a paint sprayer to buy and make the right choice instead of wasting money.
Also, take into account the advantages and disadvantages of each type, so as not to buy something useless.