If you are seriously considering an airless paint sprayer, you are making a great choice.
The best airless paint sprayer will allow you to complete painting tasks in half the time of a brush or roller.
There are many reasons to buy an airless paint sprayer! If you're not specifically looking for an airless paint sprayer, we've also written a general paint sprayer buying guide.
Take a look at our top 10 rated airless paint sprayer and don't miss out on our top picks below.
Graco Magnum X5 Stand Airless Paint Sprayer – Best Overall
Graco Magnum X7 Cart Airless Paint Sprayer – Best All-Purpose
Wagner Control Pro 130 Power Tank Paint Sprayer – Best Value
Titan ControlMax High-Efficiency Airless Paint Sprayer – Highest Rated
Graco TrueCoat 360 DS Paint Sprayer – Budget-friendly
Wagner Spraytech FLEXiO 590 Handheld Paint Sprayer – Best Handheld
Himalaya Airless Paint Sprayer Spray – Best for Decks
Graco Ultra Max Cordless Airless Handheld Paint Sprayer – Best Cordless
Neu Master 600 Watt Spray Gun – Best Carted
HomeRight Power Flo Pro 2800 Paint Sprayer – Best for Large Projects
The good news is that there are many airless paint sprayers on the market that you can choose from! The bad news is that it can be difficult to know which one is best for you.
For this reason, we recommend that you take a look at our airless paint spray reviews. Combined with our informative buying guide, you can learn about all the essential features to look for, what accessories you need and what you don't need, and more.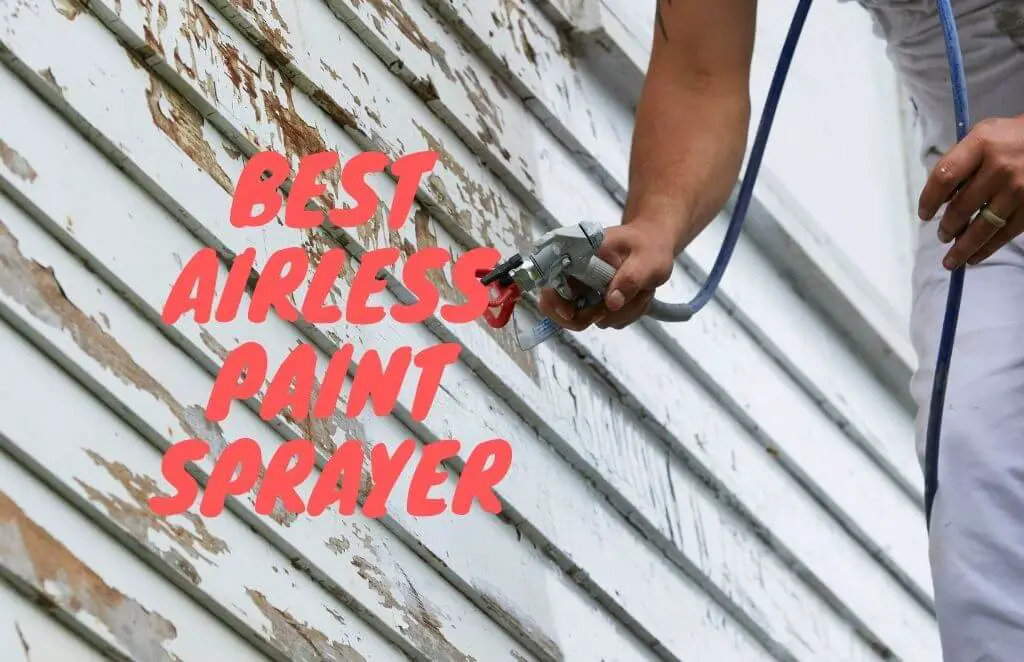 In this review, we'll dive into the details of what makes an airless paint sprayer great, and which ones are the best on the market right now.
We'll take a deep look at the key features and help you figure out which one might be the most important for your application.
Two brands dominate the market a bit: Graco and Wagner.
We'll take a look at their top deals in each category, as well as some lesser-known brands that offer the opportunity to save a few dollars.
Alright, let's get into the review.
Best Airless Paint Sprayers – Our Top Picks
Airless paint sprayers are a significant advance over brushes or rollers.
They can also be more effective than traditional paint sprayers that use pressurized airflow to spray paint on your walls.
Airless paint sprayers are based on a mechanical pump that produces the pressure necessary for the spray gun to apply the paint.
That means you won't have to mix air with the paint before applying it. Painters can use these helpful tools for interior wall or exterior painting projects.
1. Graco Magnum X5 Stand Airless Paint Sprayer
The Graco Magnum X5 Stand Airless Paint Sprayer is a great choice for your personal home use, with easy-to-use instructions that resonate with first-time users and enough power to make sure you can cover all the bases on a yearly schedule if necessary.
It also includes a stainless steel piston pump, allowing you to spray paint without thinning it at high pressure.
This reduces the number of layers required to complete the job. There is a flexible suction tube, which you can insert into a 1 or 5-gallon paint bucket, accessing the paint directly so you don't have to pour it into a tray and waste paint or materials.
Recommended usage covers up to 125 gallons per year, which is more than enough for the average household.
Read our full Graco Magnum X5 Airless Paint Sprayer Review.
2. Graco Magnum X7 Cart Airless Paint Sprayer
If paint sprayers were people, this one would be riding a motorcycle and wearing a spiked leather jacket. The Magnum X7 is a big kid and not your daddy's paint sprayer.
Well, unless your dad was a professional painter, in which case he should have been using one. You can also check out Professional Airless Paint Sprayer.
The Graco Magnum X7 gives you the flexibility to easily maneuver a project area while accommodating a large number of paint hoses, up to 100 feet.
Note that 25 feet of hose are included with the purchase of this model, but it's easy to swap out for a longer hose if you have a larger work area or plan to paint elevated areas, such as a second or third story in a home.
3. Wagner Control Pro 130 Power Tank Paint Sprayer
For a stationary paint sprayer, you might consider the Wagner Control Pro 130 Power Tank Airless Supported Paint Sprayer.
It has a 25-foot hose, though it can support a 50-foot hose, and it holds up to 1.5 gallons of paint at a time, making it easy to complete medium-size projects without refilling the hopper.
Paint is gravity fed through the hose to facilitate priming, painting, and staining. With HEA technology, it produces up to 55 percent less overspray, with a smooth, even finish.
Can be used with undiluted latex paints and other stains to coat walls, ceilings, porches, fences, sheds, garage doors, you name it.
In addition to a sturdy power tank holder, this airless sprayer has built-in handles and built-in storage for the gun, hose, and nozzles.
It also has a spill-resistant lid, which keeps dirt and contaminants out of the paint and makes it less messy.
Plus, cleaning is easy. All you have to do is flush the gravity feed hose with water and rinse the sprayer.
Read our full Wagner Control Pro 130 Paint Sprayer Review.
4. Titan ControlMax High Efficiency Airless Paint Sprayer
For an all-purpose airless paint sprayer, we suggest Titan's ControlMax 1500 High-Efficiency Airless Sprayer.
This airless sprayer uses a 25-foot hose, making it easy to access most indoor and outdoor residential projects, but if you need more length, it can handle up to 75 feet of hose.
For best results, use undiluted latex paint on the interior or exterior surfaces. When you're done, you can store the gun, hose, and tips in their built-in storage.
5. Graco TrueCoat 360 DS Paint Sprayer
It's true that paint sprayers can be expensive. But if you only plan to use yours for small or occasional projects, there is no reason to break your budget.
Not when the Graco TrueCoat 360DS Portable Paint Sprayer is available.
Perfect even for paint spray novices, this highly efficient and reasonably priced handheld airless paint sprayer provides fast, even coverage, and best of all, it's easy to clean – just pull the liner out of the cup. When it's over. It is rated for up to 25 gallons of paint used per year.
The 360DS sprays in any direction, even upside down, and there is no need to thin the latex paint before starting.
There are two speeds: use low for careful, detailed work, or high when you want to get the job done quickly or cover a large area.
Includes two tips: one with a 4-inch spray pattern and one with a 12-inch spray. Use the sprayer to apply almost any paint or stain.
6. Wagner Spraytech FLEXiO 590 Handheld Paint Sprayer
For the most versatile application possible, consider a handheld airless paint sprayer.
The Wagner FLEXiO 590 is lightweight, easy to maneuver, and good for spraying everything from undiluted latex paint to stains and sealants.
This handheld airless paint sprayer is equipped with a 1.5-quart cup that seals so no paint spills, even when the sprayer is used upside down.
It includes two nozzles: the spray nozzle is for covering large surfaces quickly and evenly, while the Detail Finish nozzle is for small areas or details.
However, this is a versatile paint sprayer that is perfect for spraying sheds, furniture, and any other outdoor or indoor projects you may have.
Read our full Wagner Flexio 590 Paint Sprayer Review.
7. Himalaya Airless Paint Sprayer Spray
For buyers working on a tighter budget, the TOMIC Himalaya Airless Paint Sprayer is a standout option.
For around $170 you get a ton of performance and while it may not have all the comforts of a Graco or Wagner, it's a great place to start.
As with most commercial and consumer paint sprayers, this machine does not use a hopper and can draw paint directly from the can.
This helps reduce refills and means you can work consistently on larger projects. The compact design also features an integrated carry handle, which helps prevent damage to the machine while you are working.
While you don't get the fancy hose connection, variable pressure, or easy priming of a more expensive airless paint sprayer, for people just looking to start spraying this machine is a great starting point.
Lots of performance and tons of glowing reviews online, it's a great piece of equipment to use on your next painting project.
8. Graco Ultra Max Cordless Airless Handheld Paint Sprayer
The Graco Ultra Corded Sprayer makes any paint job easy, with the right tool at the right price for any home painting task.
This reduces the amount of time and effort required to complete a project with fewer layers required.
Its portable design makes it much more mobile than bulkier corded models, and without a hose to argue about, it's easier to transport from room to room.
However, its 11-pound weight is a bit heavy and maybe too heavy for some users to carry for long periods of time.
In addition to accepting a variety of latex paint, you can also spray mineral spirits and water-based materials.
9. Neu Master 600 Watt Spray Gun
Neu Master 600 Watt Spray Gun does not offer the ability to use many gallons of paint, this small handheld yet high-pressure spray paint gun gives you an inexpensive and compact product with a little more versatility and capacity.
You can control the spray pattern and change the nozzles for different nozzle sizes while carrying a compact product without much weight or size.
The extra capacity and powerful motor make it a great choice for professional who focuses on small projects.
10. HomeRight Power Flo Pro 2800 Paint Sprayer
HomeRight Power Flo Pro is a perfect product for large projects. With a suction tube that drops directly into a paint bucket, you can get started right away and begin spraying without having to worry about capacity.
While not very portable, the Homeright Power Flo Pro's extra-long hoses make it extremely maneuverable and allow you to reach even the furthest reaches of your big projects with no hassle.
This high-powered motor can also deliver impressive high pressure for undiluted paints of all kinds, allowing you to do virtually any job without hesitation.
Once the job is complete, you can run a garden hose up to the driveway for easy cleanup, allowing you to get back to your day worry-free.
Best Airless Paint Sprayer Buying Guide
If you are looking for a powerful paint sprayer, an airless paint sprayer is a right choice!
Airless paint sprayers are quite complex equipment and there is a wide range of different machines.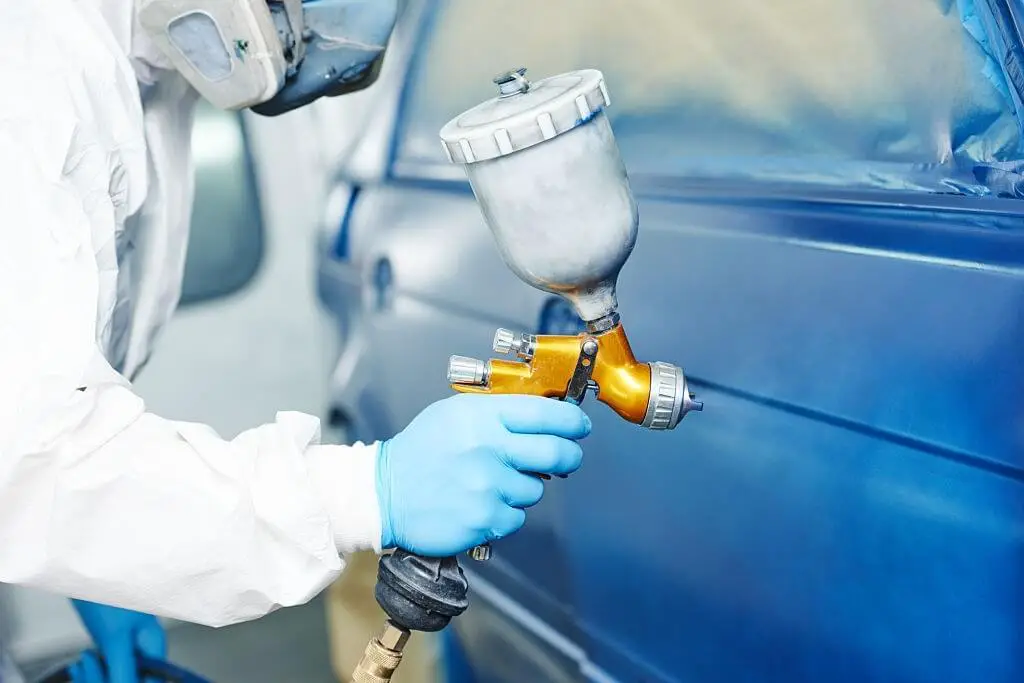 As such, they are ideal for anyone with a large surface to paint as the high speed can save a great deal of time.
In this section, we will look at what key features to consider when purchasing the best airless paint sprayer so that you can find the perfect machine for your needs.
How We Chose
In this buying guide, we drew on our extensive experience painting custom furniture in workshops, as well as residential painting projects, which used a variety of sprayers.
We made sure to include a good mix of styles, including heavy-duty commercial machines, portable models, and even a battery-powered option for those looking for maximum mobility.
We also took the overall price into account when we made our selections, including the entry-level options under $100, to the higher-end models that cost more than $1000.
All of our recommendations are from Graco, Titan, and Wagner brands that our experience shows are reliable and provide solid value.
Finally, we consider the durability of sprayers on the market and choose units that are designed to withstand project after project.
What to Look for in a Airless Paint Sprayer
Now we can take a look at 5 features to look out for in an airless paint sprayer.
This will help you narrow down your options and find a great product that meets your DIY needs!
1. Power
As we've mentioned, airless paint sprayers are known to be powerful. How much power you need really depends on what you need to paint!
If you're only painting small pieces of furniture, you probably don't need a lot of horsepowers. On the other hand, those who are painting entire houses will want a product that is capable of handling such a task.
Otherwise, you may need to thin the paints yourself before spraying, which takes time. With more power comes more speed, so this is another advantage to think about.
2. Volume
It's not as obvious as power, but volume is also very important when it comes to painting sprayers.
The volume of paint that an airless paint sprayer can hold determines the size of the total unit.
So if you want a smaller, more portable product, you may have to sacrifice the volume of paint it can hold. This means you need to refill it more often, which can be frustrating when you're in a rush.
On the other hand, while having high volumes means fewer refills, the airless paint sprayer will be larger and heavier as a result.
As such, you will have a less portable and less storable unit. Therefore, it is worth thinking about your specific situation and what best suits your needs.
3. Adjustable pressure and tips
Some paint sprayers have adjustable pressure, which is great as it provides flexibility for different types of projects.
Having high pressure can mean getting the job done faster, while lower pressures are better suited to smaller, more detailed jobs.
Many airless paint sprayers come with tips that allow you to change the flow of paint. Which tip you choose really depends on the material you are spraying and its overall thickness.
4. Metal or plastic construction
When you buy an airless paint sprayer, you may want to use it outdoors, indoors, or both.
This is particularly the case with smaller portable paint sprayers that are designed to meet tight budgets. While a plastic construction is not as strong and durable as metal, the possibility of having a lightweight product may tempt some to choose them.
If you're only spraying smaller things, a plastic construction airless paint sprayer is likely fine.
However, larger projects will benefit from sprayers made of metal. They can better handle the power provided by the motor and resist any wear and tear that may occur as you move from one location to another with the product.
5. Size and weight
The product you choose will determine where you can take it and where you can store it. Because airless paint sprayers are quite powerful, they tend to be larger than HVLP paint sprayers, for example.
Read our full guide about HVLP VS Airless Paint Sprayer.
This is due to the motor, which also adds weight to the overall unit. Ask yourself if you're looking to do all of your spray paint in one place, or if you need to move around.
Based on this, you may prefer to opt for a product that has wheels and a handle so that it can be moved around more easily. Note that these products usually cost a bit more, but they are worth it.
What Are Airless Paint Sprayers?
Airless paint sprayers are what they sound like. These are paint sprayers that use electricity to create a spray of paint, shellac, or other liquid you are working with and spray them at high speed.
A typical pneumatic paint sprayer will use the built-up air pressure from an air compressor to do the same task. They are bulkier and noisier and are no longer the most efficient option.
There are numerous benefits to airless paint sprayers, but one of the most important is the higher quality of finish they provide compared to air pump sprayers.
An airless sprayer does not allow the paint stream to mix with the air while spraying, reducing the risk of air bubbles forming.
These bubbles create surface defects that must be resolved before the project is finished, or else they will remain small imperfects and the surface will not look as good.
Also, airless paint sprayers have a higher level of portability because there is no air compressor to drag.
Instead, opt for a powerful motor that forces paint through a nozzle at high speed, achieving the same gpm as a typical pump sprayer or even higher.
This can be accomplished with a cord or even a battery, making them much more maneuverable than old-fashioned pump spray guns.
Different Types of Airless Paint Sprayers
Airless paint sprayers all work the same way, which we'll explore more in the next section.
However, they are not all exactly the same. Different designs have their own benefits and are great products, but they will affect the price and portability of some of the tools on this list.
Cart airless paint sprayer
A car airless paint sprayer is the first type and is extremely maneuverable.
These products have their motors and tanks built into carts so you can take them to different areas of your job site.
They are perfect for large projects because you can move them and use them in different places without having to stop to pick them up.
These tools will generally require longer hose lengths than other types due to their portability.
Standing tank spray gun
A fixed tank spray gun is typically the most powerful type because it has heavy engines and large tanks.
They come in large and small versions, which you can pick up and move to different locations or which are meant to stay.
Those that remain in their initial location all the time have very long hose lengths because they cannot be moved.
These spray guns are for small projects because they are significantly smaller than the others.
They don't have the ability to tackle large projects and are probably not suitable for commercial use because they have limited capacity, but they can be great for touch-up work and any small projects you have to do.
These have the most portability, but generally the lowest resistance of any airless spray gun.
How Do Airless Paint Sprayers Work?
An airless paint sprayer works differently than a pneumatic paint sprayer because it builds pressure inside the container to force the paint out of the spray nozzle.
A typical pneumatic paint sprayer with an air compressor uses that compressor to create a high-speed stream of air that runs through the tube and out the nozzle.
This creates a low-pressure region that draws paint or lacquer into the stream and exits the nozzle, creating a spray as it goes.
This has several drawbacks. First, this requires a large air compressor to create the air stream.
Also, an air compressor only holds pressure for so long. After it goes through a certain amount of air pressure, it must be reset to increase the pressure and continue to work.
This means it works intermittently and you have to stop and restart occasionally during your paint job. If you are working on a large project, that can be a significant waste of time.
Additionally, a pneumatic sprayer introduces air into the paint early in the process, which can create bubbles and disturbances that end up as surface defects.
An airless paint sprayer, on the other hand, uses a piston pump to build pressure within the paint itself.
Frequently Asked Questions (FAQs)
Perhaps the best way to provide you with the rest of the information you need about airless paint sprayers is with a list of frequently asked questions. Here you will find the answers you are looking for!
Is an airless paint sprayer better?
It really depends on the work you are doing. Airless paint sprayers are excellent for producing good quality, uniform paint. They can also help you achieve popcorn textures and effects.
Finally, if you are painting a large area, they are much, much faster than using a roller or brush. Compared to other forms of paint sprayers, they have less overspray and a more uniform finish.
The downside really is the installation, cleaning, and maintenance time. If you're only doing a small job, it's probably not worth the setup required to run an airless paint sprayer. And once you're done with the job, they require a thorough cleaning.
What are the advantages of using an airless paint sprayer over a brush or roller?
This is one of the most common questions, and fortunately, it is very easy to answer.
Using an airless paint sprayer can save you time, energy, and provide a smoother, higher-quality finish.
While they cost more, these various benefits make it worth the initial investment, especially if you can find the right product!
What type of paint sprayer should I use inside?
Airless sprayers and gasoline-powered compressed sprayers are noisy, so we recommend avoiding them when spraying indoors.
If you are doing detailed work, consider using an HVLP sprayer. However, if you are painting a large area indoors, an electric airless sprayer will work best.
How can I get the best paint spraying results?
It's important to do a spray test beforehand to make sure you're happy with how it will look.
Also, make sure to clean the lens surface so that there is no dirt, oil, or dust on the way.
Which materials can I use with my airless paint sprayer?
You can spray all kinds of materials, including glitter, varnish, and emulsion. The type of material you are using will determine the type of spray tip required.
It is good practice to have a variety of tips so that you can tackle different projects with versatility.
Is it really necessary to wear safety equipment?
Yes! Paint fumes can be dangerous and overspray from many airless paint sprayers can be significant.
For this reason, we strongly recommend that you wear protective clothing that covers your entire body, as well as a pair of glasses and a mask.
This will ensure your safety and comfort when spraying paint, especially for long periods of time.
Conclusion
As you can see, airless paint sprayers provide many different benefits.
However, there are many factors to consider before making that all-important purchase.
Considering features like adjustable power and pressure is a good starting point. Ask yourself if the product you are looking at is portable enough for your needs and if it provides enough power.
Whatever your budget, there is an option for you. Remember to take another look at our airless paint spray reviews, as these are some of the best on the market! Hopefully, you'll soon be spraying paint with the best!