If you are starting a large painting project, one of the best ways to save time is by investing in a paint sprayer.
Rollers and brushes are essential for any large-scale painting project, but if you want to maximize efficiency, you'll also want to add a paint sprayer to your arsenal.
We've researched the key considerations for selecting the best paint sprayer for your needs. Read on for our tips, and don't miss out on our top picks below.
Graco Magnum X5 Stand Airless Paint Sprayer – Best Overall
Wagner Handheld HVLP Paint Sprayer – Best HVLP
Graco Magnum X7 Cart Airless Paint Sprayer – Best Airless
Fuji Semi-PRO HVLP Spray System – Highest Rated
Wagner Control Spray Max HVLP Paint Sprayer – Budget-friendly
Graco TrueCoat 360 DS Paint Sprayer – Best Handheld
Wagner Double Duty HVLP Stain Sprayer – Best for Decks
Graco Ultra Max Cordless Airless Handheld Paint Sprayer- Best Cordless
Graco Project Painter Plus Paint Sprayer – Best Carted
Titan 440 Impact Electric Airless Sprayer – Best for Large Projects
In this guide, I'll share everything about painting tips, and of course a list of sprayers that I think are great.
If you would like to learn more about the sprayers before viewing the sprayers list, please use the menu below to proceed to the buying guide.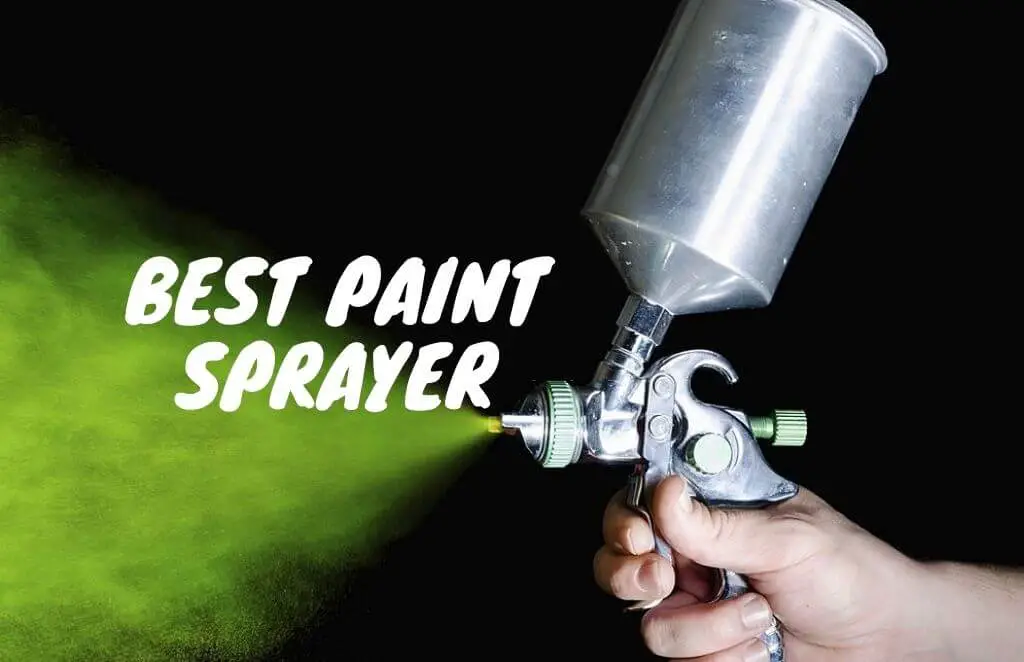 If you have a paint sprayer, you can do more than just spray it on evil spirits. It can take long, boring painting sessions and turn them into quicker and easier events.
Alright, let's get into the review.
Best Paint Sprayers – Our Top Picks
Spray paint is also known as aerosol paint. Spray paint works better in many cases than the traditional brush painting process.
1. Graco Magnum X5 Stand Airless Paint Sprayer
The Graco Magnum X5 Stand Airless Paint Sprayer is a great choice for your personal home use, with easy-to-use instructions that resonate with first-time users and enough power to make sure you can cover all the bases on a yearly schedule if necessary.
It also includes a stainless steel piston pump, allowing you to spray paint without thinning it at high pressure.
This reduces the number of layers required to complete the job. There is a flexible suction tube, which you can insert into a 1 or 5-gallon paint bucket, accessing the paint directly so you don't have to pour it into a tray and waste paint or materials.
Recommended usage covers up to 125 gallons per year, which is more than enough for the average household.
Read our full Graco Magnum X5 Paint Sprayer Review.
2. Wagner Handheld HVLP Paint Sprayer
Using a paint sprayer is a great way to shorten the process of periodically staining your outdoor space.
Plus, you can avoid back pain and sore knees by leaning over your deck by using a paintbrush to apply a stain or sealer.
If you have a lot of square feet of deck boards, plus shafts, railings, or lattice to consider, a paint sprayer is a welcome shortcut to this recurring outdoor project.
It may be possible to use it to spray latex paint, but you will need to dilute the formula considerably.
3. Graco Magnum X7 Cart Airless Paint Sprayer
If paint sprayers were people, this one would be riding a motorcycle and wearing a spiked leather jacket. The Magnum X7 is a big kid and not your daddy's paint sprayer.
Well, unless your dad was a professional painter, in which case he should have been using one.
The Graco Magnum X7 gives you the flexibility to easily maneuver a project area while accommodating a large number of paint hoses, up to 100 feet.
Note that 25 feet of hose are included with the purchase of this model, but it's easy to swap out for a longer hose if you have a larger work area or plan to paint elevated areas, such as a second or third story in a home.
Easy to use and easy to clean, thanks to the PowerFlush garden hose adapter, you will be very happy with the time savings and convenience of this trolley paint sprayer.
You can also check out Professional Airless Paint Sprayer.
4. Fuji Semi-PRO HVLP Spray System
This unit is good enough for serious hobbyists and even a good portion of professional painters.
It has a no-bleed feature on the gun, as well as a dedicated fan control. The latter allows the adjustment of the size of the pattern, from small circular to wide and everything in between.
It is easily disassembled, making cleaning a much more orderly and simple process. That's one of the reasons this sprayer is a fan favorite.
You can select the size of your air cap based on what you are spraying. It can also be used to achieve different levels of thickness.
For a very solid pro option, the Fuji is excellent at its price point.
However, if money is not an issue, you may want to become a complete professional with a more expensive option.
5. Wagner Control Spray Max HVLP Paint Sprayer
This is a really clever design as it helps prevent the deadly hand cramp that paint sprayers are so famous for giving to users.
It's also designed to easily customize the shape and focus of your sprayer, thanks to a pressure control dial and rotating air cap.
A 20-foot hose allows you to leave the base fixed on the floor or a table while you work, reducing arm fatigue during operation.
This model is likely not strong enough to withstand frequent use, but if you are just looking for a tool for an occasional project, this is a great option.
6. Graco TrueCoat 360 DS Paint Sprayer
This Graco model combines the mobility of a hand tool with the unlimited run time of a corded unit.
As long as you have an extension cord long enough, you can take this sprayer where you need it, whether it's on a ladder to access ceiling joists or outdoors to spray a fence or the exterior of a home.
It is also designed to be able to spray upside down, thanks to a hermetic connection system.
The storage area built into the handle is also a nice bonus, allowing you to always have two tips close at hand while you work.
7. Wagner Double Duty HVLP Stain Sprayer
The Wagner Double Duty HVLP Stain Sprayer is adjustable to meet the needs of your home and any project or projects you want to tackle without hassle or worry.
Whether you're working indoors or out, on walls or furniture, wood or siding, this paint sprayer offers a smooth finish and great coverage, and the machine is easy to use, so it works for beginners and experts alike.
It comes with 2 nozzles: the spray nozzle for covering larger jobs, as well as the detailed finishing nozzle for smaller projects and difficult areas for larger ones.
Unfortunately, the lightweight nature is largely due to a plastic composition.
Where the magnum will lick and keep ticking, the Wagner is short-lived. Some reviews also attest to more overspray than the company suggests, which we mostly agree with.
So don't be surprised if there is a lot to clean up after your work. But the portability and versatility more than makeup for it in our minds.
8. Graco Ultra Max Cordless Airless Handheld Paint Sprayer
The Graco Ultra Corded Sprayer makes any paint job easy, with the right tool at the right price for any home painting task.
This reduces the amount of time and effort required to complete a project with fewer layers required.
Its portable design makes it much more mobile than bulkier corded models, and without a hose to argue about, it's easier to transport from room to room.
However, its 11-pound weight is a bit heavy and maybe too heavy for some users to carry for long periods of time.
In addition to accepting a variety of latex paint, you can also spray mineral spirits and water-based materials.
9. Graco Project Painter Plus Paint Sprayer
The Graco Magnum is a relatively compact, high-performance unit.
It works well for painters of all experience levels, and the price is in a comfortable range, not so expensive to break the bank or cheap to worry about materials.
It has a stainless steel piston pump for spraying undiluted paint at a high-pressure level and a suction tube that allows you to spray directly from the paint bucket.
Wow! This makes it much easier to get up and running than most units of its size.
It's lightweight, easy to use, and sprays latex and oil-based paints and stains with ease.
It is often recommended for painting the exterior of homes, providing fast, even paint coverage for interior walls or for staining fences.
10. Titan 440 Impact Electric Airless Paint Sprayer
It's not cheap, but if you have the budget and the need, this heavy-duty machine could be a great investment.
Fortunately, it has several components that help increase the life of your pump, including an automatic greaser that keeps the packings running smoothly and a mechanism that keeps the piston free of abrasives.
Its quick-to-clean setting also makes it easy to rinse after use, saving time, energy, and reducing the chances of dry paint or dirty water remaining in the unit.
Best Paint Sprayer Buying Guide
The paint sprayer is actually an evolved form of the airbrush, a more artistic type of tool.
Paint sprayers are for heavier jobs, intended to complete home improvement projects or similar tasks. Using the old brush/roller method can be tiring.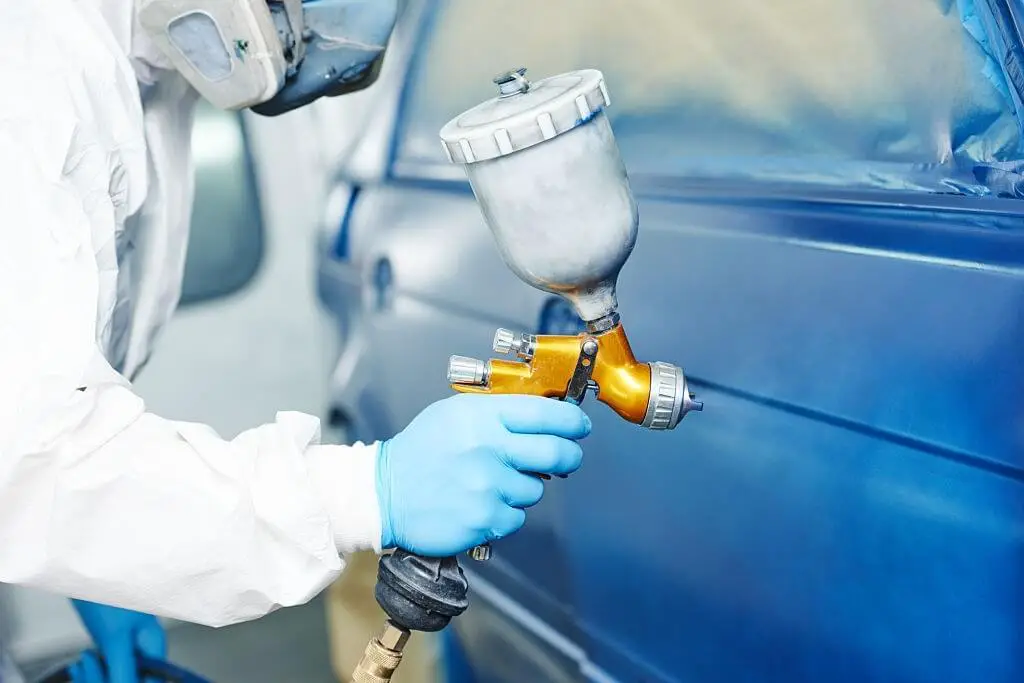 Here is the best paint sprayer buying guide:
How We Chose
In this buying guide, we drew on our extensive experience painting custom furniture in workshops, as well as residential painting projects, which used a variety of sprayers.
We made sure to include a good mix of styles, including heavy-duty commercial machines, portable models, and even a battery-powered option for those looking for maximum mobility.
We also took the overall price into account when we made our selections, including the entry-level options under $100, to the higher-end models that cost more than $1000.
All of our recommendations are from Graco, Titan, and Wagner brands that our experience shows are reliable and provide solid value.
Airless and HVLP paint sprayers are powerful options to save time and money on painting projects that require a fine finish.
We include recommendations in both categories, as air-driven options that are ideal for light to the medium-duty painting and airless sprayers provide high power and multiple finish options.
We also prioritize spray designs that reduce fatigue during use and maximum adjustability of power and spray patterns.
Finally, we consider the durability of sprayers on the market and choose units that are designed to withstand project after project.
What to Look for in a Paint Sprayer
The paint sprayer you choose should be the right size for the job at hand. Some can be cost-prohibitive when you start looking, but these are typically industrial-grade models that contractors use on hundreds of jobs a year.
For personal use, you can find dozens of affordable options with enough power to easily complete a job, whether it's for one room, the entire interior of your home, or the exterior of your home.
Take a look at the power supply to find out what the use of the tool entails.
Some use an air compressor, while others have different sources to get the paint to the desired surface.
You'll also want to determine what fittings, hoses, and other equipment are included with the paint sprayer so that if you need additional items, you can be sure to add them to your budget.
Types of Paint Sprayers
There are three basic types of paint sprayers: airless, high volume low pressure (HVLP), and compressed. Each has its own pros and cons.
Airless paint sprayers are powered by electricity, either from an electrical outlet or from a battery. This means you don't have to have or bother with an air compressor to paint.
However, it can be difficult to precisely control the spray pattern, which means it will overspray and these paint sprayers tend to be noisy.
Airless paint sprayers are the best type for large projects or exterior painting, such as painting walls, fences, large decks, ceilings, or lattices. You will get the best results when spraying paint from a distance of about 12 inches.
HVLP paint sprayers require a separate air compressor for power. These sprayers typically have a built-in cup to hold the paint, rather than pulling paint out of the paint can.
They are slower than airless paint sprayers but create a very smooth coat of paint without much waste or overspray. Most HVLP paint sprayers can easily handle stains and paint, but they don't do as well with thick lacquers or varnishes.
HVLP paint sprayers are a good choice for smaller projects, whether indoors or out.
Read our full guide about HVLP VS Airless Paint Sprayer.
They are especially good for painting furniture, cabinets, trim, and doors; all surfaces require very smooth coats of paint for the best appearance. For best results, spray from 6 to 8 inches apart.
Compressed paint sprayers also require a separate air compressor for power. They are easy to use and generally cost less than the other two types, but they use a lot more paint, are prone to overspray, and are messy. You can also check out our guide for the best spray gun for small compressor.
Oftentimes, you will need to thin the paint before using it with a compressed paint sprayer, and this is not the best option for thick coatings such as lacquers or varnishes.
Most compressed paint sprayers have a cup attached to hold the paint and are best used from a distance of around 12 inches.
Coverage area
Are you painting the entire exterior of your house or just one piece of furniture?
The area to be covered will determine which product is best; For example, paint sprayers with longer extension cords, larger paint cups, and longer hoses are ideal for larger projects, while lightweight portable units are useful for small paint jobs.
Frequently Asked Questions (FAQs)
When should I use a paint sprayer?
A paint sprayer is likely your best option when you have large areas to cover. It's faster than a brush or roller and can also cover blemishes and details extremely well.
While some interior painting projects may make sense for a paint sprayer, you will definitely want to consider a paint sprayer if you are doing exterior painting projects.
How does a paint sprayer work?
Pressure or air is used to atomize the paint, producing a mist that is applied with a sweeping motion of the paint gun.
The specific mechanism depends on the type of paint sprayer you are considering. Airless paint sprayers use a motor to pressurize the paint and force it through a small nozzle at the tip of the paint gun.
Usually, a tube is used to draw directly from a paint bucket.
The type of finish you need on your painting project, along with overspray and budget considerations, will determine which type of paint sprayer is best for your project.
Are airless paint sprayers better?
Airless sprayers are generally more powerful than HVLP sprayers. This makes them more efficient for large projects or outdoors because the speed of the paint being ejected is higher and can go further.
That doesn't make them better for all applications though – for interior jobs, and HVLP will often create a finer finish on the wall because the lower speed makes it easier to quickly deliver a smooth, even coat.
Conclusion
For larger painting projects, having a paint sprayer at home can be a lifesaver.
Instead of having to paint each fence board by hand, you can now do it in a fraction of the time.
But, as you can see, different paint sprayers have different characteristics, so just find the one that works for you and start painting!
We hope that you have found our guide helpful and that you can now select the best paint sprayer for you.
The prospect of buying and learning how to use a new machine can be daunting, but with our practical guide at your side, you'll be equipped with the facts. Apply two readings for best results.