Just finished painting exterior trim or walls and wondering, can you use exterior paint inside? Or maybe you are thinking that it would be better to use it in the bathroom with all the humidity? Although it may seem like a good idea, it is exterior painting for a reason.
This is a common question. Many homeowners decide to use exterior paint for interior decoration, although they do not know if it is a good or bad idea.
When painting the interior of your home, including the walls of your garage, always use interior paint instead of exterior paint. Exterior paint is designed for open spaces with good airflow.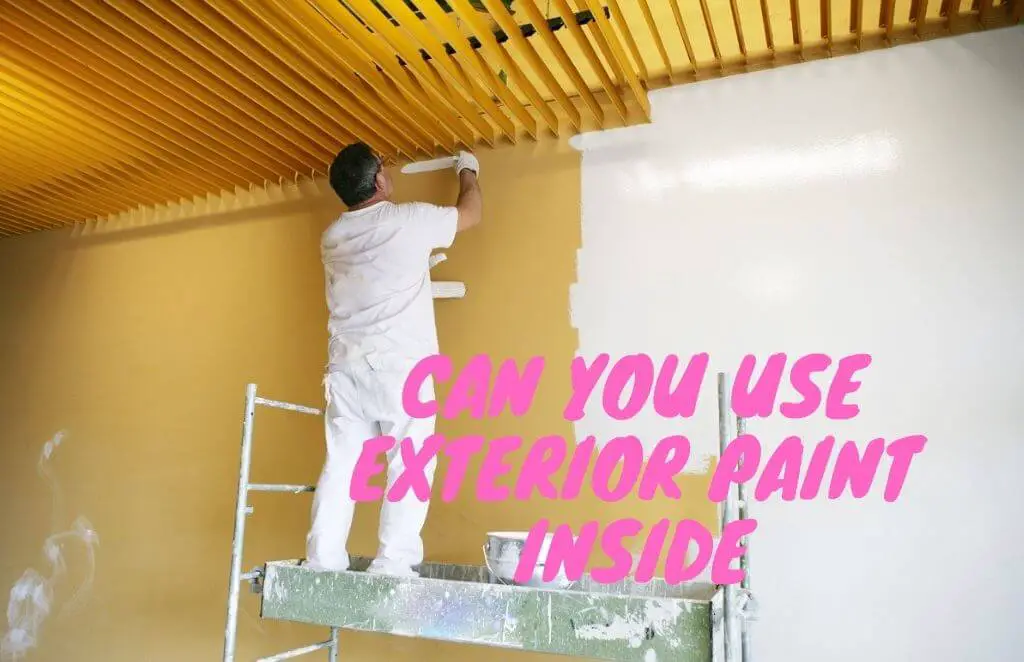 It is specially formulated to protect your home from rain and snow and contains chemical additives that can be toxic to your family if used indoors.
If you want to finish off a bucket of exterior paint, consider giving your shed another coat or touching up the garage. However, we cannot advise you to use exterior paint indoors.
What is Exterior Paint?
Exterior paints are designed to withstand scorching sun, scorching winds, torrential downpours, and devastating cold. When applied to buildings, structures, and outdoor surfaces, it must resist the elements and not fade, peel, crack, or allow mold and mildew to grow.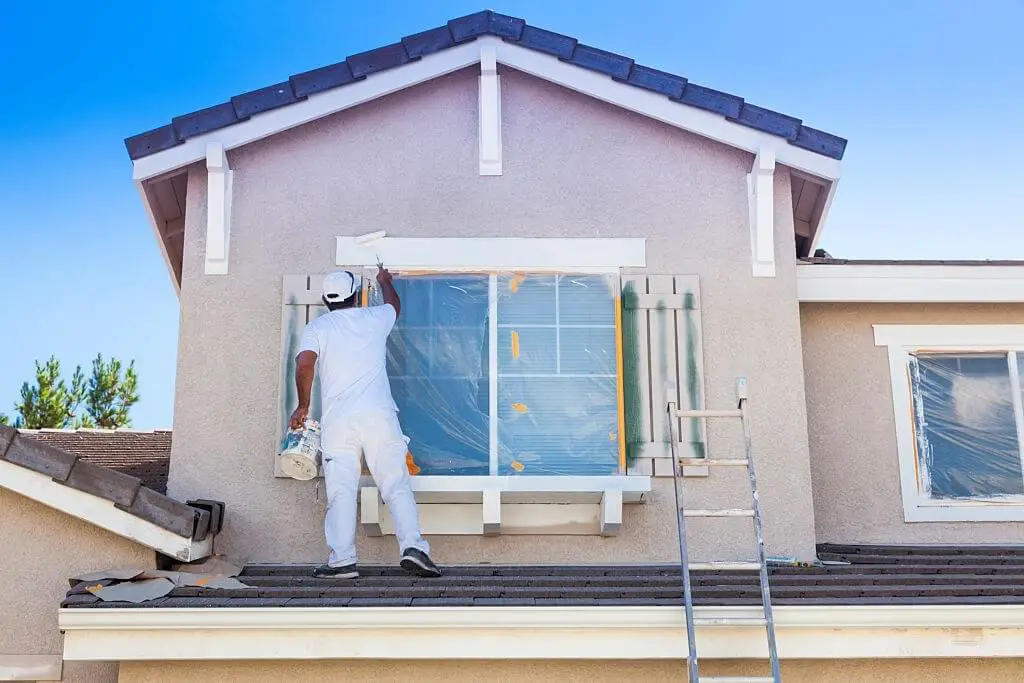 The best-made exterior paint contains high-quality, flexible resin binders that expand and contract with the surface they cover.
There is a blend of additives to level and protect against stains, fading, and mildew. Most exterior paints also include UV protection to help the pigments hold their color.
Exterior paints contain more resins and tend to be softer than interior paints, so they can adapt to temperature and environmental extremes.
The exterior paint has to be able to resist moisture from rain, snow, and wind. It needs to tolerate both drops in temperature and rapid increases in temperature and maintain its color tone even after hours in the sun.
Exterior paint contains softer, more flexible resins, which help it resist mold, peeling, and chipping.
What is Interior Paint?
Interior paint is designed to withstand pets, furniture, vacuum cleaners, and anything else that brushes up against it on a daily basis. It counteracts stains, resists fading and yellowing, and can be cleaned and scrubbed when it gets dirty.
It is typically water-based (also known as latex) rather than oil-based, and is made up of four basic compounds: pigments, solvents, additives, and resins.
Compared to exterior paint, interior paint uses more rigid resins, which makes for easier cleaning and stain resistance.
It also contains specific additives to reduce drying time and evenly distribute the pigment.
Unlike exterior paint, interior paint does not have weather-resistant additives.
Another key feature of interior paint is that it produces less odor due to fewer VOCs (volatile organic compounds) than exterior paint.
What are VOCs?
VOCs are chemical gasses that are released into the air as paint dries.
Have you ever had a headache or dizziness after being around the paint for long periods? That's the result of prolonged exposure to VOCs.
Since interior paint is designed for indoor use where air circulation is limited, most are low VOC and you can even find VOC-free interior paint.
Can You Use Exterior Paint Inside?
The answer is NO!
There are several reasons why it is not recommended to use exterior paint indoors.
The first point to note is that most exterior paints are formulated with mold inhibitors, which are toxic chemicals that you don't want outgassing in your home.
Secondary exterior paints are bound to chalk as they wear, which is also not desirable inside your home.
You may have leftover exterior paint or have the mindset that since exterior paint holds up so well to the elements, it should be great for interior use.
While your logic makes sense, it fails to take into account the fact that interior and exterior paints are developed for different conditions.
Although both types of paint may contain anti-mold agents, fungicides, UV blockers, and other common additives, they are not the same ingredients.
Exterior paints contain binders designed to withstand harsh conditions. They are also formulated with materials that can be harmful indoors but are less so outdoors.
Exterior paints commonly produce more VOCs and unpleasant odors that are not pleasant in confined spaces. The composition of materials in exterior paint also commonly makes it more expensive than interior paints of comparable quality.
The use of exterior paints in well-ventilated areas is an expectation when applying them. The paint will release gaseous VOCs until fully cured; several weeks in warm weather to months when it is cooler.
Use inside cabins, sheds, detached garages, and other outbuildings are acceptable if there is good ventilation and is not used for sleeping.
Can You Use Interior Paint Outside
The short answer is no. Interior paints should not be used outdoors because they lack the necessary additives to withstand outdoor elements.
But aside from durability issues, interior paint is thinner than exterior paint, so it doesn't adhere well to exterior surfaces, and you'll need to apply additional coats to achieve the same coverage. Even with multiple coats, it won't look as smooth as exterior paint.
Lastly, interior paint takes longer to dry as it is not designed to dry in outdoor elements.
Even if you manage to get decent coverage with interior paint, the job isn't done.
Over time, you will notice that interior paint on exterior surfaces will fade and crack, forcing you to touch up more frequently.
Interior Vs Exterior Paint – Major Difference Between Interior and Exterior Paint
You may think that there is not much difference between the two, however, both interior paint and exterior paint have different formulations to do different jobs.
Exterior paints are formulated to withstand all weather conditions.
They are highly water-resistant to prevent mildew and also contain flexible acrylic resins that change size depending on the fluctuating outside temperature.
They also contain ultraviolet blocking properties that will prevent the paint from fading in sunlight.
You don't need these properties inside your home, which is why interior paint is formulated differently.
They are made to withstand all the knocks and scratches that occur with furniture, people, and everyday life in general.
Interior paint tends to have a softer appearance and looks better on walls.
Interior paints are also available in various finishes that may differ in durability capabilities.
You can still be convinced that using exterior paint in rooms like your bathroom will be more beneficial in the long run as it will prevent mold or peeling caused by moisture.
However, this is not the answer, bathrooms tend to be much smaller and will take a while to air out if you don't have a window.
An easier solution to prevent moisture buildup would be to invest in a good bathroom fan that you should keep on during and for 20 minutes after your shower to make sure all the moisture is gone.
Below are the major difference between interior and exterior paints:
1. Chemical formulation
Exterior paints are generally formulated to withstand the outdoors. Basically, a premium exterior latex paint relies on flexible acrylic resins that swell and adhere to a home's siding during severe weather fluctuations from hot to cold.
Exterior paints are also highly water-resistant and have UV blocking additives that help prevent premature decay from daily abuse in direct sunlight.
Also, exterior paint is mostly oil-based (acrylic), while interior paint is usually water-based (latex). But Rustoleum Rust Reformer will give excellent finishes even in high humidity locations.
Additionally, other additives prevent tannin stains and mold spores from seeping through wood knots or wet falling leaves.
2. Area of use
Due to environmental and health concerns, modern interior paints produce negligible odor and little or no poisonous emissions.
Interior paint is primarily used indoors and in limited outdoor locations, while exterior paint is amplified for surface application. Exterior paint can be used on metal surfaces, wooden surfaces, concrete, and ceramics.
The waterproof and fade-resistant properties of exterior paint make it more popular in outdoor applications than interior paint.
Additionally, the exterior paint has a superior ability to protect the primary surface from UV damage at the time of application.
3. Durability
Exterior paint forms a longer-lasting layer after application than interior paint. You will notice more drains and runoff when painting with interior paint than with exterior paint.
In fact, the exterior paint has numerous properties, such as waterproofing, UV protection, and fade resistance, that are not found in most interior paints.
You may need to repaint the surface frequently, within a certain period if it is coated with interior paint then if it is coated with exterior paint.
In addition, the exterior paint forms a permanent layer that is more cumbersome to remove: the interior paint layer can be quickly disposed of and washed with soap and water.
4. Stickiness ability and coating level
The exterior paint is formulated with components with high acrylic content and powerful VOC compounds that improve adhesion properties. The interior paint has low VOC components and low acrylic pigments; therefore, the stickiness is less.
Due to low tack, interior paint requires more coats to achieve better surface strength than exterior paint.
Also, interior paint is more susceptible to scratches, while exterior paint is hard and scratch-resistant: interior paints will withstand heavy traffic that can lead to bumps and scratches on wood and walls.
Frequently Asked Questions (FAQs)
Can you use interior paint outside?
Interior and exterior paints differ due to additives. The interior environment of your home is protected from strong winds, rain, and severe weather, while the exterior is not.
Therefore, exterior paints contain special additives such as weather-resistant and anti-mold chemicals to resist heat, cold, snow, rain, and sunlight.
If you use interior paint on the outside, it won't last and will cause cracks, eventually peeling off the walls.
What is the best paint for exteriors?
Paints come in two basic types: oil-based and water-based. For exterior paint, oil-based paint is best because it contains alkyd, which is great for resisting dirt and handling changes in temperature and humidity.
Oil-based paints are specially formulated with additives that give them longevity, making them well suited for exterior painting.
What is VOC in paints?
VOC stands for Volatile Organic Compounds. These are solvents in the chemical form used in numerous water-based paints and coatings to serve as a medium to allow the paint to flow.
The guidelines established by the EPA indicate a low use of VOCs in interior paints because they can cause health-related problems.
Can I use exterior paint inside my bathroom?
As bathroom paint is more prone to mold due to moisture, you could consider using exterior paint inside the bathroom. 
However, exterior paint contains more VOCs, which are not safe to use inside the house.
Is indoor and outdoor paint the same?
The main difference between interior and exterior paint is the chemical compounds at its core.
Interior paints are designed to withstand scrubbing and cleaning, while exterior paint is designed to be waterproof, fight off sun, mold, and mildew.
Is exterior paint more durable than interior?
Interior paints are not expected to withstand harsh or changing weather conditions.
Due to this, they have low-temperature resistance, low water resistance, and quickly fade in sunlight. But exterior paints are made to withstand all of this, so they have superior weather resistance.
Can you use exterior paint inside kitchen cabinets?
Technically, exterior paints can be used to paint kitchen cabinets and will provide very good moisture resistance.
And that may spark the idea of using off-the-shelf paint as a quick, low-cost solution to painting interior cabinets in need of a serious makeover.
Can you use exterior paint on basement walls?
Technically, exterior paint can be used indoors and interior paint can be used outdoors, but there are several reasons not to use either.
Acrylic latex is also commonly used for exterior paint, so it is water-soluble when wet, but resin has also been added to make it weather resistant.
Tips for Avoiding These Paint Issues
The temptation to misuse exterior paint can occur for many reasons. Here's how to avoid this situation:
Too little interior paint: If you run out of interior paint before you finish your projects, it's a good idea to accurately measure the square footage of the area for future reference. If you need guidance, here's some solid advice from PPG: "A one-gallon can of paint covers up to 400 square feet, which is enough to cover a small room, like a bathroom.
Deterioration of the interior paint: You may have enough interior paint, but it has been a long time since you opened it and used it. If paint is not stored properly, it deteriorates and must be discarded.
Interior Paint Damage: If the interior paint was peeling, blistering, or bubbling, there are issues with the paint application, the underlying surface, or both. Interior painting contractors can help remove old paint, check the structural integrity of the surface, and reapply high-quality interior paints and finishes that will stand the test of time without putting you or your home at risk.
The local house painters don't want you to struggle with your painting project or misuse paints in a way that only causes more stress and costs more money.
Conclusion
This post gives you detailed information that will guide you in deciding whether to use such paint inside your house. Yes, it offers many advantages, but it also poses many risks to health and the environment.
Using exterior paint indoors is never a good option as the fumes and VOC content are harmful and can be dangerous to you and your family.
Always prioritize your health over the aesthetics of your home. But if you have another house to move into while there is smoke present in your current house, then go with exterior paints. Don't ignore VOC hazards, even though it gives the best results on the wall.