The Graco Magnum Series is Graco's finest paint sprayer, each with common specifications and some outstanding selling point features.
If you are trying to choose between the Graco Magnum X5 or X7, you are in the right place.
Both tools have the same range of pressure settings and are cleaned in the same way.
They even have the same built-in flaw – both sprinkler systems require more cleaning than average because they're prone to clogging.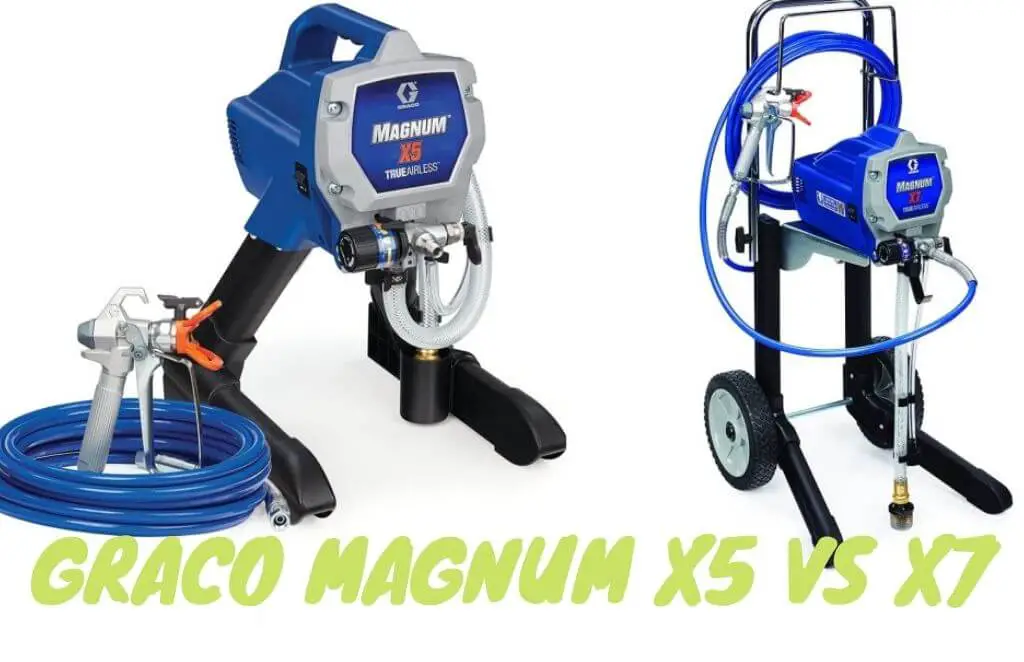 You should not miss our Graco X5 Vs X7 review as it will help you make the right choice.
To determine which of these two tools will be best for your needs, read on for a review of the Graco Magnum X5 vs X7.
Main Differences Between Graco x5 vs Graco x7
Performance
Performance is the key consideration for any paint sprayer buying decision, right? Interestingly, there is actually no real difference between these tools in terms of actual spray output.
What they can ultimately achieve is slightly different, but in terms of how the paint disperses, it's all the same.
The Graco Magnum X7 is really just an upgraded version of the Graco Magnum X5, so it shouldn't be much of a surprise.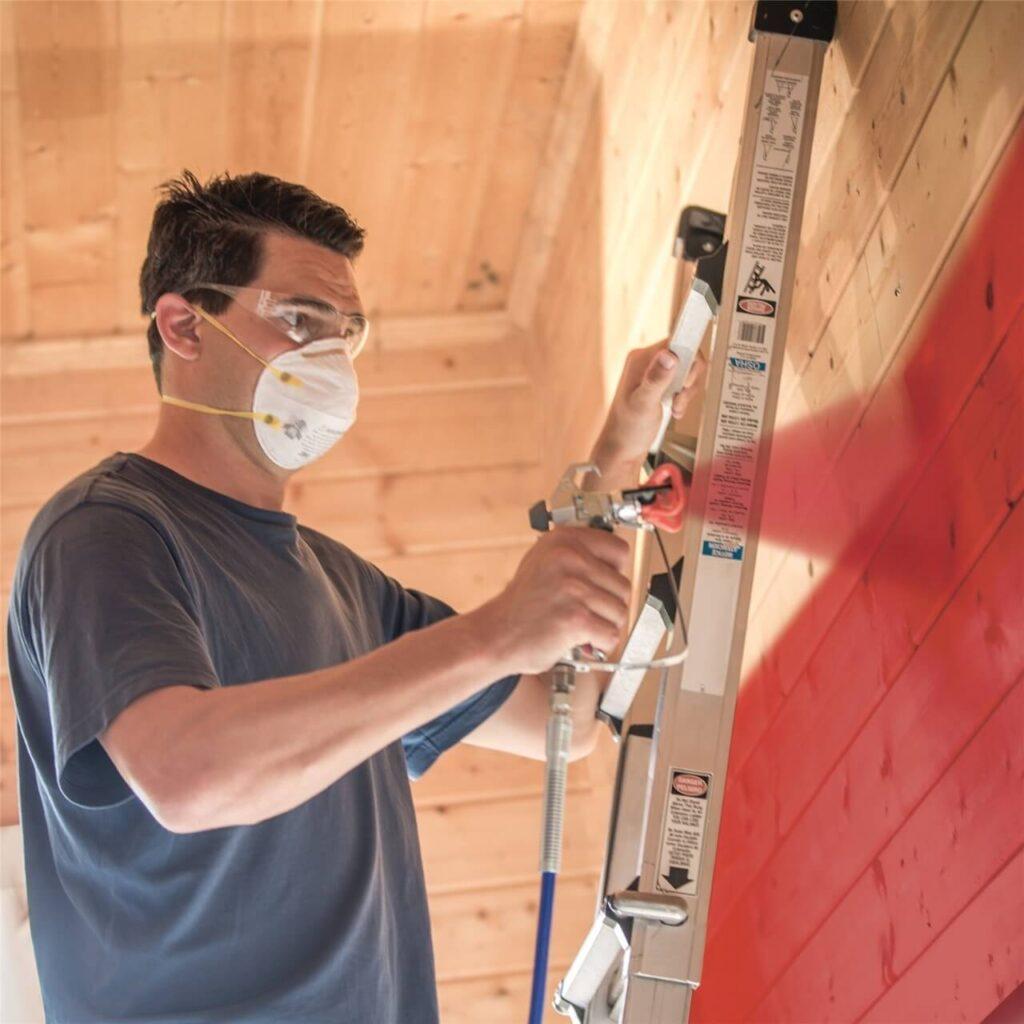 Both tools feature the same pressure settings, so you can have complete control of how the paint spreads.
They also clean the same way, via a hose adapter that makes cleaning this tool as simple as hooking it up to your garden hose, and they even feature the same Achilles' heel.
The said drawback, in this case, is that both Graco tools are too prone to clogging, which means you'll want to be on top of cleaning them to avoid more serious problems.
The Graco X7 does technically have a more powerful pump, but this is only because it can use a longer hose.
If your goal is to find the spray system that produces the best paint job, either tool will be suitable.
Size
The Graco X5 stands at a height of nearly 18 inches and weighs just 13.3 pounds. As mentioned, the X7 is the larger version weighing 10 pounds more and standing nearly 20 inches taller.
However, the larger dimensions make sense when you consider that they are both quite capable and are considered 2 of the best airless paint sprayer for the DIY market.
Where the X5 is meant to be a simple stand that you can easily lift and move, the X7 is designed as a cart so you can pull larger paint containers.
So the extra weight doesn't make it any less portable and the taller height actually makes it more functional when driving.
This is why the larger version is also more suitable for larger outdoor projects where a large area needs to be covered.
Features
The features of this sprayer are also almost identical. Each includes a wide range of pressure settings for complete paint flow control, a garden hose adapter for easy cleaning, and a flip-top tip system that lets you temporarily mitigate clogs while you work.
We've already touched on most of those features, but the last one is worth delving into.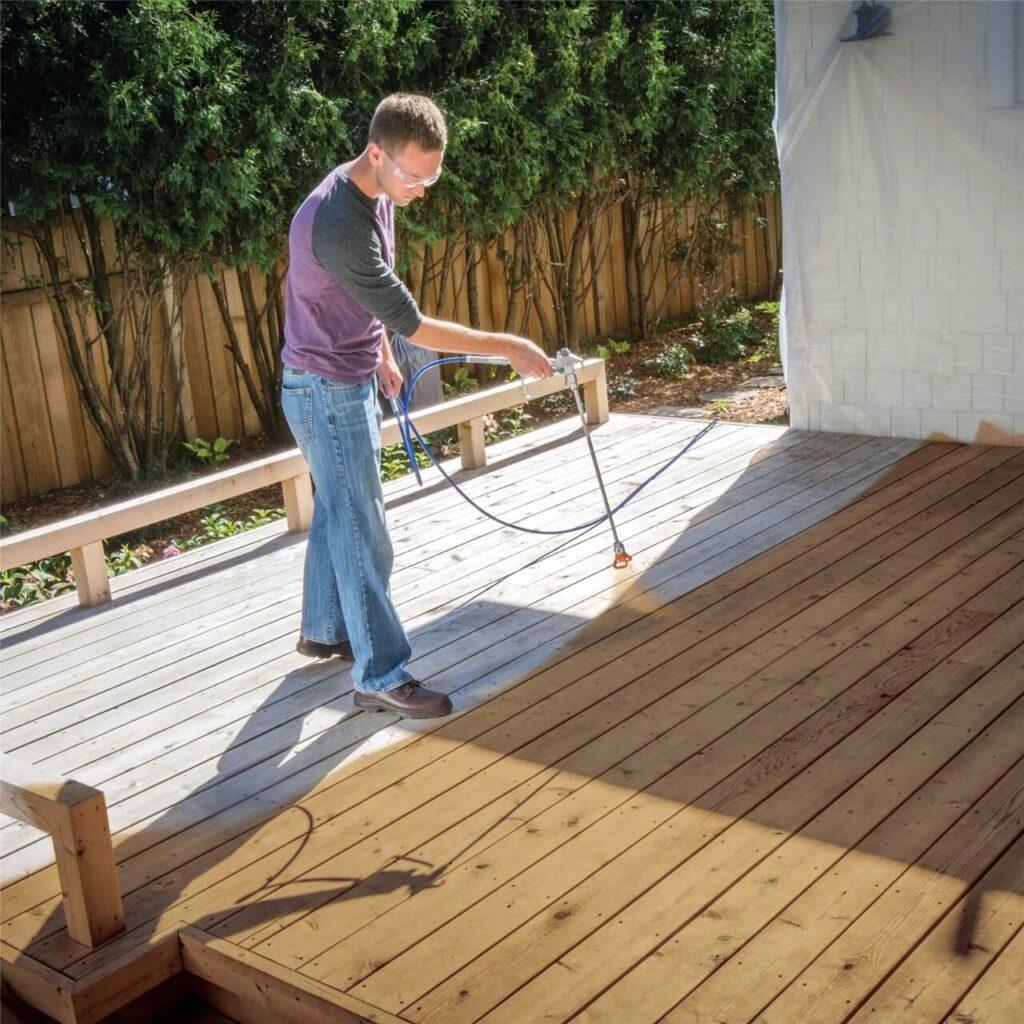 The clog curing tip feature allows you to avoid the clogs that often appear in these two tools, but it will not.
If you experience a clog mid-session, you may be able to fix it with this tip. However, you will need to clean the entire tool as soon as possible to avoid a bigger problem.
The biggest feature difference between these tools is that the X7 design includes a wheeled cart system that allows you to easily push the tool.
If you plan to transport this tool, this feature will come in handy. Of course, if you don't want to pay extra just for a set of wheels, you can definitely use the X5 if you're willing to bring your sprayer.
Precision
In addition to performance, tip size also influences the accuracy of the spray gun. In general, larger spray tips are useful for covering larger surfaces, but you also run the risk of less even distribution.
Reading through customer reviews, you notice that consumers are generally more satisfied with the accuracy of the X5.
In the Graco sprayer comparison, the Graco 7x standard tip is more prone to overspray, especially when using oil-based paints such as latex.
Some also say that it was more difficult to achieve a consistent pattern.
However, users of both models comment that they prefer to use a smaller nozzle for better accuracy. This suggests that the flow rate of both requires some adjustment if you are not a frequent user of motorized painting tools.
From these comparisons, we recommend the X5 for smaller projects like varnishing furniture or something that needs more precision like a fence.
You can use the larger version to spray interior walls, but this specific model is more suitable for more experienced DIYers because you need better control over the device for a smooth, clean finish.
Usability
Fortunately, both the Graco x5 and x7 use the same mechanisms, which means they both work the same way.
The main difference between Graco x5 and x7 is that the x5 has an easy-to-remove paint nozzle and the x7 has the reverse paint spill feature. Otherwise, both are extremely easy to use.
Durability
Both the Graco x5 and Graco x7 paint sprayers are made from high-quality stainless steel, so don't worry about damage over time when using them. Both can also go long periods of time without rusting.
Some notable features that make these models easy to use are the reversible tip that helps prevent clogging and the self-priming feature that eliminates the need for paint thinner.
Aside from proper cleaning after each use, maintenance of both the Graco x5 vs x7 versions is relatively simple. This is due to clever design and the use of strong materials that promise a painting tool that will last for years to come.
There really is no difference when it comes to their durability, so if you are someone who paints regularly, you never have to worry about these paint sprayers being unreliable.
Price
As we suggested in the introduction, the Graco Magnum X5 is cheaper than the X7.
If you're looking for a way to save money, going for the X5 might be a good idea, although some users will need to get the X7.
Why? The X5's hose is a maximum of seventy-five feet, which is fine for one- or two-story homes, but can be a problem for large-scale painting jobs.
Still, if you don't need the extra length, the differences between these two tools are small enough that you'll be fine with the X5 Magnum.
Graco Magnum X5 Overview
The Graco X5 is designed for people who paint less than 125 gallons per year, so it's not quite a professional painter's system.
You can also check out Professional Airless Paint Sprayer.
It would be suitable if you have a deck or fence that needs a new coating every year, or if you have a remodeling job.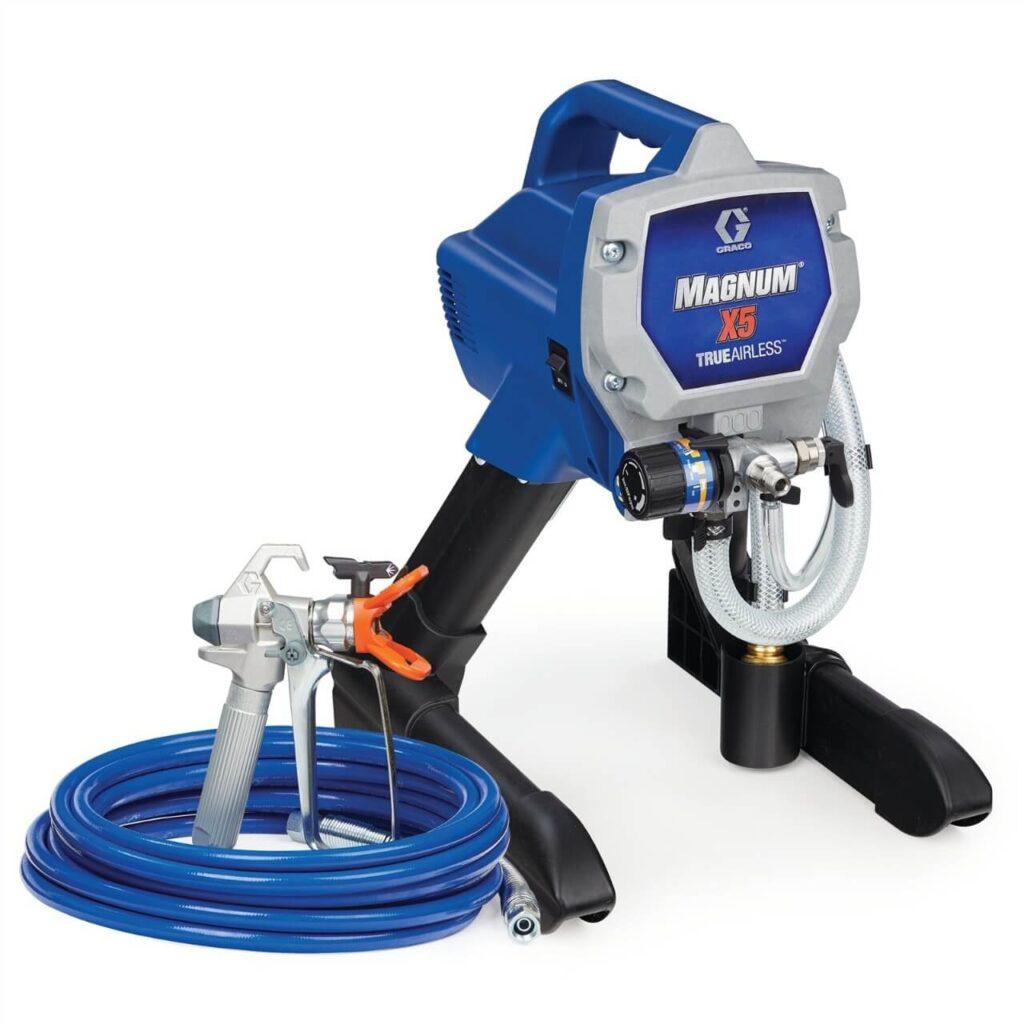 It sprays acrylic, stain, oil, and latex paints, but is not designed for asphalt, solvent, or texture-based lacquers. The gun can be operated with a 75-foot long hose; however, the hose that comes with it is only 25 feet long.
Additionally, the Graco X5 unit pumps almost 1/3 gallon per minute, under the maximum pressure of 3000 psi. It weighs 13.3 pounds and features a top carry handle.
The X5 is designed to rest on the ground next to liner buckets or buckets. It has a single flexible inlet hose and a single flexible pressure release/priming hose, so it's a good idea to have an extra empty bucket on hand for that.
Excitingly, removing clogs is not very difficult. However, locating where the blockage is may take a few minutes. Plus you can easily invert the tip for cleaning and then you have filters on the bottom of the gun and inlet hose.
Finally, Graco provides a handy instruction manual and videos to help you set up and use the X5 correctly.
Who is this for
With the Graco X5 262800 Airless Paint Sprayer, you can easily paint your fence in no time.
Staining or applying an attractive finish to this type of surface will not only protect it from damage but will also give your home's exterior that much-needed boost with newer-looking wood instead of dusting.
The Graco X5 262800 Airless Paint Sprayer is a fast and efficient way to paint your house. You can spray finely-honed lines that create an even surface that allows you more time for other things in familiar life-like activities.
Get the job done quickly and easily with this Graco paint sprayer. With a single button, you can turn it on to apply new coats of finish or switch between various types such as latex, water, or acrylics – whatever your project calls for!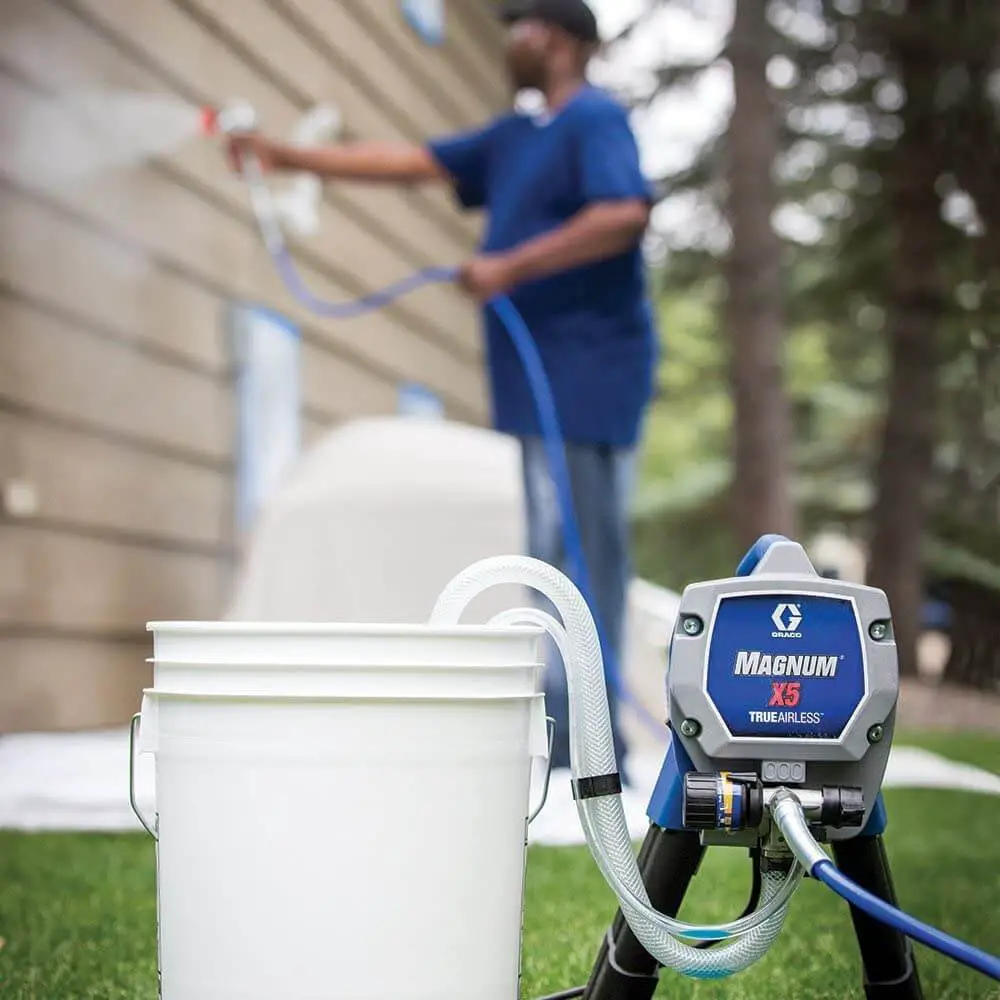 The Graco X5 Airless Paint Sprayer is the perfect way to freshen up worn-looking cabinets. Painting or staining your kitchen can completely transform its appearance for a more modern, modern feel in no time!
This paint sprayer will provide fast, effective results you'll be proud of from start to finish. Now there is something worth investing in if it looks like it might work well with your project needs.
Graco Magnum X7 Overview
The Graco X7 Paint Sprayer is designed for commercial painters looking for a high-performance paint spray tool to quickly cover exterior home surfaces.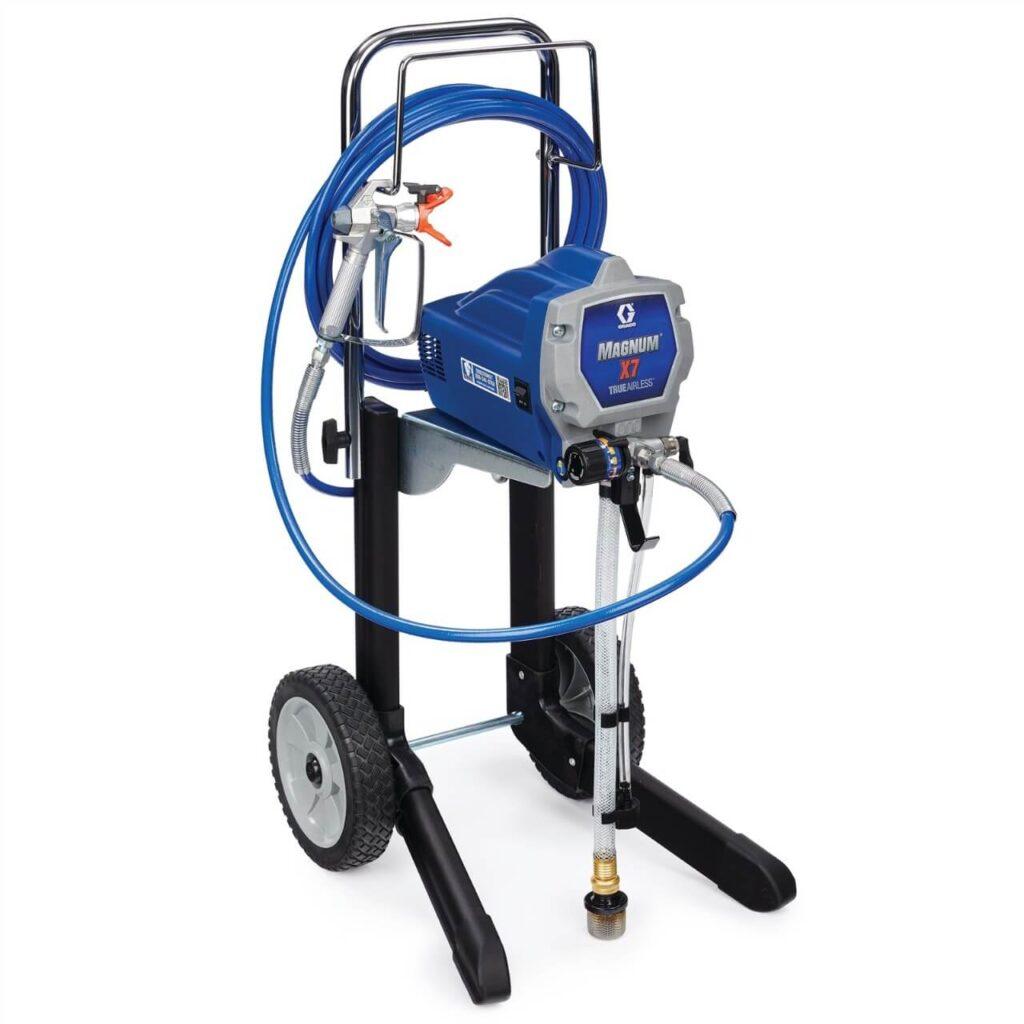 The Magnum X7 model is 15% more powerful than the X5 model. It pumps 0.31 gallons per minute at 3000 psi with a 5/8 HP universal motor, which is way more than the X5 can do.
This paint sprayer performs great in outdoor tasks thanks to its all-weather rating, which protects it from rain, humidity, and general temperature changes.
It also has a stainless steel piston pump, which means the X7 will last longer with more constant use than the X5.
No matter what your project entails, you'll have confidence that the Graco X7 airless has your back!
Everything you want in an all-purpose sprayer Exceptional material atomization in droplets as small as 10 microns for a consistent finish.
Who is this for
The Graco Magnum X7 sprayer is the perfect choice for your deck painting. It's designed with an ergonomic handle that makes it easier to apply a fresh coat of finish while still giving you enough control over where and how much paint goes on each board without having to get too close or leave drips.
Plus, applying this spray will save time compared to other methods because, let's face it, who doesn't love some serious coin when you can put your money elsewhere?
With a Graco Magnum X7, you can quickly and easily paint your home with an even coat of quality finish. With no need to use a roller or brush to cover, this quick-drying spray will save you time in comparison!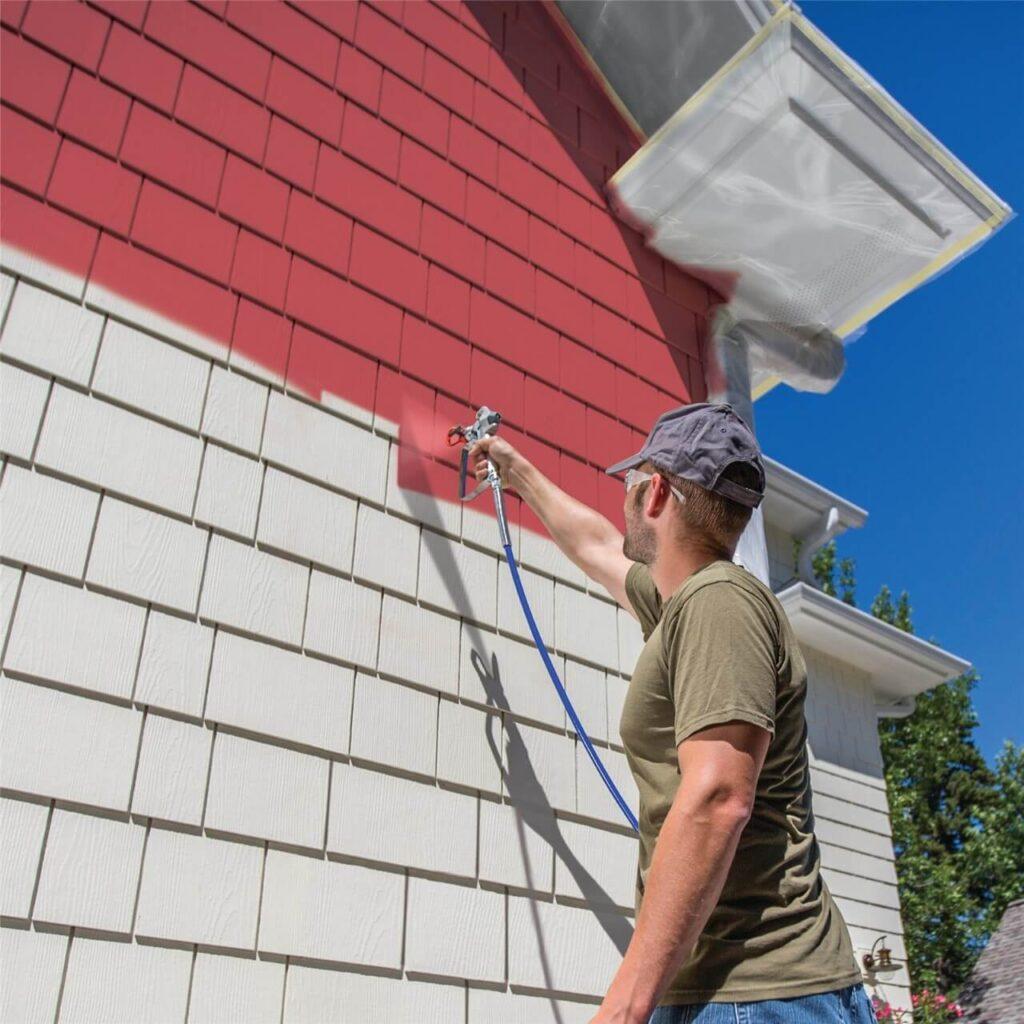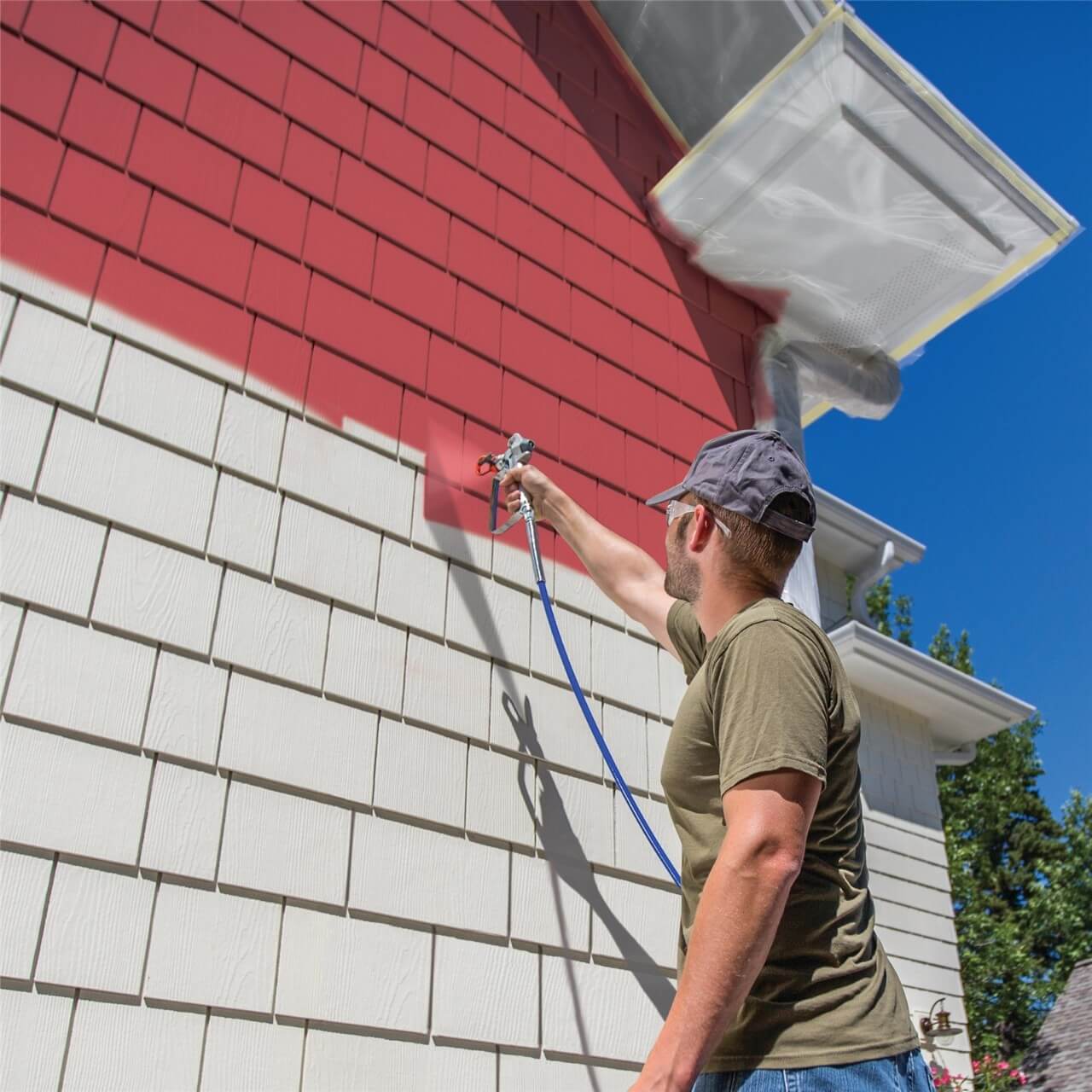 The Graco Magnum X7 is the perfect tool for anyone who needs to paint or stain their fence. It's easy enough that even someone with no experience can do it, but powerful enough that you don't have to worry about damaging anything.
Graco has the perfect solution to breathe new life into your worn-looking cabinets. Painting or staining can completely transform any kitchen or bathroom, so when it's time to apply a new coat of paint, Graco is there with its Magnum Paint Sprayer!
What do the Users Say?
User response to these two tools is remarkably similar, though perhaps this shouldn't be surprising, as the tools themselves are remarkably similar.
Most people say it is very positive. We have heard from users that they are painting large projects such as the exteriors of their houses, or even the interiors of their houses, without any problems.
We've even heard of people getting good results on detailed projects like painting furniture.
The biggest complaint we have seen is that the Graco Magnum X5 and X7 clog a lot. However, on the positive side, users report good results with the paint itself.
Our in-depth reviews:
FAQs about Graco Magnum x5 vs x7
What Is the Difference Between the Graco X5 vs X7?
Both the X5 and X7 are designed to cover large areas in a short time; the only difference is that the X7 has an adjustable paint flow feature where you can add or reduce material as needed.
Choose X5 if you'll be working on smaller projects, like painting furniture and fences.
And for the X7, if you're going to be working on larger painting projects, like painting the walls of your house.
What is the best Graco Paint Sprayer?
Both the Graco x5 and x7 are equally good paint sprayers, but if we had to choose one in particular.
The X7 is Graco's best spray product on the market because it has an adjustable paint flow feature that allows users to work with thick and thin materials.
Also great for larger projects like painting houses, painting fences, and more!
Is the Graco X5 paint sprayer worth it?
Absolutely!
The Magnum X5 is a convenient product for both beginners and experts. It comes with all the accessories you need to get your job done on any job site or at home, no matter what materials you're working with!
Do you have to thin paint for Graco paint sprayers?
Yes, you must thin latex paint for it to work properly. But sometimes you can get away with not thinning the paint.
Are Graco X5 and X7 beginner-friendly?
The X5 and X7 both have a user-friendly design that makes them perfect for new users or those who have never tried using a sprayer before.
Novices won't have to worry about complicated steps or tools, as these products can be put together quickly and fit in with any decor!
If you are a novice, you may even enjoy the Graco X5 and X7 more than the experts as our clear and simple instructions above have solved all the puzzles.
Graco spray paint is absolutely beginner-friendly as the construction is extremely easy to follow.
Can I use the Graco X7 on wood?
Yes, this product is compatible with all types of wooden surfaces, so you don't have to worry about damaging delicate materials by applying too much pressure when working on your DIY projects around the home. It's one of the best paint sprayers for repairing the furniture, restoring floors, and more! Also, read our aricle Best HVLP Spray Gun for Woodworking.
Are these light or heavy machines?
The Graco X̀5 and X7 weigh in at 13 pounds and 23 pounds, respectively, which is much lighter than many models on the market, and the Graco X7 even comes with a portable cart on wheels, making it quick and easy to transport.
Is there a warranty on this sprayer?
Yes! There is a one-year warranty on every Graco product.
As long as you follow the manufacturer's recommendations and instructions, you'll be backed by your warranty when it comes to service and minor repairs.
Conclusion – Which is Better Graco X5 vs X7?
We have finally come to the Graco Magnum X5 vs X7 comparison, and I hope you were able to make up your mind.
Well, it will depend on what you need to do.
Ideally, if you're going to be using the sprayer regularly and plan on repainting a number of larger walls, furniture, windows, and other things around the house, you might want to get the Graco X7.
It has more power, more weight and comes with a longer hose to make it easier to paint large areas. Although the X7 is more expensive, it is totally worth it.
But if you'll only be using your sprayer for small-scale painting jobs once or twice a year, go for the Graco Magnum X5. You'll save a few bucks.
However, I suggest you buy any of these airless paint sprayers based on your requirements.
So before you go out and buy any of these sprayers, it's important to ask yourself what you need to do and how much you're willing to spend. But once you have that, all that's left to do is get the sprayer that's right for you and start painting!