An HVLP spray gun is an indispensable part of woodworking. Woodworking is a challenging task that requires some precision.
It takes hours of hard work to create a masterpiece, and you don't want the last step to ruin all your hard work with a mediocre HVLP paint sprayer.
We have rounded up and reviewed the best HVLP spray gun for woodworking to avoid ruining your efforts.
These high-volume low pressure or HVLP guns are ideal for complex finishing on any woodworking project.
A good HVLP spray gun will allow you to create smooth, beautiful finishes with almost any material.
Even better, they can save you a lot of time, helping you create a better-looking finish faster than applying the material by hand.
However, we understand how daunting a task it can be to find the ideal HVLP sprayer for woodworking projects, especially when searching online. With so many brands offering different products and price points, you can't help but want an easy way to choose.
To save you time and the hassle of surfing the internet, we've done the research for you and created our own list of the best HVLP spray gun for woodworking.
In this guide, we have listed 5 models from which we have chosen 3 favorites, including the best overall, the runner-up, and the best budget sprayer.
Top 5 Best HVLP Best HVLP Spray Gun for Woodworking – Our Top Picks
If you're a woodworker, a spray gun is a must-have tool. Woodworking spray guns can be used for many different tasks, from laminating to varnishing to filling small gaps and seams. But with so many options available, it can be difficult to find the right one for your needs.
Fortunately, we've done the research for you! In this article, we provide an in-depth review of the best HVLP spray gun for woodworking on the market to pick a champion.
Wagner Spraytech Control Spray Max is the best hvlp spray gun for woodworking. Wagner remains one of the most trusted and relevant names when it comes to spray applying paints, stains, and sealants.
It is an easy-to-use paint sprayer that is perfect for finishing jobs. In addition, you will find this Wagner model within reach of your budget.
The nozzle sprays in different spray size patterns from 1.2 inches to 12 inches wide while remaining precise and controlled. Plus, the nozzle prevents overspray, saving you paint. It is also super durable.
It's ideal for working on wood surfaces like cabinets, vanities, trim, fences, and more.
Control the amount of paint you release using the material flow adjuster and change the spray pattern to horizontal, vertical, and round sprays.
Also, use 1 ½ qt. professional-grade metal small work mug 1 qt. cup for the older ones.
For your convenience, the turbine can rest on the ground or other elevated surfaces to allow you to spray with less weight in your hands.
Use the 20-foot hose to reach all angles instead of carrying the entire machine while you paint.
It is perfect for beginners due to its low price and simple design. It also comes with a one-year warranty to ensure quality and a handy user manual to help you every step of the way.
Also, read our Wagner Control Pro 130 Review and Wagner Flexio 590 Review.
The Fuji 2203G Semi-Pro 2 is designed specifically for DIYers who want a professional finish. It is great for painting wood as well.
This spray will provide a smooth finish on anything including hardwood floors, fences, decks, and more.
The best thing about this model is the professional features that it comes with, including the no-bleed technology.
So you won't have to worry about the possibility of a messy, dripping finish, this gun has you covered!
This gun is also much more powerful than competitive HVLP systems.
This spray gun has a super powerful 1400 watt 2-stage bypass motor, so it can handle any type of coating and still provide even coverage.
With the Fuji gun, you can count on a great finish every time, no matter what it takes to get there. It features a convenient side pattern control knob that allows you to control the size of the fan pattern.
You can choose between a wider angle spray and a smaller circular one, so you can switch it up depending on the job!
It is a very durable sprayer. It's predominantly made of metal, which makes it nice and sturdy.
This model weighs in at around 26 pounds, so it's not a lightweight option, but it does come with a handle and wheels, so it's still transportable.
The Earlex HV5500 HVLP spray station Spray Gun is designed specifically with contractors in mind.
However, professionals just starting out can also use it because there's no learning curve to this easy pump sprayer's 3-speed motor.
If you are wondering which is the best HVLP spray gun for wood finishing, Earlex HV5500 is your answer. Because it allows you to achieve a superior finish on your homework or woodworking project.
This professional woodworking HVLP spray gun is the ultimate furniture paint tool. For most wood furniture projects, Earlex HV5500 is tall enough to accommodate large pieces and small crafts with precision and ease.
Plus, it has a wide-mouth opening for larger paint trays, so you don't need to refill often.
The NEU MASTER HVLP Spray Gun is a great tool for homeowners who occasionally spray paint.
The NEU MASTER is the best HVLP sprayer for painting walls, ceilings, kitchen cabinets, and fences.
The Neu Master 600 Watt Spray Gun doesn't handle many gallons of paint, but it is a low-cost portable paint spray gun with more versatility than similar products.
This unit features a stand-up turbine and has a 600-watt motor to give you full coverage with minimal overspray. You can use it with acrylics, sealers, enamels, polyurethanes, and high-power stains.
Additionally, it comes with a viscosity cup, which allows you to determine the amount of dilution required before filling.
This electric spray gun also features two different nozzles, so you can choose the right nozzle for the job, whether it's for a precise finish or quick coverage.
Plus, you can use one of three different spray patterns to meet your material delivery needs.
By using a 6-foot hose, you can operate the gun more freely. The paint cup and handle of this compact spray gun make it easy to hold.
In addition, a shoulder strap can be attached to the compact turbine to allow greater mobility and reduce hand fatigue during work.
The Homeright C800971 Max HVLP Paint Sprayer can cover a wide range of different coatings with less dilution and hassle than other spray guns on the market.
You will use it a lot and you will be happy with it. You can use it on cabinets, furniture, fences, and walls.
Efficient and economical, the C800971 sprayer offers quality and great features. This spray gun is ideal for DIY enthusiasts for its versatility and performance.
It has 6 spray tips, which means you can use it to spray paint on various projects, such as wooden furniture, cabinets, decks, crafts, vanities, and other similar materials.
Plus, it holds 39 fl oz, allowing you to work on larger projects without needing to reload frequently. It also features adjustable controls that allow you to work with extreme precision.
Whether you need to work on larger surfaces or do detailed art, this sprayer offers different spray patterns to help you produce factory-like results. In addition, the brass needle allows you to obtain an even finish.
On the downside, the cleaning process is a bit difficult as it gets clogged easily. Also, it is not ideal for painting ceilings.
HVLP Paint Sprayer for Woodworking Buying Guide
There are several different types of spray guns available on the market. Be sure to check the following items to find the right one for your needs.
Before you invest your money in purchasing the best HVLP sprayers, you need to consider a few key factors.
Here's a quick buyer's guide to help you determine some important factors when finding the best HVLP sprayer for woodworking.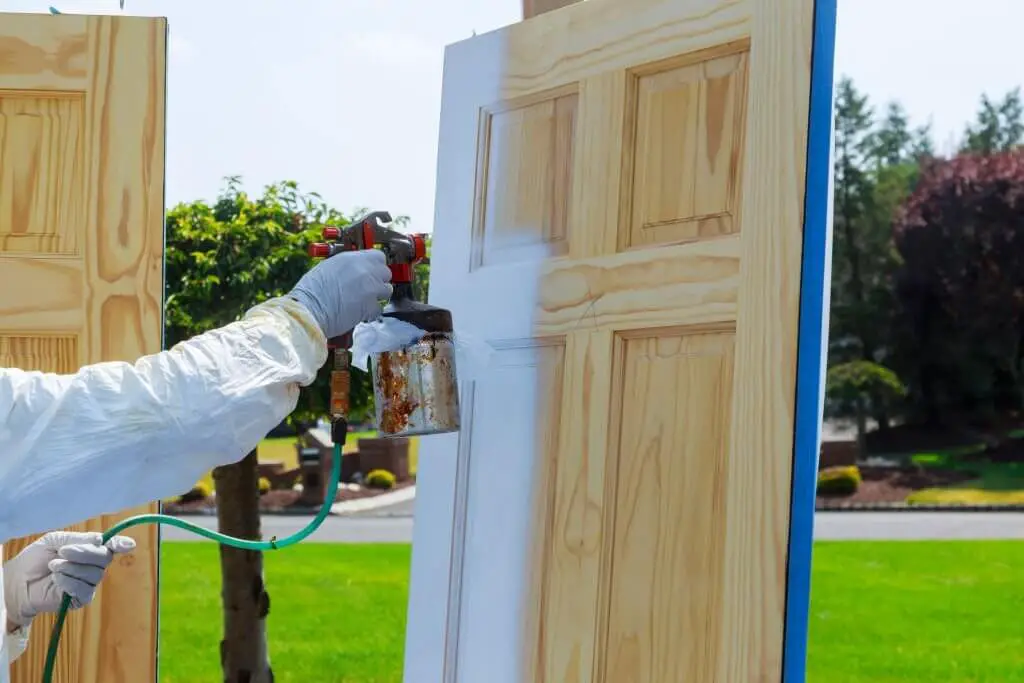 What to Look for in an HVLP Spray Gun for Woodworking
Here are some of the important features to look for in an HVLP spray gun for woodworking:
1. Adjustability
A spray gun that allows you to adjust the output pattern, so you can use it in any direction is best. Look for a gun that allows you to switch between spraying horizontally, vertically, and circularly.
The paint control knob should be easy to use, so you feel in control when painting, so read product reviews before you buy.
In addition, it is also very useful to be able to check the air pressure, as well as limit or increase the volume of paint that is released.
This gives you complete control over the desired finish and precise paint application. It will also allow you to be creative with each job.
2. Nozzles
Few HVLP spray guns are only equipped with a single-use tip. While other HVLP spray models offer different types of nozzles at additional cost.
Depending on the size of the nozzle, you can spray different paint materials with the sprayer. The larger nozzles can handle high viscosity liquids while the smaller nozzles are suitable for low viscosity liquids.
Choosing the wrong small nozzle for thick liquids can clog, while too large a nozzle can cause overspray.
3. Compatibility
Another important feature that most buyers look for in a spray gun is compatibility.
An ideal HVLP sprayer is one that works well with any paint material, such as lacquers, stains, varnishes, latex paints, etc. You should be able to stain your wood appliqués with an even, even coat.
4. Cleaning
We strongly recommend opting for a model that is easy to disassemble. This way you will be able to clean the gun more efficiently and your machine will last longer and produce a great finish every time.
You don't want to end up with a clogged machine that you can't fix.
Removable tips are also a plus and models that come with a cleaning brush are also a plus.
5. Availability of spare parts
Another vital feature to consider when purchasing a spray gun is the availability of replacement parts. It doesn't matter how much you buy a spray gun; not all parties will last forever.
So consider this when looking for a spray gun to avoid doing the whole unit unless one part goes bad or worse.
6. Price
This is also an important factor to consider before making your purchase.
More expensive sprayers tend to offer better quality and have more features.
However, it is worth noting that not all expensive products are worth the price.
Always make sure to compare and verify the product's features with its selling price. Also, if you need a paint sprayer for light painting projects or just for one use, an inexpensive product is the way to go.
Why Use HVLP Paint Sprayer
HVLP spray guns are the new and improved version of brushes. They are a great option for people looking to cover a lot of ground quickly with minimal effort.
These spray guns come in many shapes, sizes, and colors. So anyone can find one that works best for them while eliminating their biggest fears: runny finishes or wasted time cleaning up a mess later.
HVLP is much cheaper than buying expensive equipment like air compressors.
It saves on paint and cash
With the HVLP spray gun, you can reduce costs by up to 30%. This is due to several factors.
First of all, this type shoots paint better and more efficiently than other types of guns, thus requiring less manual labor to clean up after painting.
Plus, with a reduced amount of overspray, there's also less waste, which saves money since a small amount of paint will cover a large area.
They are relatively safe
HVLP spray guns are highly efficient and safer than other types of use as they generate less overspray. Some states have made them mandatory for auto repair shops.
They make the workplace much safer while protecting people from breathing in harmful gasses. However, you will still have to wear a face mask.
Frequently Asked Questions (FAQs)
Which is better: HVLP Or Airless?
An HVLP is a better choice for beginners and when you need to spray vertically on a small project.
It's also faster than an airless sprayer and requires less overspray since it operates at low pressure.
However, if you want to use the paint material directly without thinning it, choose an airless sprayer as it is powerful enough to pump the material without thinning it beforehand.
If the project you are working on includes large surfaces such as walls and oil tanks, then you should consider getting an airless sprayer.
However, if you are working on smaller projects and focus more on smooth, precise finishes, you should definitely get an HVLP sprayer. Check our article about hvlp vs airless paint sprayer.
What is an HVLP spray gun used for?
HVLP stands for High Volume Low Pressure. An HVLP spray gun is used to apply paint to small surfaces with precision using a pressurized air gun.
This gun can compress air which makes it easy to spray even patterns and results in smooth finishes.
Do HVLP Spray Guns work with Compressors?
Yes, pneumatic HVLP guns require an external compressor for both atomization and coating material.
They are priced a bit higher than HVLP turbines because they require an additional tool: a compressor. You can also check out our guide for the best spray gun for small compressor.
How big of an air compressor do I need for an HVLP Spray Gun?
HVLP guns require a lot of air, so you should have a larger capacity compressor than those used for home DIY jobs.
However, to spray the full range of finishing products, you need at least a 21⁄2 to 3 HP compressor with a 20-gallon (75-liter) tank.
Can I spray Latex Paint with an HVLP Gun?
An HVLP gun is not designed to paint thicker, heavier paint materials like latex. But if you want to do it, use a 4-5 stage turbine, a larger needle or nozzle, and a pressurized cup to get the job done.
Otherwise, you can use synthetic resin-based latex paint. You can also check out our guide for the best latex paint sprayer.
Conclusion
A good HVLP sprayer can help you finish your projects with better results in less time. But if you get the wrong sprayer, you could end up with the opposite.
There are many options when it comes to finding the best HVLP spray gun for woodworking.
Our reviews should help you avoid such a situation, but we're going to cover our recommendations one more time just in case.
We believe that our reviews and buying guide will help you make a decision. Review the features and choose the spray gun that best suits your job.