Spray paint is convenient, but it can get messy. Spray paint has many great uses, but it can be messy and difficult to remove.
Fortunately, there are numerous tried and true ways to remove spray paint. The method you choose to remove spray paint depends on the surface and type of paint. Read on for an overview of what is needed and how to remove spray paint!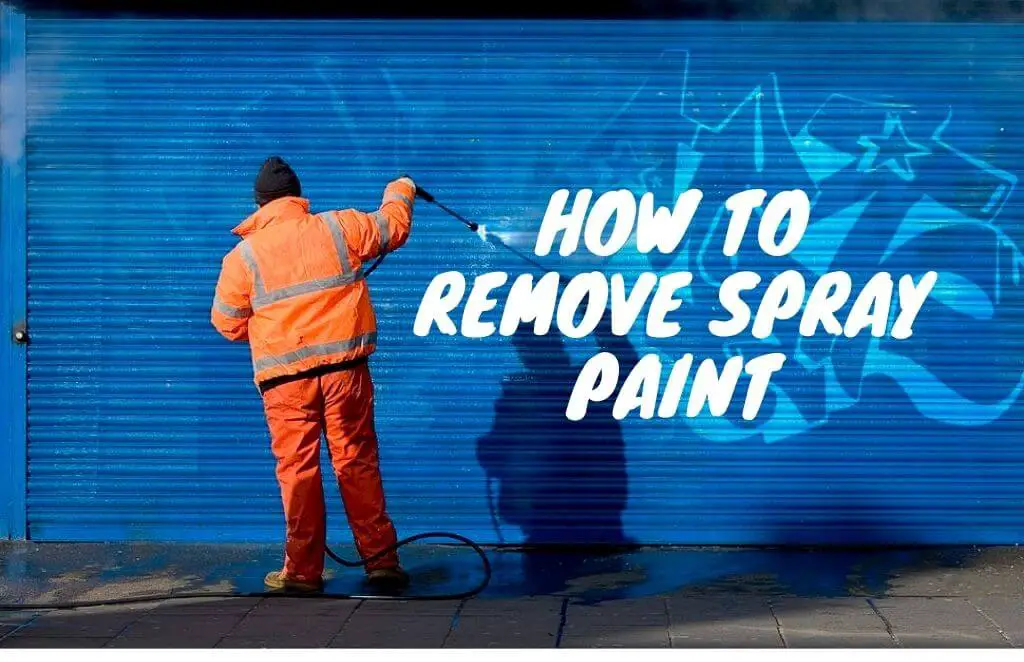 Fear not! In this guide, we'll show you how to safely and effectively clean spray paint stains from:
Your skin
Clothes
Plastic
Metal
Concrete
Glass
And vehicles!
There are several products on the market to remove paint. However, we are exploring spray paint removal techniques that use items you may already have at home.
Then try one of the following processes that will work on porous surfaces, metal, plastic, and leather. Each technique varies slightly depending on the base of the painting.
So before trying to use paint remover or random paint thinners to remove spray paint from affected areas, be sure to read on for our top tips!
What You Need To Know About Spray Paint
Spray paint is also known as aerosol paint. Use a pressurized container to spread the paint over the desired surface.
Spray paint works better in many cases than the traditional brush painting process.
Provides a smooth finish without brush strokes. This is why it is especially good for applying clear coats of polyurethane and other finishes.
Supplies You'll Need To Remove Spray Paint
Aerosol paints are water-based (latex) or oil-based paints. They mostly use solvents made from acetone, lacquer thinner, or paint thinner.
To remove paint stains from skin, metal, walls, concrete, or other surfaces, you will need some (not all) of the following:
Pure essential oil
Nail polish remover
Paint remover
Toothbrush
Warm water
Liquid dish soap
Scraper
Pressure washer
Microfiber cloth
Baking soda
Vegetable oil
Sandpaper
Rubber gloves
Paper towels
Olive oil
Paint scraper
Steel wool
Mineral spirits
How to Remove Spray Paint From Your Skin or Hands
If the spray paint got on your skin, you should be able to remove it. There are different methods for oil and water-based paints.
For the former, wash in warm or hot water and dish soap with a toothbrush or abrasive household sponge if necessary.
Remove water- or oil-based spray paint from your hands and other exposed areas with a little effort and some natural, non-toxic household products that you no doubt already have on hand.
For oil-based paints, pour a little olive oil or other mild oil and rub it back and forth over the stains. Rinse and wash with water and be sure to clean the sink thoroughly after using the same method.
You may experience paint stains on your skin from non-toxic water-based or oil-based paints. Cleaning the affected areas with water-based paints shouldn't be a challenge, but oil-based paints will require more attention.
If the spray paint has gotten on your skin, these steps will help you remove the oil-based versions.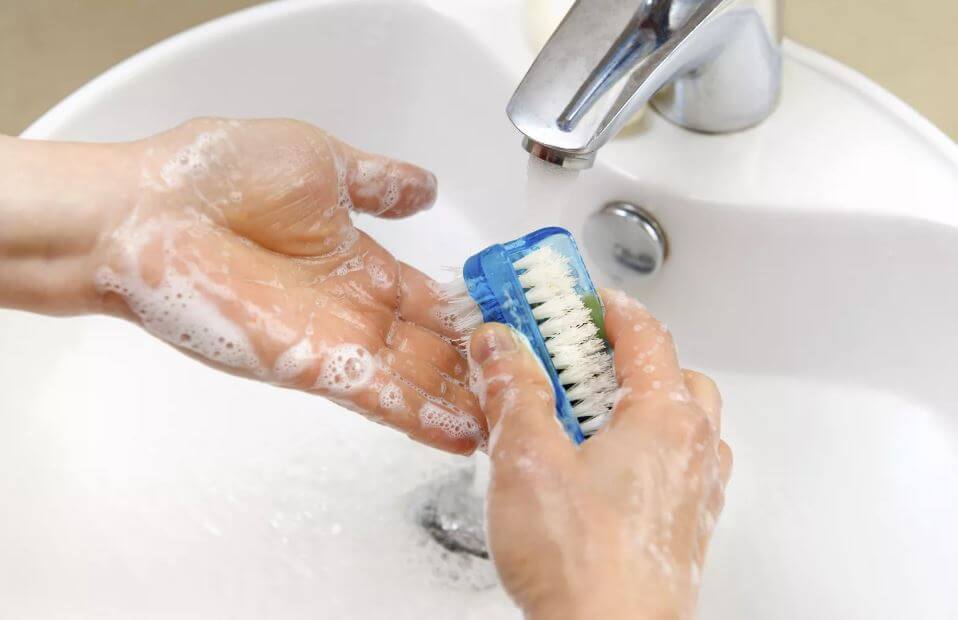 Use a Skin-Friendly Oil
Check the bottle to see if it is oil or water-based paint. For the water base, apply a few drops of liquid dish soap to the affected area of the skin.
With your fingers, begin rubbing the soap in a circular motion for two minutes.
Using your hands or a cotton ball, gently rub the skin with a skin-friendly oil such as olive oil or coconut oil. Be very careful not to get oil in your eyes, as the oil can be irritating.
Also, be careful not to stain clothing or fabric because oil stains can be difficult to remove.
Wash Your Hands With Soap and Warm Water
Next, wash your skin with hand soap or body wash to remove any traces of oil. Rinse skin and washcloth well.
Place the bristles of the toothbrush under running water. Move the brush in circular motions while scrubbing the affected areas.
It will eventually remove any paint left on the skin. Rinse with lukewarm water to clean the surface of the skin.
Clean Up Rubbed Off Paint
Clean up any paint from the sink or tub with water and a rag or brush if necessary.
When working with essential oils, be sure to avoid contact with your eyes, as this will sting.
How to Remove Spray Paint From Clothes
Spray paint is difficult to remove from clothing, especially once dry. The key is to act quickly, but obviously, this is not always possible.
If the paint is still wet, try blotting it with paper towels or a clean rag. Don't rub the fabric as this will only make it worse.
Next, check the spray can to determine if the paint is water-based.
Some people claim that spraying hairspray on blemishes can work, but the jury is still out on that.
If the spray paint stains appear to have disappeared, you can try washing the items in warm water. However, when you take them out of the washing machine, do not throw them in the dryer.
Instead, let them air dry and check for signs of the stain.
If not, put the clothes to air dry and recheck. Try repeating the cleaning process if necessary.
If you want to see how easy it is to remove paint from clothing, watch this instructional video.
How to Remove Spray Paint From Plastic
I did my own research to solve the problem. Fortunately, I now have the answers to the question: "How to remove spray paint from plastic without damaging it?" Interested! Let's see what we can do to prevent or minimize casualties
You just sprayed a plastic item with spray paint splatters and now you don't know what to do.
Here are a few different ways to get the job done without damaging the stained area.
Why is removing Spray Paint from plastic more difficult than you think?
The answer is pretty simple, really. Plastic and spray paint don't mix too well. Careless removal will damage the plastic.
Yes, it is the same when working with nail polish or paint remover. If we are not careful enough, they will eat up a considerable part of the plastic that we are trying to save.
Then there is the smell of these things. If you are using a chemical to clean or remove spray paint, the chemical is likely to leave a pungent odor.
The next time you use the plastic bottle, the toy, or anything else … it will hit your nose. Pretty bad, I must add!
Paint thinners are also similar in nature. They can damage the chemical bond of the plastic itself very well. It has the possibility of dissolving if you put too much.
Step-by-Step Instructions for Removing Spray Paint from Plastic
Step 1
Use a paint sprayer, putty knife, or razor to remove stains with a gentle back and forth motion. Be careful not to scratch the surface of the plastic.
If the paint is still wet, apply warm soapy water with a clean cloth or paper towel. Rub the rag over the paint splatter to dislodge any unwanted finish from the plastic surface.
Next, use the blast setting on your garden hose to remove any remaining residue.
Step 2
If that doesn't work, use a little vegetable oil to soften the paint. Put the oil on a clean, dry cloth. Then rub the stain vigorously. Let the vegetable oil soak into the spray paint. After a few minutes, you may start to notice some of the paint peeling off the surface of the plastic.
Step 3
Now, use a paint scraper to remove any remaining residue. Be careful not to scratch the surface of the plastic as you work to remove any spray paint residue.
Step 4
If you are dealing with a very stubborn stain, you may need to remove the acetone. In this case, regular nail polish remover should be sufficient. Dampen a rag with acetone. Then apply the damp cloth to any remaining residue. You should be able to clean up the remaining paint with very little effort.
Step 5
Finally, use a damp cloth to remove any remaining residue.
How to Remove Spray Paint From Metal
Metal is a non-porous material, it is fairly easy to remove spray paint from metal door hardware, tools, countertops, or patio furniture with some inexpensive cleaning solvents.
Therefore, it shouldn't be too difficult to remove the spray paint. To remove water-based spray paint from metal, follow these steps.
Step 1:
Pour baking soda into the bottom of the pot. The baking soda should form a layer about ⅛ "thick on the bottom. Fill the pot with cold water until it is half full.
Step 2:
Place the bristles of the toothbrush under running water. It will eventually remove any paint left on the skin. Rinse with lukewarm water to clean the surface of the skin.
Step 3:
Remove the metal from the pot with tweezers and place it on a clean cloth or surface.
Once the object is cool enough to handle, use the paint scraper to remove loose paint. Be gentle enough to avoid scratching the metal object.
Step 4:
When it comes to larger metal objects, such as doors or metal surfaces. Put on rubber gloves, safety glasses, and a respiratory mask.
Using a chip brush, apply a thin coat of strippers to the affected areas.
Step 5:
Read the stripper instructions for the procedure to allow the stripper to set.
Use a stiff-bristle scrub brush to gently remove paint.
Step 6:
Dampen a clean towel with mineral spirits. Clean the metal object to remove any stripper or scale.
Use a clean cloth to dry the metal object.
How to Remove Spray Paint From Concrete
Concrete tends to absorb spray paint because it is a porous material. So you need more supplies and effort to get rid of the paint. You can try the pressure washing process or a trisodium phosphate (TSP) cleaning process.
TSP is best for indoor use but requires more scrubbing and effort. Pressure washing is easier but is only recommended for removing overspray and outdoor paint stains.
Pressure washing, which involves removing the stain with a powerful jet of water from a pressure washer, should be reserved for exterior stains of any size, as it can soak and damage interior structures such as walls, insulation, and wiring.
TSP can be applied to paint-stained concrete, indoors or out. But the technique requires manual scrubbing and is more labor-intensive than pressure washing.
So if you have access to a pressure washer, limit the outdoor TSP technique to small stains.
Step 1
Connect the spray wand to the spray gun, and then connect the gun to the high-pressure hose of the pressure washer.
Be sure to attach the 15-degree spray tip to the end of the spray wand.
Note that the narrower the angle of the spray nozzle, the stronger the water pressure.
Do not use an angle less than 15 degrees as it can damage the concrete, while a wider nozzle may not produce enough water pressure.
Step 2
Put on your safety glasses. Turn on the pressure washer and garden hose. Stand about three to four feet away from paint stains and squeeze the trigger on the pressure washer to begin spraying the stains.
Step 3
For indoor stains, wear rubber gloves, a respiratory mask, and safety glasses. Pour two gallons of warm water into a five-gallon bucket. Dilute 5 ml of TSP in the bucket.
Step 4
Use a hand pump sprayer to spray TSP on affected areas. Let stand for a few minutes before repeating step 2.
Or dip the stiff bristle brush in the diluted TSP solution. Now, rub the paint off the concrete with plenty of elbow grease.
If the stain persists, allow the TSP to soak into the affected area for about 20 minutes before trying to scrub it again.
Step 5
Use the hose to rinse off any paint chips outdoors or a mop and dry towel to clean up any indoor clutter.
How to Remove Spray Paint From Glass
Knowing how to remove spray paint from glass depends on the type of glass and the type of paint sprayer.
It is fairly easy to remove spray paint splatters from glass surfaces. You can usually remove them with the help of common household chemicals and cleaners.
Let's take a look at the step-by-step instructions to safely remove spray paint from glass.
Step 1.- First, put on a pair of protective rubber gloves.
Step 2.- Next, moisten your microfiber cloth with acetone polish remover.
Step 3.- Hold the damp microfiber cloth against the spray paint.
Step 4.- When the paint starts to loosen, use the cloth to rub it off.
Step 5.- If any paint remains, continue this process until it is completely removed.
Step 6.- Once you are satisfied with the results, moisten a clean microfiber cloth with clean water. Then use it to remove any acetone residue and loose paint flakes from the glass surface.
Step 7.- Finally, use a glass cleaner and a clean microfiber cloth to remove any scratches and fingerprints left during the paint removal process. Viola! Your glass should now be free of spray paint.
How to Remove Spray Paint from a Vehicle
If for some unfortunate reason your vehicle ends up with spray paint, it is not permanent and there are effective ways to remove it.
Again, nail polish is a good alternative due to the acetone it contains. Nail polish is formulated to remove what has been painted on the nails, so it stands to reason that it can remove unwanted paint from a vehicle.
Read our guide, how much does it cost to paint a car.
If the spray paint hasn't healed, you may be able to remove it with a little soap and water. Note that the times vary with respect to the drying time.
Step 1
Mix the soup and water in a small bucket. Wet a clean towel. Rub the spray paint in small circular motions. Then wash off the soap and water with clean water.
Step 2
Apply a small amount of car cleaner with a microfiber cloth. Wipe the fabric back and forth to remove the paint.
Step 3
If that doesn't work, try massaging the paint with carnauba wax. This substance can be found in the automotive section of most stores.
Place the wax on a non-abrasive automotive sponge. Massage the surface of the vehicle. When you finish applying the wax, use a clean microfiber cloth to polish the surfaces.
Conclusion
We hope you found our spray paint removal tutorial helpful. It can be disheartening to find splashes of color where it doesn't belong.
It can be even more disturbing to discover that your home or business has been the victim of unsightly graffiti.
Fortunately, there are several things you can do to restore surfaces, including glass, plastic, and concrete materials, to their original splendor.