If you're a homeowner looking to redecorate some worn-looking areas, add a fresh coat to a wall, or repaint multiple rooms, you need to tackle it head-on—a paint sprayer will help you do just that.
Used commercially by professionals, many models are now designed for use in home spraying and semi-professional contractors or handypersons.
Here we are looking at the model known commercially as the Graco Magnum ProX17 Stand Paint Sprayer.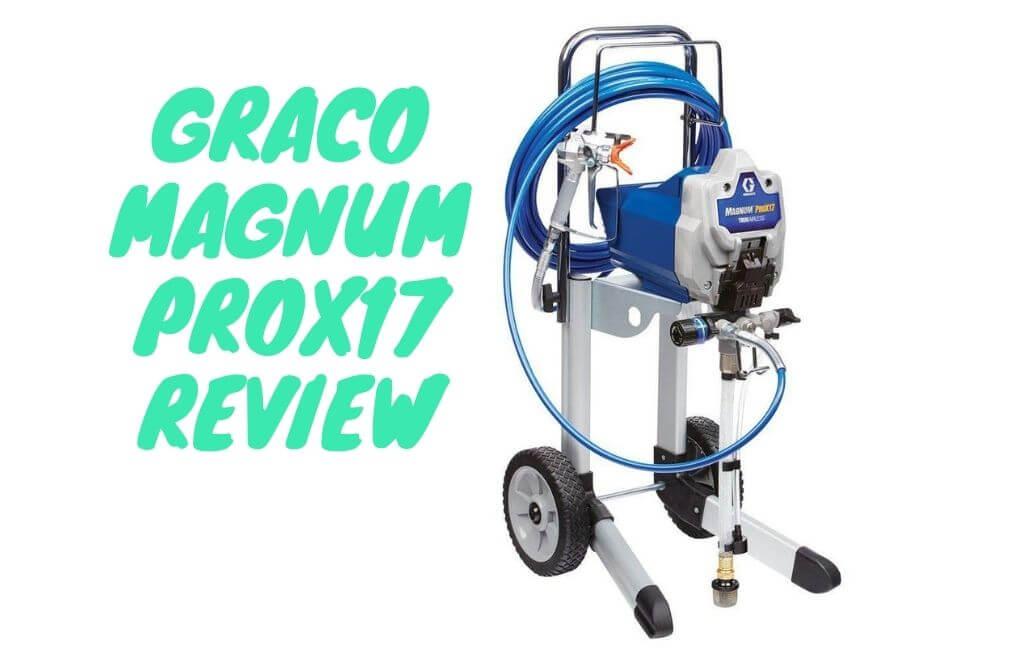 Here's our detailed Graco Magnum ProX17 review to help you decide if it's the machine for your home needs.
The Graco Magnum ProX17 is from one of the best brands on the market, so before we get into the specs, here's a little more about what a paint sprayer does and why you need one.
Introduction to the Graco Magnum Prox17 Airless Sprayer
The Graco Magnum ProX17 is one of the entry models to Graco's contractor-level sprayers. These sprayers are slightly better built and more durable than Graco's consumer line of Magnum airless sprayers.
When you first look at the ProX17, you will notice that the front of the pump looks different than the regular Magnum series.
This is because the Magnum ProX series is designed to have a replaceable pump, which means that if the actual pump in the sprayer becomes worn or damaged, you can easily replace it.
When I say easily, it's really easy to replace the pump. I've been painting for 20 years, and when I started, I had much more expensive sprayers, and replacing the pump meant taking the sprayer to the repair shop for a few days.
Graco Magnum Prox17 Review
Technology has advanced to the point where the Graco Magnum ProX17 has a built-in compressor driven by a powerful electric motor.
This is known as an airless paint sprayer, and it means greater versatility and cost savings since you don't need a compressor.
Among the many different spray guns on the market, we have chosen to review the ProX17 for several reasons.
Firstly, Graco is a leading name in the paint sprayer market, and secondly, this model is among the best you can buy for this price range, along with the Graco Magnum Prox17 review that we have written before.
It is designed for serious work and although it is not the cheapest. When it comes to capacity and power, few sprinklers will match this one in terms of capacity.
To give you an idea of ​​what you're buying, let's take a look at the key features of the Graco 17G177 Magnum ProX17 Paint Sprayer.
You can also read our full Graco Magnum X7 & Magnum X5 Review.
Who is this for
If you're looking for a paint sprayer for smaller, occasional jobs, the Graco Magnum ProX17 might not be the model for you.
This tool is designed with a professional painter in mind. It is the ideal maintenance gurus, general contractors, and remodeling professionals. Its compact design coupled with its 32-pound weight allows professionals to carry it to a designated spot in the trunk of their car.
Don't be fooled by the weight of the device as it delivers the precise power and paint flow needed for the job. Contractors love this sprayer as it allows them to complete a job that would normally have taken four days to just one.
This literally means that they can complete complicated jobs over the weekend. Apart from this, maintenance of this sprayer is a simple task once the user reads the user manual.
Even DIY enthusiasts can use this sprayer. The biggest plus point is that the ProX17 costs less than equivalent models made by other companies.
Features of the Graco Magnum Prox17
The Graco Magnum Prox17 Paint Sprayer is a professional quality sprayer that will help you paint your home or office in record time.
Stainless Steel Piston Pump
In order to address the needs of professionals, Graco decided to include a stainless steel piston in this model.
This feature provides longer life and reliability. The power piston has a single packing set that requires no lubrication and is maintenance-free.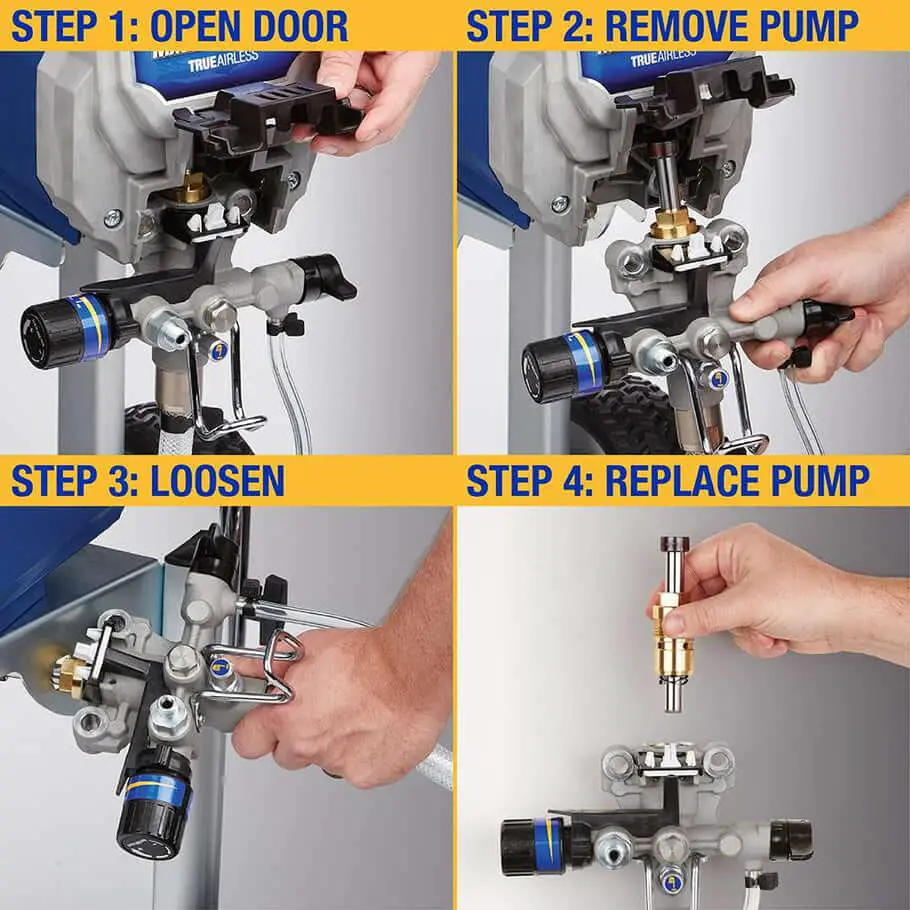 Stand Design
The wide variety of paint sprayers on the market means that you will have to choose from several different designs and features. For example, some sprayers include everything in one unit and are smaller hand-held machines.
The Graco 17G177 is a larger model than most DIY sprayers, though not too big for home use, and it comes with a built-in stand.
It holds the spray gun, giving you greater versatility, while the physical machine that does all the work remains on its stand on the floor.
Easy Pump Replacement
We all know the inconvenience and downtime a broken part can cause. That's why Graco has developed the ProX Change system.
It allows you to replace a pump in a matter of minutes, without the need for tools.
High-Quality Hose
A 50-foot 1/4-inch DuraFlex hose is included with the Graco Magnum Prox17 so no project is out of reach.
For added convenience, you can connect this model to a 150-foot hose.
Powerful DC Motor
The surprisingly powerful DC electric motor can handle very long extension hoses so you can work a long way from the base unit.
You get a 50-foot Duraflex paint hose as standard, but the machine is quite capable of delivering through a maximum 150-foot length of hose if you need it, so it's worth keeping in mind if you own multi floors or great distances to cover.
Adjustable Pressure
Because of how airless paint sprayers work, the air pressure flow is fully adjustable so you can choose the level and speed of material output.
Control for adjusting pressure is included in this unit. It displays symbols that are easy to distinguish, as well as separate controls for priming and spraying.
The adjustable pressure gives you much more control and means you can use a larger nozzle size to get the job done faster, and also means that for simpler larger areas you can use high-pressure airflow and get the job done quickly.
Easy Clean-Up
The self-priming feature reduces problems related to priming and clogging or problems resulting from improper aftercare.
Cleaning this model is easy, thanks to the Power Flush adapter that you can connect to a garden hose. On top of that, if it gets clogged, you can simply reverse the spray tip to quickly unblock it.
Easy Transport
At 27 pounds, it's not the lightest tool; however, its compact size balances it when transporting it. It also means storage is convenient.
What do users say about the Graco Magnum Prox17?
Judging from the features, I think the Magnum ProX17 can rise to the challenge and increase productivity for professionals and contractors.
However, that's just my opinion – what do real users have to say on the subject?
To make sure this Magnum ProX17 review is completely unbiased, I delved into the point of view of those who have first-hand experience with this paint sprayer.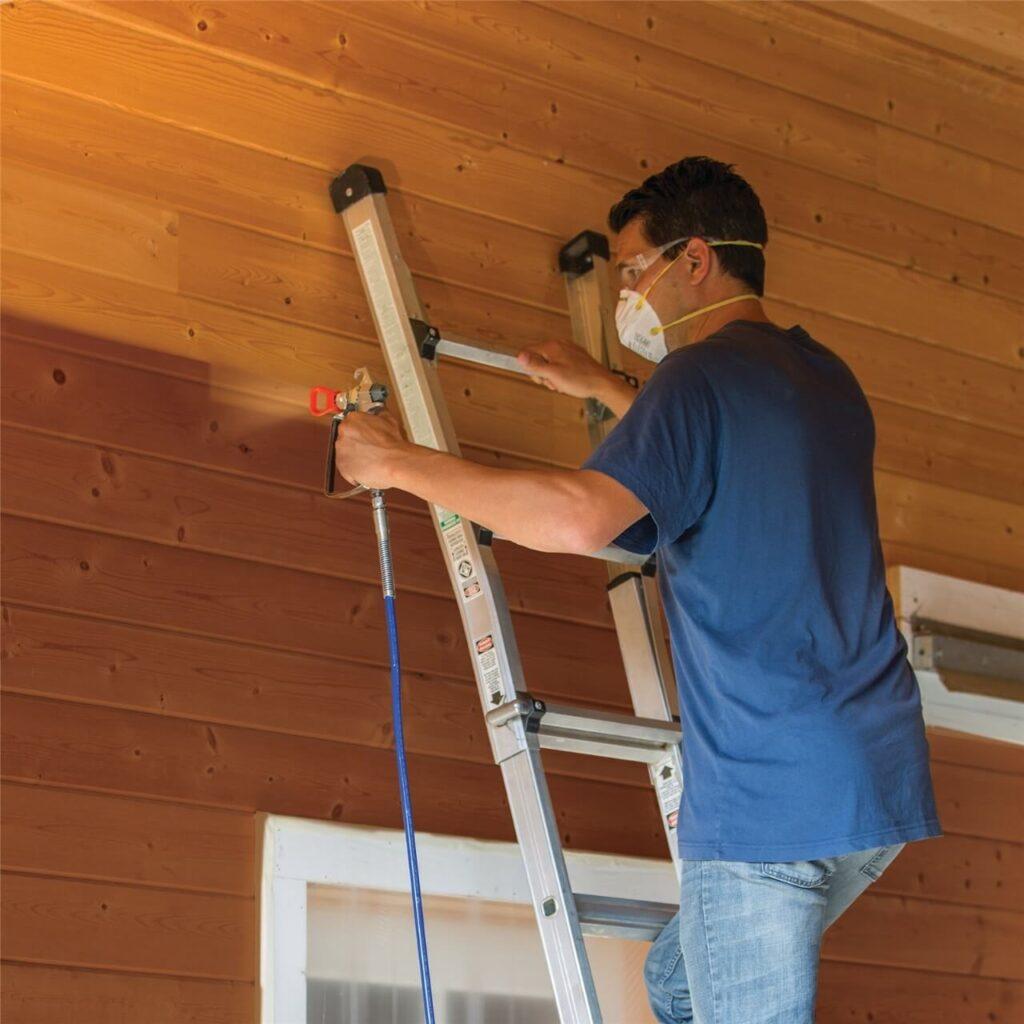 There are not many negative reviews about this unit. Most satisfied customers give it a high recommendation. Experienced contractors own more than 1 of these units, and they will tell you how much this sprayer made their painting jobs so much more convenient.
With a couple of tips that you can buy for this specific model, you would certainly turn this sprayer into a versatile one. Some have pointed out the lightness of the materials used in this tool, but its actual performance easily dwarfs that.
Many contractors have more than one unit in their line, agree that it is reliable equipment, and do not report major problems.
Most people say that this model is their best choice for the price that covers surfaces with ease, and when the Graco ProX17 is used on larger projects, it stands out.
Graco Magnum Prox17 FAQs
When shopping for your first airless paint sprayer, it's very common to have quite a few questions. I've done my best to answer each of the most common below.
Can I use the Graco Magnum ProX17 for Oil-Based Stain?
Yes, you can, as long as the stain is not flammable. You will need a lacquer conversion kit for any solvent-based flammable material.
The product packaging must indicate whether or not it is flammable. Alternatively, check directly with the manufacturer.
Do I have to thin the paint before using the Graco Prox17?
No, you do not have to thin the paint before using Graco Magnum X17.
However, double-check the recommended tip size on the paint container before use.
How do I unclog an airless sprayer?
Unclogging a spray nozzle is usually very easy. It simply requires you to invert the spray nozzle, dump the paint into an old bucket or bag, and then return the spray nozzle to its original position.
If you have blockages in your machine, you may need to remove each filter and run warm water through the entire system in spray mode for several minutes.
We also recommend removing the spray tip from the gun during this cleaning process.
How do you clean a Magnum prox17?
Cleaning a Graco Magnum ProX17 is relatively simple and should take 5 and 15 minutes. Remove the spray tip and clean it separately, then spray water or thinner through the machine while in spray mode.
It will also have a dump valve. It would help if you allowed the pressure to build up and then dumped the cleaning fluid a few times.
Do I need to be a paint specialist to use this sprayer?
You need to study the user manual to familiarize yourself with the different parts of the device before using it.
Conclusion
The Graco Magnum ProX17 is a paint sprayer that can handle larger areas, reducing your time on the task.
Even though I had heard a lot about this sprayer, I decided to use it myself before writing this Graco Magnum ProX17 Paint Sprayer review.
I can safely say that it is the best sprayer in its range. If you're looking for a pocket-sized, durable paint sprayer, look no further than the Magnum ProX17.
This is a perfect option for those starting a contracting business or for those looking to tackle big house painting jobs or decking projects.
Overall, the ProX17 is the most preferred model in Graco's paint spray product line. The perfect finishes you get from the spray patterns make this an ideal painting partner that is easy to clean with every use.