There are many jobs around the home that we habitually put off because they are tedious or time-consuming. Painting is one of those.
Well, if I had a Graco Magnum X7 airless sprayer in the garage, maybe I'd think differently.
You could hire professional contractors and you would be guaranteed a great result, but it will cost you a lot and you will also have to take them back when you need more work done.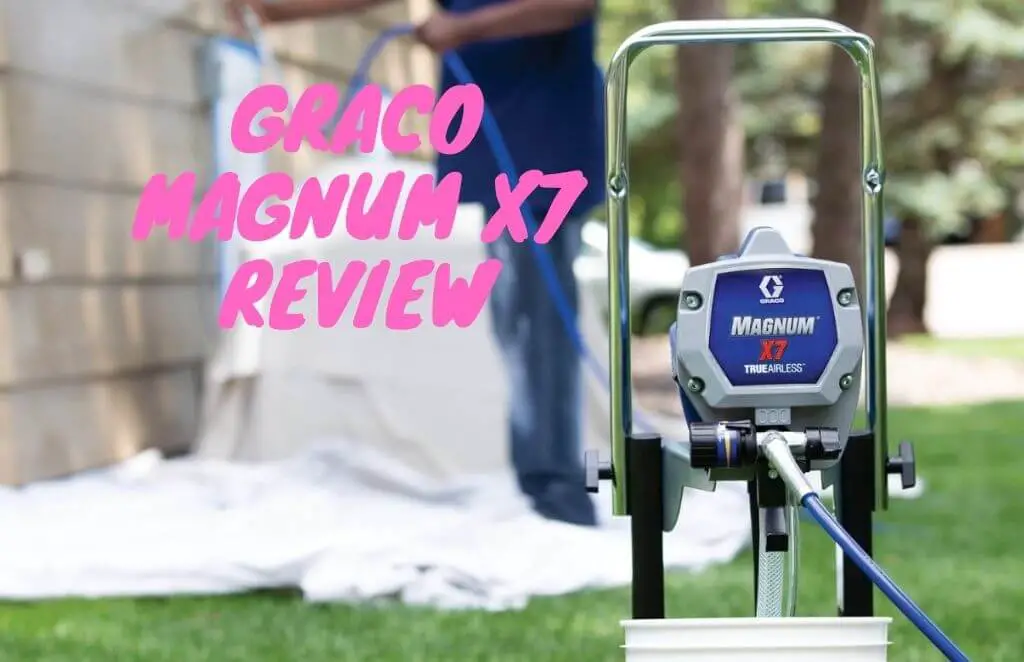 The model we are going to talk about here, the Graco Magnum X7, is from one of the leading brands in the world of quality paint projection equipment.
In this Graco Magnum x7 review, I will go through all the features that this sprayer has and discuss the good and not-so-good elements.
Introduction to the Graco Magnum X7 Airless Paint Sprayer
The Graco brand is nearly 100 years old, and since inventing the first airless paint sprayer in 1958, it has become synonymous with paint sprayers.
We purchased the Graco Magnum X7 electric airless sprayer so our expert reviewer could put it to the test when rebuilding its deck. Read on for our full product review.
We tested one of the brand's mid-range offerings, the Magnum X7 electric airless sprayer while rebuilding the deck of our Colorado home.
The Graco Magnum X7 is one of the many best Graco airless paint sprayers in the range, and this is a particularly impressive model for both homeowners and professionals or handymen.
In fact, it is one of the best airless paint sprayer ever made if you look at the units sold in the last 5 years.
Find out how this tool helped us finish the cedar deck and the pros and cons of using it instead of doing it by hand.
Of course, this is not enough information to base a purchase decision. For a more detailed look at this tool, read the full article for a proper Graco Magnum X7 review.
Graco Magnum X7 Review
The Graco Magnum X7 is a versatile piece of equipment that can be used on jobs small or large.
It's perfect for painting the walls of your home, your deck, your fence, your siding, or for handymen who do painting jobs to earn some extra cash.
The sprayer makes it easy to achieve a professional finish when working on small to medium projects. From painting barns and fences to residential buildings, the product provides versatility and high-power features.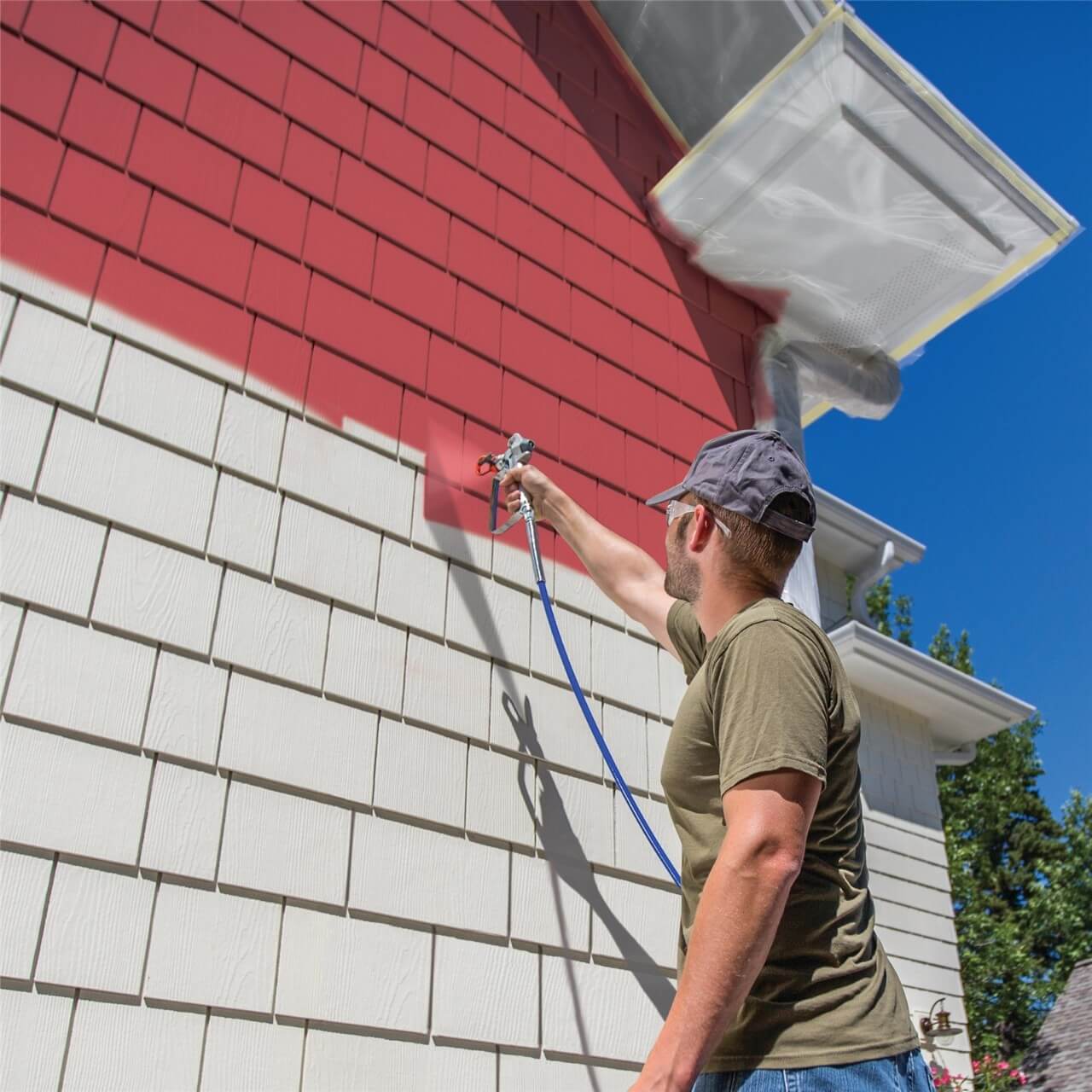 This paint sprayer gives you the ability to control the amount of pressure you deliver. That means you can use different thicknesses of paint and you can also reduce splattering and excess paint.
The Graco Magnum provides adjustable spray settings, allowing users to spray different coatings. The configuration can support tip sizes up to .017. The unit has the ability to pump paint at significantly high pressure.
The tool delivers paint through a small tip that allows the material to break up evenly. The tiny droplets that the unit sprays are fan-shaped.
The X7 is portable, allowing users to move freely around the workplace. Paint can be sprayed directly from a 1 or 5-gallon container, making spraying faster and more effortless.
The X7 opens up a wide range of functional and customization possibilities.
Features of the Graco Magnum X7
Now that we have the pros and cons of the Graco Magnum x7 out of the way, it's time to look at the features and specifications of this product.
When considering the Graco Magnum x 7 Airless Paint Sprayer, we found the following compelling features. These features further limit the ease of use and efficiency of the tool.
But they are much more than that. As you will see, they are what guarantee the quality performance and durability of the Graco Magnum x7 paint sprayer.
Lots of Access
Airless spray systems like the Graco Magnum X7 are primarily used for painting large-scale projects such as a room or even the exterior of a house.
Because these projects address large and sometimes very high surfaces, access becomes an issue.
This tool is compatible with up to a hundred feet of hose, which means you should be able to paint just about any residential home from top to bottom without encountering a problem.
Stainless Steel Piston Pump
The stainless steel piston pump on this device is one of those things you don't see but you're glad it's there. This piston pump allows you to spray thicker liquids at high pressure. That means you don't have to use thin paint.
You can spray thicker paints to get better coverage of each coat. This saves you time because you can spray fewer coats of paint.
Cart
Even if you're not a pro but just want to access multiple sides of your house on the same day, having a tool that's easy to transport can save you a lot of time and effort.
The Graco Magnum X7 handles all of the transportation issues well by including a built-in cart that will allow you to move the tool around your property with minimal effort.
In addition to the tool itself, the cart system will also allow you to carry up to five gallons of paint along with it.
Adjustable Pressure
The Graco Magnum X7 also features an adjustable pressure component that gives you access to a wide range of pressure settings for complete control over paint flow.
The benefit of this feature is of course obvious. The more control you have over the flow of paint, the more precise your work will ultimately be.
The other features we've reviewed mostly just make the tool easy and efficient to use, but this Graco component helps ensure quality performance.
Cleanup
One of the most important features of using a paint sprayer is the extra cleaning process, especially when using oil-based paints and stains.
As with setup, the Graco Magnum X7 manual provides clear instructions on how to clean the machine after painting.
Fortunately, it's as simple as the setup process and takes a lot less time than using brushes and rollers. The process is so simple that even a beginner could figure it out.
If you use oil-based materials, you will again need to flush the system with mineral spirits, which creates not only additional cost but also waste in the form of contaminated mineral spirits.
Long Hose
You typically need an airless spray system when embarking on a large painting project. But a big challenge here is how to access bedrooms and other areas of the house.
Getting access to even the top of the outside can be a chore. But the Graco Magnum x7 airless paint sprayer has come to the rescue there.
It has a very long hose that helps users reach all corners wherever they are working.
The hose is 100 feet long, which is a great tool for buyers with large homes or professionals who need a sprayer that can be used for such a project.
Easy to Start
Spray paint systems are known to be quite difficult to clean. If these tools are not cleaned up quickly and properly after use, they can really wreak havoc on their performance, to the point where they won't be usable until the issue is resolved.
Instead of spending a lot of time trying to clear a clog, it's nice to have a feature that makes cleaning quick and easy, right?
The Graco Magnum X7 meets this need by introducing a hose adapter. When you're done with your painting, simply connect your garden hose to the adapter and it will clean the system for you.
This is particularly valuable because, as we mentioned, this tool needs to be cleaned frequently to prevent clogging.
Reasonable Price
Costing around $400, this sprayer offers contractor-level performance for half the cost of more professional models, though smaller, cheaper units are available if you're not sure you need something this professional.
What the users say about Graco Magnum X7?
User reception of the Graco Magnum seems to depend largely on what the people who own the tool use it for.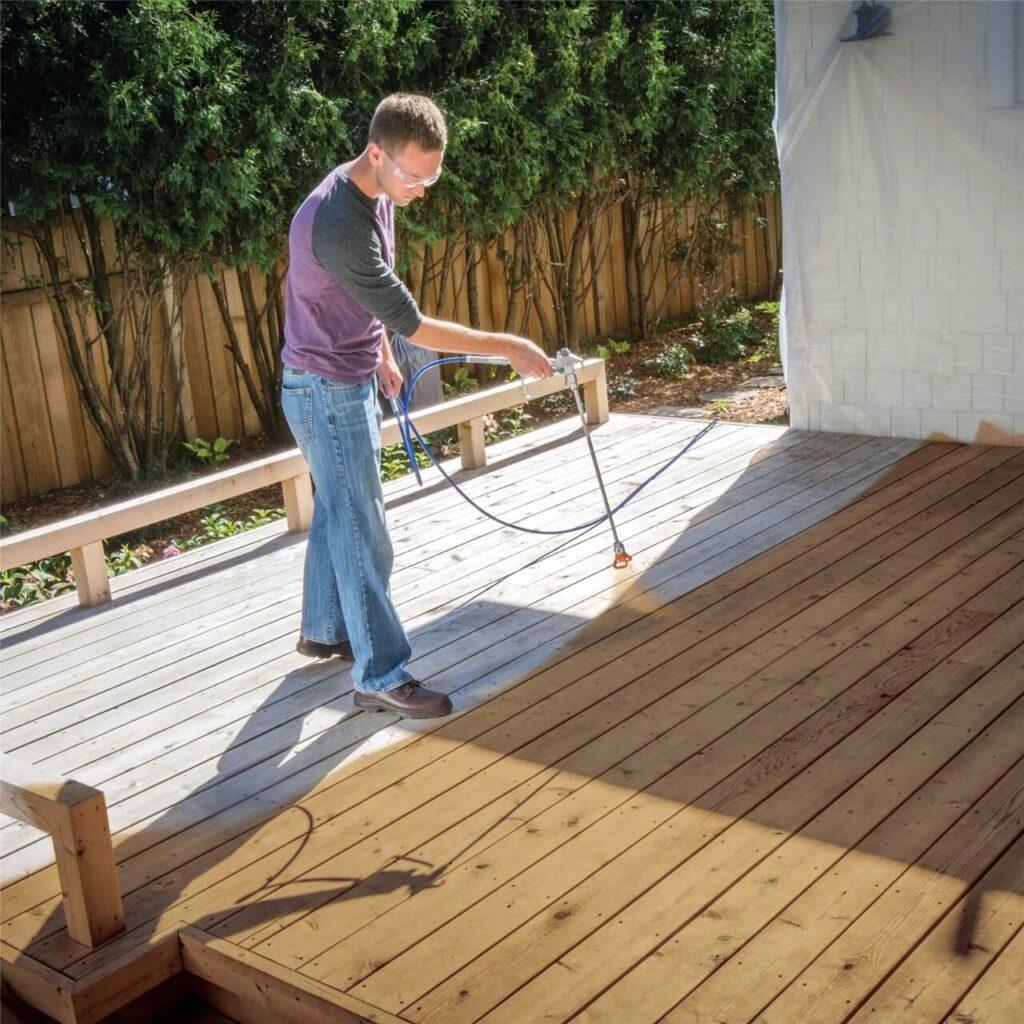 People painting smaller rooms, for example, seem very happy with the tool because the settings and features make it easy to paint a lot of space quickly.
For example, those who have small rooms or small houses to paint are happy to use it. They can give up anything for speed and convenience. Even non-professionals aren't shy about doing it themselves once equipped with the Graco Magnum x7.
But for those with a big project on their hands, are not very comfortable with needing to clean the tool frequently. That is why it is not very popular with them.
However, the problem of clogging and the need to clean the tool frequently make it a little less popular with people who have big jobs on their hands.
People who use the tool to paint exteriors of houses have reported that the process becomes more difficult than it should be due to regular clogging. This is certainly something to keep in mind when thinking about purchasing this tool.
The good news is that none of the mishaps render the tool useless. Even users who run into the quirks of the machine ultimately enjoy a good paint job.
Graco Magnum X7 FAQs
What do I receive in the box?
You'll receive the SG2 Metal Spray Gun, RAC IV 515 SwitchTip, 25′ Duraflex Paint Hose, Pump Armor Storage Fluid, PowerFlush Adapter, Quick Start Guide, and Operation Manual.
What is this sprayer good for?
This sprayer is great for home projects like painting rooms, sheds, decks, and even large projects like walls.
However, since this is not an industrial or professional paint sprayer, you may run into some issues if you want to use it for frequent large projects.
Can a beginner use this sprayer?
Absolutely! The Graco Magnum x7 review is a paint sprayer designed to be used by average people who don't have much experience with sprayers.
There is a slight learning curve, but after a thorough reading of the manual, you'll be spraying like a pro!
Graco X5 Vs X7
We previously covered its little brother in a different post, so when it comes to the Graco X5 vs X7, if you find this machine to be more than you need, check out our Graco X5 review.
We know there are many Graco Magnum X7 reviews online, but most are poorly written and offer little insight into who the machine is really good for, so we hope to provide the most detailed and actionable guide to date.
Is the sprayer easy to move and lightweight?
Yes, this sprayer only weighs 23 pounds and it also has a convenient carry handle so you can easily carry it with you.
This machine is much lighter than many on the market. The stand also features wheels for easy mobility.
Is the Graco Magnum X7 durable?
Depends on what you mean by durable. The tool will be fine for transportation, whether it's around your property or your community, but no paint sprayer is supposed to take a lot of knocks.
There is no such thing as a paint sprayer that is designed to survive regular knocks and damage.
But as long as you pay attention to your workspace and don't leave the sprayer in an area where it could damage it, then you shouldn't have a problem!
If you take decent care of the Graco Magnum X7 and consider what's going on in your workplace, you probably won't have any problems.
How can I clean a Magnum x7 airless sprayer?
To clean your Graco Magnum X7, you will need to disassemble it by removing the spray gun and hose. Next, remove any excess paint from the outside of the sprayer with a rag or paper towels.
Once completely dry, put your unit back together.
Is there a warranty on magnum x7?
Yes! Is there a guarantee? The guarantee of this tool is superior to the common one.
However, it is standard. You are covered for up to one year from the date written on your purchase documents.
Essentially, you just need to make sure that the tool has been installed and operated in the manner recommended by the manufacturer in the manufacturer's instructions.
If you mount the tool correctly and don't do anything crazy with it, you shouldn't have any problems.
Conclusion
Hopefully, you now have a much broader understanding of the Graco Magnum X7 than you did before. As you can see, there really is a lot to like here.
The features are going to be a good choice for the serious hobbyist who is looking to get a big job done, like painting a big house.
This sprayer is one of the best paint sprayer you can get for your home. It's on the pricier side of things, but that's to be expected considering the high quality of this sprayer.
The Graco Magnum X7 Airless Paint Sprayer is solid, reliable, rugged, and relatively inexpensive. For most people, this will turn out to be the best portable stuffy sprayer on the market today.
You might be disappointed if you plan on using this sprayer for professional paint jobs, but if all you're looking for is a machine that will help you paint a bunch of different places around your house, then the Graco Magnum Airless Paint Sprayer x7 reviews might be the one for you.