Spray paint has been around since the 1890s. Since then, it has become a useful painting tool for those who want a smooth, even coat.
There's a lot to know about spray paint, whether it's using spray paint on canvas or any other surface.
In our fast-paced, modern life, spray paints are like paint fast food. The main advantage of spray paint is its versatility and portability.
However, when it comes to spray paint, some painters wonder how efficient it can be at drying.
How long does spray paint take to dry generally depends on many factors, so here's what you need to know about working in this medium.
You can use it for home, vehicle, furniture, or maybe even become the next Banksy. It's half the work and twice the productivity compared to the traditional way of painting with a brush.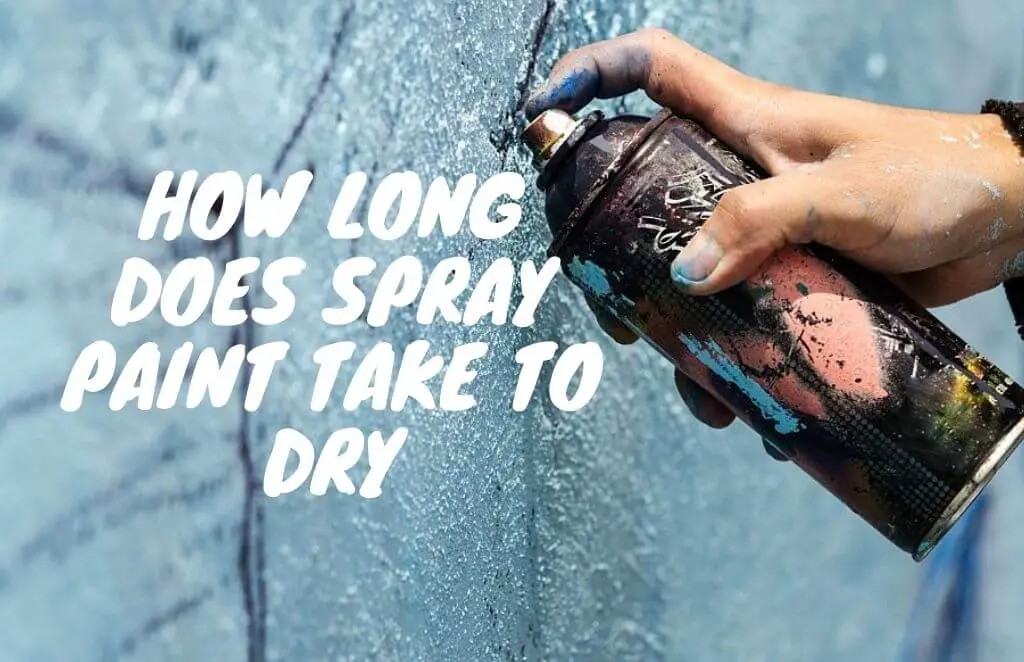 It is vital to understand how long it takes for the paint to dry, especially for repainting purposes. Not understanding that could ruin your entire project.
In this article, we'll take a look at how long spray paint takes to dry and what methods you can use to speed up drying time.
How Long Does Spray Paint Take to Dry?
In general, spray paint takes at least a few hours to fully dry. You can handle and cover the pain again after a few hours.
However, some marks take much longer to fully heal. You may need to wait 24 hours or more for the paint to dry completely.
Drying time is sometimes hard to find, but most brands print it along with other product information.
However, this is an estimate. Many factors influence how long it takes for spray paint to dry, including humidity, air circulation, and the surface you are painting.
The drying time depends on the material on which you are applying it, as well as the number of coats, colors, etc.
You should also give the paint more time to dry if you are using more than one color, to avoid streaking.
Four Stages of Drying
If you don't want to ruin the job you've already done, you should wait for the paint to dry.
There are 4 stages the paint goes through before the drying process is complete.
After the application process, the paint goes through four stages before it is completely dry and ready for use:
Surface Dry: You will see a thin layer on the surface of the paint and it will be quite tacky to the touch. When the solvent evaporates, you will notice a thin membrane on the surface of the paint. During this stage, the paint will be exceptionally tacky to the touch.
Touch Dry: During the dry-touch stage, paint can peel off with light pressure, even if it doesn't stick to your fingers. Don't assume it's dry just because it doesn't stick to your finger at the first touch.
Hard Dry: The paint won't flake off during this stage, but the surface can still be damaged if hit with enough pressure. If your fingerprint still shows on the surface when you press it firmly, you are in the hard drying stage. The paint layer can still be damaged during this phase, but it will not come off completely.
Thorough Dry: When the paint is completely hard and inflexible under pressure, it is ready to use. You have given the paint approximately 24 hours to dry and the painted object is ready to use.
Drying Times by Material
Different materials can be more porous or prone to paint damage, and you should treat them accordingly.
The time it takes to dry a new coat of paint can also depend on what you are painting on.
The most common, which I will talk more about, are cardboard, metal, glass, plastic, and rubber.
On Cardboard
Cardboard has a smooth texture that makes it prone to accidental damage and you are likely to ruin it if you don't know what you're doing.
However, the drying time of paint for cardboard is also quite fast. If work is done in a well-ventilated area, layers should dry in about 15 minutes.
On Metal
In hot weather with low humidity, spray paint dries faster on metal than on any other surface, often in 10 minutes or less.
It's helpful to remember that generally humid temperatures will increase drying time, no matter what you are painting.
Spray paint is commonly used to restore a variety of metal objects, such as doorknobs, refrigerators, cars, etc.
On Plastic
Plastic is one of the easiest materials to paint and has an average drying time of 30 minutes.
However, coats of paint may not reach the complete drying stage until you let them sit for at least 3 hours.
On Glass
Painting on glass can be tricky and not giving the paint enough time to dry can lead to drip marks.
You should try to apply each coat as smoothly as possible and wait at least 15 minutes before adding a new one.
However, it usually takes a minimum of 24 hours for the paint to dry completely.
On Rubber
If you need to paint a rubber surface, for example, if you are customizing a ball for a specialized sporting event, you will want to plan ahead.
Due to the porous surface of rubber, it takes at least 24 hours for spray paint to dry after application.
If you want to paint an object made of rubber, you need to plan ahead.
How Weather Conditions Affect Drying Time
First of all, if you are spray painting and the weather is below freezing, be sure to keep the area well ventilated.
You also need to make sure that both the spray gun and the surface are clean and free of frost. Cold weather can cause problems with the consistency of paint, so work as quickly as possible.
Plan for a longer drying time in cooler temperatures. If time is an issue and you are painting a moving object, it is best to work indoors, where you can turn up the heat to help the paint dry faster.
How to Make Spray Paint Dry Faster
There are many ways to make spray paint dry faster. The easiest methods involve altering elements of your environment, such as air circulation, humidity, or heat.
Below, I'll cover some tips and tricks to help things move faster.
However, the way you apply paint can also play a role in drying time. Here are seven options to speed up how quickly your spray paint dries.
Work Outside
In addition to being able to breathe fresh air, working outdoors will help paint dry faster.
However, you need to plan a bit ahead and paint on a warm day, when the humidity is low.
You should also try to start early in the morning to take advantage of the weather and have plenty of time to finish.
Why not let Mother Nature help the paint dry quickly? You can control the environment without giving too much thought to heat, humidity, and airflow by choosing a nice, sunny day to paint outside.
Also, the safest option is to use spray paint outside on a warm day. Begin painting immediately in the morning, so objects have plenty of time to dry.
Use Thin Coats
When applying paint, the best rule of thumb is to paint in thin layers. The thinner the layers of paint, the faster the drying time.
Read our full guide about How to Thin Latex Paint.
For best results, use your whole hand to move the can across the surface while applying the paint.
Avoid just moving your wrist. This technique can also help you avoid overlapping too much paint in one section and instead use lighter coats.
You can also use paint thinner or thinner to change the thickness. Quick-drying spray paint also tends to provide more control over the application.
Turn on a Fan
If you can't avoid working indoors, at least turn on a fan to ensure better airflow in the room.
This will help the individual layers to dry faster and won't give you a headache from the fumes.
Lower the Humidity
For spray paint to dry quickly, it needs little moisture. High humidity levels slow down the drying process and even cause damage that can ruin your paint jobs, such as paint drips or dust contamination. Humidity levels between 40 and 70% are ideal.
Never paint on particularly humid days. If your location is humid, try reducing the humidity in the air with a dehumidifier.
Sometimes opening windows and doors while painting is helpful if the house is damp. If it's humid outside, try to keep the windows closed.
Run a Hairdryer
A hairdryer will help the paint dry quickly by lowering the humidity levels and increasing the temperature.
However, if you are working with thinner material, do not get too close to it as it could cause damage.
You can also use the cool down mode if your hairdryer has one, but don't expect results that quickly.
Use Furniture Polish
A little-known trick to help spray paint dry faster is to apply wax-based furniture polish. The polisher can be difficult to find, but it can cause spray paint to dry instantly.
Works as a matte sealer. Look for a wax-based polish that you can spray on for a simple application.
You may need several thin layers. Let it dry for about 5 minutes before adding another coat.
You may not need more than one coat for some projects. For example, wood tends to need at least 2-3 coats of furniture polish.
Always test to see if the object is dry by using the tip of your little finger to tap gently. When the surface is dry to the touch, you can manipulate the object.
Conclusion
Spray paint is portable, affordable, versatile, and quite effective at removing accidental scratches and signs of wear.
When it comes, how long does it takes for spray paint to dry, there are certain factors to consider.
However, the type of paint sprayer and material you are using must also be considered.
If you want to reduce drying time, plan by choosing a nice warm day to paint outside in the fall or spring.