Are you looking for the trim paint sprayers that make your painting task easy and convenient, then I must say that here you will get a satisfying result in your search.
This article features the 5 best paint sprayer for trim on the market today.
They have different pressure settings for comfort when painting different surfaces, including those that require a thin coat.
Keep scrolling to learn more about choosing and using the best paint sprayer for trim!
It's time to apply paint to a front door in your home, and an inexpensive paint sprayer will make it quicker and easier.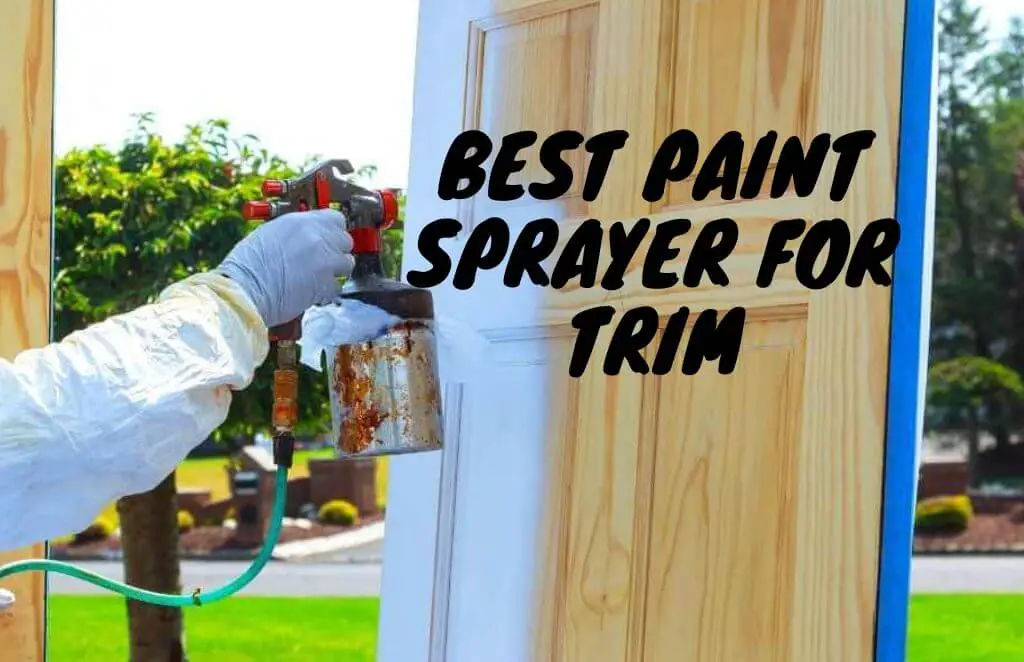 You want your home to have a front door that welcomes people into your home.
Even small projects, like interior doors, can take a while to paint all at once.
Top 5 Best Paint Sprayer for Trim And Doors – Our Top Picks
Getting your trim and doors painted right can help your home stand out from the crowd.
And using a paint sprayer to paint doors and trim makes it much easier.
We've reviewed the best paint sprayers to help you do DIY projects like a pro.
HomeRight provides one of the best paint sprayer for trim and doors that will also work on closet and bedroom doors, kitchen cabinets, drawers, window trim, and much more. You can take it as a DIY project.
This sprayer features HPLV technology. This technology uses a high volume of air and low pressure to apply the paint where lower pressure ensures significantly less color.
This self-contained spray machine requires no hoses, air compressors, or pumps. Also, this lightweight and ergonomic painting device won't tire your arm while spraying.
The four adjustable settings will give you precision while you paint.
The Finish Max is easy to set up. You can spray a wide range of materials including milk paint, latex paints, chalk paint, primers, enamels, clear sealers, stains, polyurethane, and even varnish.
The sprayer comes with a cleaning brush to make cleaning quick and hassle-free.
Wagner takes the best in paint technology and packs it into one package with their Control Spray Max.
We recommend this HVLP sprayer for a variety of projects, but it really shines when it comes to fine details, making it a great choice for painting door frames and trim.
This stationary HVLP paint sprayer has 20 feet of hose and a lightweight design that has the power to take on any painting project you throw at it, whether it's trim, walls, or even a car.
The Wagner is a quality German-made paint sprayer with a two-stage turbine that is not as expensive as you might think. Check out the guide best wagner paint sprayer.
Pick up the Wagner on Amazon at the best possible price.
Graco Magnum makes this X5 airless paint sprayer that gives a professional quality sprayer at a solid price.
The advantage of using an airless sprayer is that you can spray larger surfaces faster and you also don't have to worry about loading paint into the gun.
Plus, it allows you to spray directly from a 5-gallon paint bucket. Also, the pressure is adjustable according to the size of your project.
This versatile sprayer can hold up to 75 feet of paint hose to give you extra reach for your largest projects. And the electric shock adapter connects to a garden hose for quick and easy cleanup.
Also, read our Graco Magnum X5 Review and Graco Magnum X7 Review.
Fuji is the premium paint machine for painting trim and doors with exceptional quality.
The Fuji holds 400cc of paint in its heavy-duty, non-bleed gun with an HVLP adjustable pattern fan control that gives the painter incredible control.
Take advantage of this durable metal-cased paint sprayer that will last a lifetime.
The Semi-Pro 2 has quick connect air control valves with a 25-foot hose and air control valve.
The Yattich electric paint sprayer comes in a perfect design for a pleasant user experience.
It can be disassembled for easy cleaning. High-quality materials are used in its construction, which makes this spray gun durable.
The inclusion of multiple nozzle patterns and sizes makes it more effective. To paint furniture, fences, bicycles, automotive, etc., you can use this electric spray gun.
The paint output power is 500 watts. The unique feature of this device is its 3 spray pattern styles. This spray gun can be easily adjusted to 3 different spray patterns.
There is the availability of 5 nozzle sizes. They are 1.2mm, 1.5mm, 1.8mm, 2.5mm, and 3.0mm. When you choose any of these size options, it allows you to tackle any painting project.
These nozzles are made of copper. Unlike plastic nozzles, copper nozzles can withstand more pressure and there is less chance of clogging. The presence of double-layer insulation materials ensures that the overall operation is safe.
It is easy to control the paint output by adjusting the flow control knob. Consequently, you can get a different paint output.
Best Paint Sprayer for Trim Buying Guide
With all the options on the market, it can be difficult for you to buy a paint sprayer that can properly serve your purpose. And the different types can confuse you about where to start if you're a first-time buyer.
So, we have listed the 5 best paint sprayers for you, but which one should you go for?
If you haven't made up your mind yet, here are the things to consider before buying one.
What to Look for in a Best Paint Sprayer for Trim
1. Power
There is no science that says a higher-powered paint sprayer will do a better job; leave it up to the painter, but keep in mind that each of these paint sprayers draws a certain amount of power in watts.
2. Hose
A long enough paint hose is crucial, especially for a large house or outdoor project.
With an extended hose, you'll be able to move around without having to maneuver the entire paint sprayer around with you. Makes the painting process more manageable.
3. Weight
Considering the weight, there are two options for you. One is portable and one is stationary. A handheld device is fine for small projects, but you should have a stationary paint sprayer for giant projects.
A sturdy stationery sprayer will presumably be heavy compared to a handheld paint sprayer. That's due to the fact that it has an even bigger engine.
So if you are looking for a sprayer that can cover large projects, then you can go for the stationary model. So you don't have to recharge frequently. Otherwise, go for a portable option.
4. Adjustable spray tips
Each of these paint sprayers has its own way of adjusting the spray pressure.
Some have multiple spray tips in different sizes, while others may have an adjustable knob that turns on and off to dispense paint.
5. Reversible spray tips
Some paint guns have reversible tips that allow you to reverse the tip and spray paint through it to unclog and continue spraying.
6. Paint capacity
Some sprayers, like HVLP sprayers, only allow a small amount of paint to be loaded into the gun.
Airless sprayers generally allow you to spray paint directly from the container, so you could literally dip the suction hose into a 5-gallon bucket of paint and spray it all out in no time.
7. Wireless options
Some HVLP paint sprayers are available in a battery-powered version which can be useful in specific painting situations.
Frequently Asked Questions (FAQs)
Can I use a paint sprayer for doors?
An airless hand sprayer or HVLP sprayer are also good options if you are only painting two or three doors.
While it is true that an HVLP sprayer produces a fine finish with less overspray, you can also get great results by using an airless sprayer, one equipped with the correct size fine finish tip.
Can I spray paint wooden doors?
Opting to spray paint your doors is a super quick, easy, and cost-effective alternative to replacing interior and exterior doors.
It allows you to achieve a professional finish through simple DIY methods. Check out the helpful guide for best hvlp spray gun for woodworking.
What type of paint is best for interior doors?
Fingerprints and dirt on interior doors are expected in high-traffic areas.
Therefore, choose paint with a gloss or semi-gloss finish, rather than matte or clear, for a surface that is much easier to clean.
A glossier paint also makes doors and trim stand out beautifully against the flatter wall surface.
Is it better to spray or roll paint on doors?
Whether you spray, brush, or roll, you'll get the best results if you prepare the door properly and, since paint levels out best on a horizontal surface, lower the door flat.
Even if you have to paint the door instead, you can still get good results.
Conclusion
We applaud your efforts in trying to get the right sprayer for the right job. We have no doubt that all the products we have reviewed here will give you exactly what you expect from a sprayer.
These paint sprayers made it the best among all the other products listed. These sprayers have all the perfect features for painting doors, especially when they are still hanging vertically from their hinges. You can paint evenly without experiencing dripping.
Now that you've found the best paint sprayer for doors, let's paint those doors.