A handheld paint sprayer can be a fantastic addition to any tool collection and can level the playing field for a DIY painter.
When it comes time to choose a new model, finding something you feel comfortable with is a challenge.
Handheld paint sprayers are designed to spray a coat of paint into hard-to-reach places, like the nooks and crannies of a fence or security gate.
Take a look at our best handheld paint sprayer and don't miss out on our top picks below.
Searching for reviews on the internet is unhelpful and often a waste of time spent reading conflicting reviews.
We've already reviewed dozens of paint sprayers and can help you narrow down your search by introducing you to five of the best models we use.
Each model has things we like and things we don't, and we're going to go through it all with you to help you learn a little more about what you're looking for in a handheld paint sprayer.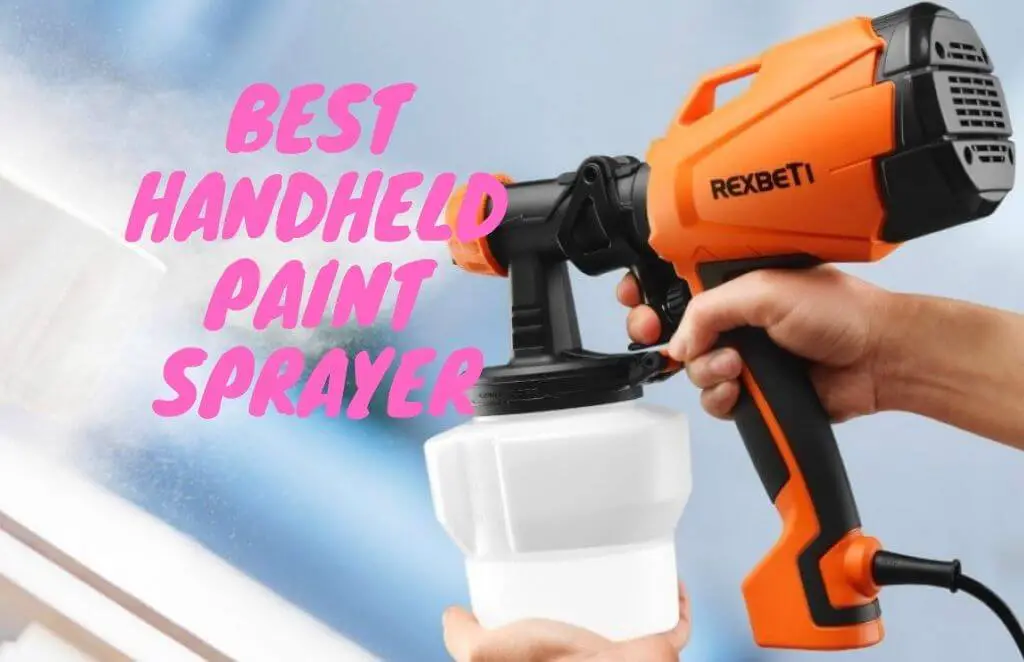 Read on for our detailed reviews of each of the above handheld paint sprayers, where we compare spray patterns, PSI, nozzle tips, price, and more fees to help you make an informed purchase.
Best Handheld Paint Sprayers – Our Top Picks
Handheld paint sprayers are ideal for DIY painting projects. They are so versatile that they are the perfect spray gun for painting furniture, but they work just as well for spraying interior walls.
Let us help you find the best handheld spray gun for your next DIY project with our top 5-rated range of products.
With this detailed guide, you should be able to find your best handheld airless paint sprayer. We've covered the affordable and high-end categories to fit your budget.
Graco TrueCoat 360 VSP is the best handheld paint sprayer as it comes with outstanding features.
It is designed for DIYers and homeowners who want to tackle small to medium projects with ease.
It is ideal for repairing doors, outdoor furniture, interior walls, trim, ceilings, and shutters among home improvement projects.
It has a stainless steel piston pump that offers a high working pressure between 500 PSI and 1500 PSI. The extra power allows you to work with unthinned paints, providing a superior finish.
This Graco portable paint sprayer features a variable speed control knob that enhances its versatility. With it, you can paint at a slow speed for more control. Low speeds are especially ideal when handling small detailed paint jobs. You can also choose to work at high speed to get the job done faster.
Graco has also equipped this tool with the FlexLiner paint bag system. This design replaces traditional cups, making it ideal for multi-color projects.
And with VacuValve technology, you'll enjoy spraying in any direction. Creates an airtight system that can even spray upside down.
Also, read our Graco Magnum ProX17 Review.
HomeRight C800971.A Super Finish is a domestic HVLP spray gun for painting projects.
It has the ability to paint a wall 10 times faster and better than a brush or roller, making it the best alternative when it comes to decorating any room.
The good thing about this product is that it requires less thinning compared to other handheld paint sprayers. With 450 watts of power, this tool can handle thicker varnishes and paints.
The HomeRight C800971 weighs 2.76 pounds, so it won't cause hand fatigue while you work. It is also extremely compact and easy to maneuver.
The device allows you to spray horizontally, vertically, and in circular patterns. This paint sprayer comes with three nozzles to produce a finer and wider spray pattern.
The HomeRight Multi-Purpose Handheld Paint Sprayer has a built-in control knob so you can manage the amount of liquid that comes out.
One of the advantages of the HomeRight C800971 is that you can complete many painting projects quickly because it covers a larger surface area with a wider spray nozzle.
The HomeRight C800971 is ideal for use on exterior surfaces such as decks, benches, and fences. It can also be used for interior projects to paint cabinets, dressers, and furniture.
Use this tool to create effects on your canvas painting because it can be used with both oil-based and water-based acrylic paints.
The Wagner Spraytech Control Max Corded is an excellent design. It has a stationary base connected to the spray gun, with a 20-foot hose that provides flexible paint that also reduces hand fatigue.
In addition, the tool includes a professional-grade metal of approximately one quart. cup and 1 ½ qt. Bowl.
In addition to that, you can also turn on the air cap to spray horizontally, vertically, or circularly.
Considering the fact that it is an HVLP paint sprayer; uses low-pressure, high-volume engineering to atomize materials and give a sophisticated finish.
Another exciting thing that compelled me to use this product is its versatility.
The device is excellent for painting, priming, or staining decks, door trim, cabinets, millwork, furniture, and more. As you can see, it is ideal for both indoor and outdoor jobs.
Also, read our Wagner Control Pro 130 Review.
The Graco Ultra Cordless Handheld Airless Paint Sprayer looks a lot like the Graco TC Pro. DIY enthusiasts and professionals alike agree that this tool offers the fastest way to finish small jobs.
Like the TC Pro, the Graco Ultra handheld Airless Portable Paint Sprayer gets its power from the DeWALT 20V Lithium-Ion battery. It sprays up to 1 gallon with each charge. The battery is known for its fastest charging time of about 35 minutes.
And you'll love the Triax Triple Piston Pump. Graco built it with durable stainless steel and carbide components. They are bonded by a high-strength polymer. Thus improving its durability while giving it a lightweight design.
With this pump, you have unmatched performance with a smooth, even airless finish. Thinning is not required with most materials.
With ProControl II technology, you can adjust the speed of the motor to control pressure from 500 to 2000 PSI. Combined with the SmartControl, you will end up with a consistent spray pattern with less overspray.
Also, read our Graco Magnum X5 Review and Graco Magnum X7 Review.
Wagner FLEXiO comes as a complete sprayer kit for small interior and exterior painting jobs. This portable electric paint sprayer boasts impressive painting power and flexibility.
Its easy-to-use design makes it paint 8 times faster than using a brush.
The iSpray nozzle on this tool is an easy way to adjust the flow of spray paint to suit the unique needs of a given job. However, iSpray is also a disadvantage of Flexio because it is easy to get clogged.
It can be used well for both large areas and indoor furniture. Furthermore, Wagner Flexio is 10 times faster than a brush when painting the same area.
In general, users question the quality of this product due to its innovation: the iSpray nozzle.
Maintaining it is also extremely easy. All you have to do is rinse the cups and nozzles with water or detergents depending on the type of finish you used with the gun.
If you are looking for more details on Wagner Spraytech, check out the wagner paint sprayer reviews. You will surely find this product at the top of every list.
Also, read our Wagner Flexio 590 Review.
Handheld Paint Sprayer Buying Guide
When choosing a handheld paint sprayer, choosing the right one for your job is very important.
As mentioned above, it's important to know what features to look for when shopping for a handheld paint sprayer so you can make a beneficial purchase.
Take a look at the features below that every quality handheld paint sprayer should have and the types of tools the market has to offer you.
What to Look for in a Handheld Paint Sprayer
While these are small things, choosing the right one will help you be more efficient and complete the project faster. After all, you are looking for the best handheld paint sprayers.
Well, first you should consider the following aspects to find a model that meets your needs and expectations. So before you make a decision, read our buying guide!
1. Types Of Handheld Sprayers
Handheld sprayers are two main categories:
Handheld Airless Sprayers: It's probably clear from their name that sprayers don't use air to push paint. These paint sprayers use the power of an electric motor to push paint materials up the nozzle and out under high pressure.
The most common surfaces they are used our walls, fences, sheds, garages, and gates.
Also, you can use oil and water-based paints with these sprayers. More experienced people and professionals often use them because they require little practice to work with these sprayers. However, some models are easier to operate and are made specifically to appeal to DIYers.
Handheld HVLP Sprayers: A great advantage of HVLP sprayers is that they do not require a powerful motor. These are sprayers that use very low pressure to atomize paint materials, creating a very fine finish.
However, these sprayers use much more paint. You can use them for medium painting projects around the home, such as furniture, cabinets, windows, pipes, etc. There was more use of oil-based paint with these sprayers than water-based paint.
2. Power Source
It's no secret that cordless battery-powered models are popular. They are incredibly portable and can be used anywhere you can get them.
However, the batteries will need to be recharged, and if this happens in the middle of your project, it could take several hours to complete.
On the other hand, corded electric models are more powerful and can produce a finished product quickly.
3. Tip/Nozzle Options
Handheld paint sprayers are very capable in their applications and uses. However, they have not yet received the attention they deserve when it comes to tip selection.
Because the engines are smaller, they cannot use certain types of paints that larger models can. For this reason, you have a smaller selection of nozzle and tip sizes.
Spray tips are available for most sprayers and are used to change the type of paint you are spraying. The spray tip should be large if using unthinned paint and a small tip for thin paint.
Portable sprayers are extremely versatile in their use and applications. Despite their features, when it comes to selecting tips, they don't get as much attention as they should.
They can't use some paints as they have smaller motors because you have a limited selection of tip and nozzle sizes.
4. Spray Patterns Available
Like HVLP sprinklers, you'll want to adjust the spray pattern to suit your needs.
In most cases, you'll want a vertical elliptical shape, similar to a soccer ball. This will allow you to have a more even layer and coverage with fewer passes.
Some applications will need to be more precise, and this is where the portable models excel.
5. Speed Control
Most models have cruise control. Most commonly, the dial has two settings: low and high.
It would help if you choose a high speed for large jobs and a slow speed for detailed jobs. Make sure the spray model you select can control the speed of the sprayer.
6. Weight
It's important to consider the total weight of the paint sprayer before purchasing, as you'll need to support the entire unit. A lighter unit will be more comfortable to wear for longer.
Be sure to add the weight of paint, batteries, and power cords when calculating the weight of these spray models.
7. Price
The price of your handheld paint sprayer will depend on the size and features of the application.
For smaller units, you can expect to pay between $150 and $250 for quality apps. For larger handheld paint sprayers, you can pay anywhere from $350 to $400, but these are typically industrial tools used by construction companies.
You need to choose a handheld paint sprayer that fits your budget. Spending too little can result in poor quality and reliability. Conversely, overspending can lead to regret.
An airless sprayer is faster because it is up to 10 times faster than brushing or rolling. Airless sprayers produce an even coat for a consistent, high-quality paint job.
It can be used for a wide range of siding materials, including interior and exterior work. The ability to be easily transported from one job site to another is more efficient as you get more jobs done with less manpower.
These are suitable for larger or more professional paint jobs.
High volume, low-pressure sprayers result in a higher proportion of paint reaching the target surface with reduced overspray, material consumption, and air pollution.
Using just the HVLP spray gun can reduce painting costs by up to 30 percent. In part, this is due to reduced overspray, but also due to greatly improved transfer efficiency. It is also faster as a larger amount of paint is delivered to the surface all the time.
Although more expensive than rollers or brushes, it is well worth the investment. That's because, in the long run, you'll save money through material reduction with faster speeds and a consistent finish.
Combining this with a high-quality finish, these products are a furniture and cabinet spray aficionado's dream.
Frequently Asked Questions (FAQs)
How good are Handheld Paint Sprayers?
Handheld paint sprayers are very useful for most jobs, but they are not recommended for painting walls.
This type of sprayer is great to work with because you can easily move around with it. Portable sprinklers work well on rough or uneven surfaces.
However, if you're a professional painter, you probably won't be willing to use these sprayers for a big job.
Is a handheld paint sprayer suitable for painting walls?
You know that manual painting is the fastest sprayer for any small surface, it's not the fastest option for painting walls.
However, you can complete your wall painting project without any problems.
But if you want to use it in the field of professional work, then it is not a great option at all. Try to use professional paint sprayers.
Are battery-powered cordless paint sprayers worth it?
Whether it's worth it depends on what you need it for. Personally, I would never buy a battery-powered portable paint sprayer again as I have had bad experiences in the past with the battery not lasting long enough.
The honest answer is that battery technology still isn't good enough to give you the spray time you need for most jobs.
How do the sizes of the spray tips work?
Most of the time, you'll get a tip that goes with the handheld sprayer, which is usually the size of the sprayer's maximum tip rating.
If you are not satisfied with the performance of this tip, you can change it to almost any smaller tip, great for spraying stains.
Can handheld paint sprayers be used outside?
Yes, handheld paint sprayers can be used outdoors. The best sprayers to use that are portable are gasoline-powered units.
Do handheld paint sprayers need a compressor?
The only handheld paint sprayers that do not need a compressor are airless devices. Electric and HVLP sprayers will need a compressor to operate the device effectively.
Conclusion
We hope this article has helped you discover the best handheld paint sprayer for your projects.
We help you search through thousands of portable sprayers to meet your needs and ease your workload.
Whether you want to start your painting career or want to take your hobby to the next level, there's no better place to start than choosing a good-quality portable paint sprayer.