If you are looking to paint a car but don't know the cost of painting a car, this blog post is for you. Read on for an overview of what is needed and how much does it cost to paint a car!
We will also provide you with information on different types of paint jobs so you can decide which one is right for your vehicle.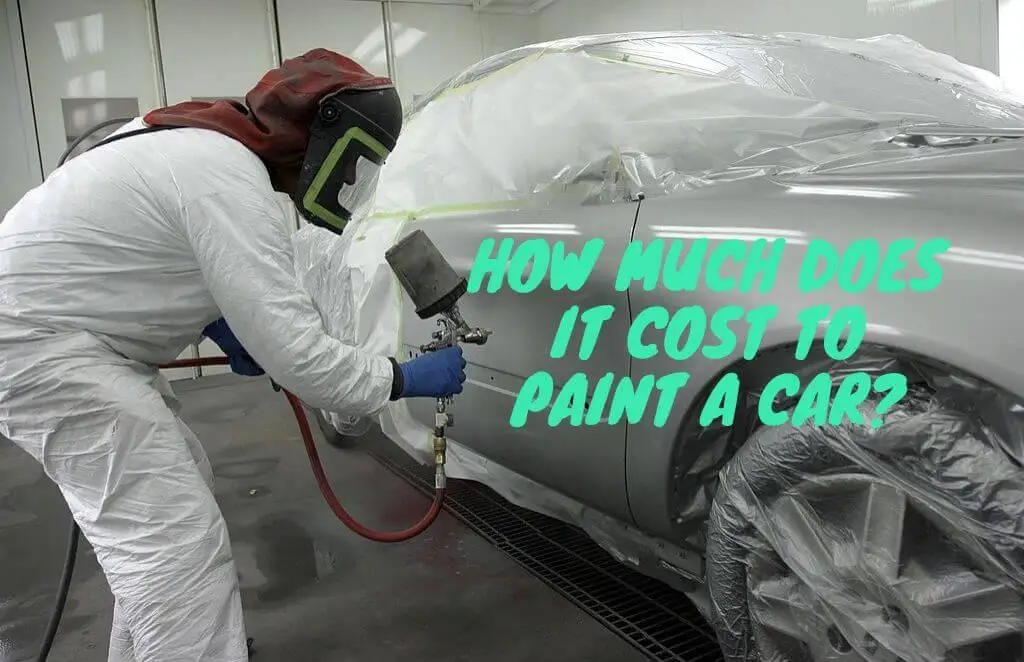 Finally, we will give our best estimate of average prices based on several factors, such as location. Now let's get started!
Why you should paint your car
Paint not only provides the exterior appearance of your car but also protects it in many ways. Like the skin on your body, the paint on your car protects against environmental influences.
Most car chassis is made of steel, which in turn means that it is prone to rust if it comes into direct contact with the environment. Paint makes this process more difficult, which leads to longer longevity of the car.
If your car is damaged in any way that exposes the car's body, you should prioritize its repainting. This can happen, for example, if there are deeper scratches or if you had an accident, where the paint is leveled.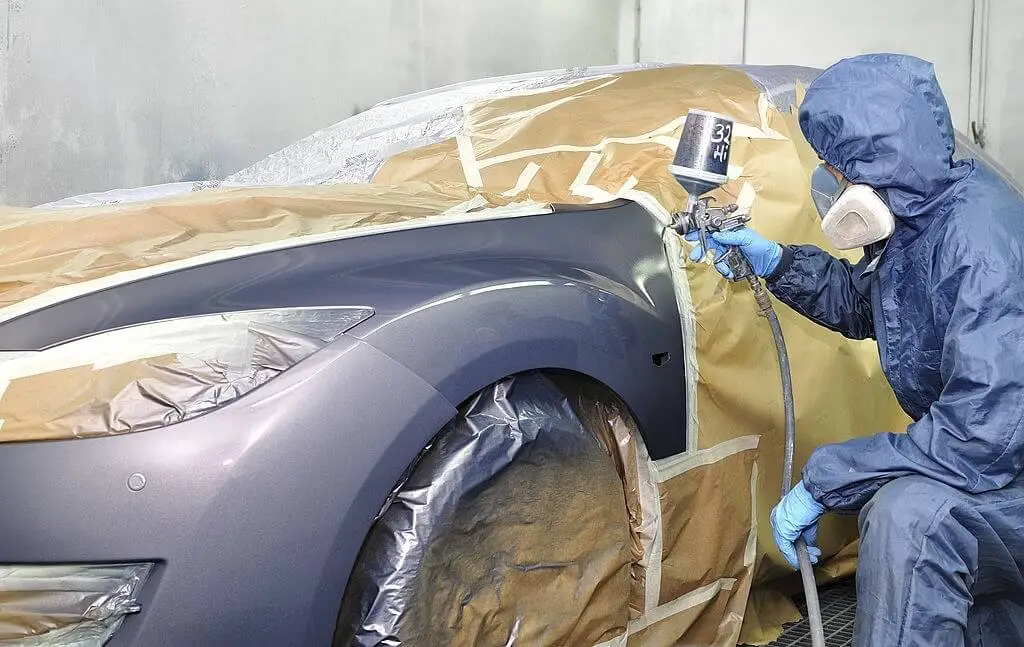 Car dent repair is very common in the automotive business. Fortunately, technology advances and leads to more effective repairs, without the need for repainting.
Another reason could be to repaint your car in another color. The color of your car affects not only your subjective perception of the car but also its value.
The most popular types of colors such as white, black, and silver generally do not increase or decrease the price of the car. Each model may have some special colors that are sought.
Painting your car to increase value is generally unprofitable due to the cost of the paint job.
Professional painting or DIY?
When deciding between professional or DIY painting, consider your purpose of painting – do you want a quick cosmetic fix before selling the vehicle, or are you working on an exciting restoration project?
A DIY paint fix can add some value to a damaged car, but ultimately it won't make it better.
While it is possible to paint your own vehicle, it takes patience, skill, and a variety of paints and tools that you may need to purchase specifically for the job.
Do-it-yourself paint jobs are best suited for older vehicles or ATVs that often have dings and scratches.
How Much Does It Cost to Paint a Car?
The costs of painting a car vary depending on where the work is done, the size and complexity of the vehicle to be painted, and the quality of the paint job itself.
In general, expect to pay between $300 and more than $10,000 for a professional paint job.
The higher end of that price is where we find custom, multi-color, metal-flaking paint jobs, so unless you're getting your car ready for a show, there's really no need to spend that much.
If you feel like you are skilled enough to do the work at home, and keep in mind that this is a big deal, you can get a similar result for a lot less money.
Supplies can cost anywhere from $100 to $1,500, depending on what you already have at home.
Professional auto painting costs
Many auto body shops offer various levels of service to serve customers with different budgets and requirements.
The main types of painting service are:
Basic – The cheapest paint job involves the fewest coats possible, using synthetic enamel paint.
For basic work, painters are unlikely to paint areas that are not normally visible, such as the inside of the hood. Basic costs range from $300 to $900.
Standard – The cost of a standard paint job generally includes sanding the bodywork and removing rust before painting to obtain an attractive finish. Standard costs range from $1,000 to $4,500.
Showroom Quality – This process involves sanding the body to bare metal, removing all rust and dents, and then applying up to 24 coats of high-quality paint.
The project can take up to a month and showroom quality costs can be as high as $20,000 in some cases.
DIY auto painting costs
For older vehicles, the cost of a professional paint job can be steep. In these cases, you may want to try painting the vehicle yourself.
The necessary materials are widely available in hardware and automotive stores for as little as $200. Your only other costs are time and effort.
Materials and tools needed include:
Bright paint.
Primer.
Foam brushes.
Paint trays.
Scotch tape.
Sandpaper.
Mineral spirits for cleaning.
One of the biggest concerns with a DIY project is finding a place to paint the vehicle. Many professional paint and body shops have climate-controlled booths designed to limit the amount of dust and dirt that can come into contact with the paint and ruin the finish.
Consider quality vs. price before painting your car
Everyone wants cost-effective service, so when you contact auto body shops for quotes for your auto painting project, it's tempting to go for the lowest-priced offer.
However, you get what you pay for. Lowball quotes can be for a poor quality paint job, using inferior materials, and skipping important steps.
Instead of removing the trim, painters can simply mask it and may not paint the areas that are not visible.
The quote may not include certain services that car painters charge as an additional fee, meaning they may choose to paint over issues like rust or dents rather than take steps to address those issues first.
Before committing to a service, ask painters what steps and details their price covers.
Check to see if sanding and prepping are part of the cost, and ask to see previous examples of their work to make sure you're happy with the quality.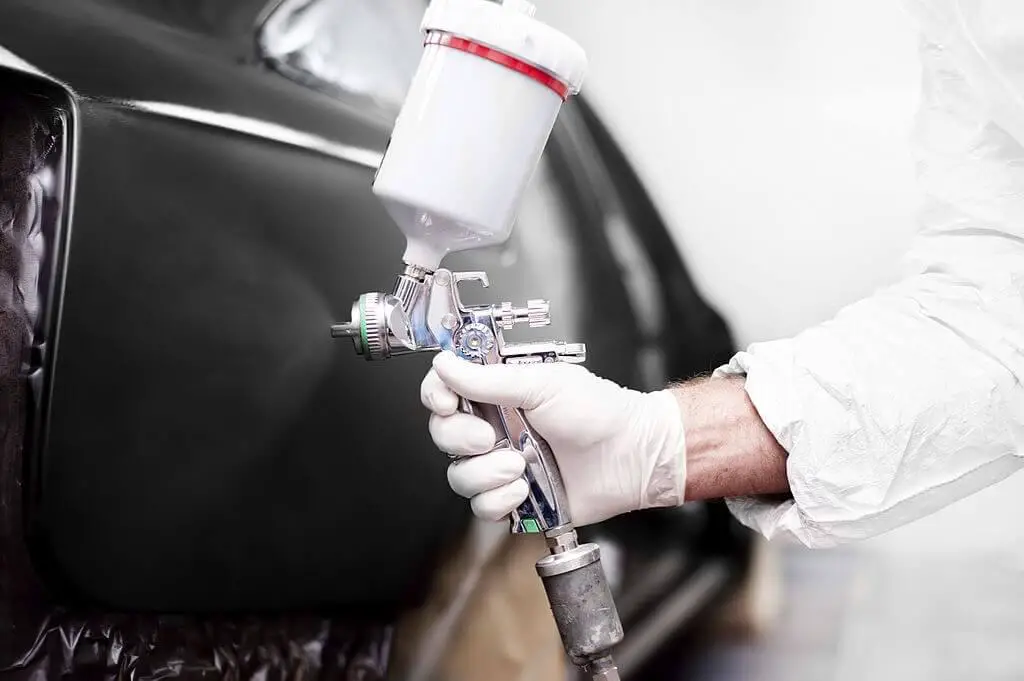 What Affects the Cost of Painting a Car?
Like many things in life, you will absolutely get what you pay for when it comes to professional paint jobs.
You can walk into a low-budget store and go out for $500, but don't expect it to be a top-notch job.
Car wash with magic fingers. A solid, high-quality paint job costs around $5,000.
Vehicle size:
Painting a Geo Metro is going to cost a lot less than painting a Cadillac Eldorado, based solely on the fact that the Caddy has significantly more space that needs paint.
Additional Repairs Needed:
If you can't get out of the Starbucks parking lot without navigating the curb, you will have to pay more to repair any damage before painting the vehicle.
Color:
Choosing a conventional color like black, white, or gray is the cheapest way to go. If you want a specialty color, especially one used by a premium automaker, you'll pay more.
Also, keep in mind that changing the color of your vehicle will cost more due to the labor it will take to paint the engine compartment, door jambs, and more.
Quality and paint preferences:
You can get a single coat synthetic enamel paint job for as little as $300. Prices can be around $1,000 for this type of paint.
A higher quality paint job that includes bodywork, such as dent / rust / damage repair, can cost up to $3,500.
High-quality, multi-layer paint jobs can cost up to $8,000 or more, depending on color and vehicle. Extras like racing stripes, metal flakes, and caramel coat colors add to that price tag.
Low Budget Paint Job
The cheapest professional paint job would cost you between $350 and $900.
Although it is a professional job, the reason the paint job is cheap is due to the quality of the paint, the number of layers painted, and the areas painted.
For this type of paint job, don't expect your car to appear fresh from the factory.
Some companies avoid painting car parts, such as the inside of the doors, the B-pillar, and under the hood, to save time and money.
Medium Budget Paint Job
A mid-budget paint job will cost you between $1,000 and $5,000. This type of paint job is appropriate for someone who wants to make sure the paint job is done correctly, without rough surfaces, and with a proper finish.
This paint job includes all textbook work like removing rust and sanding the car body. This equates to a more pleasant surface and also a better appearance.
High Budget Paint Job
There is no limit to how much a paint job can cost. Rolls-Royce did paint with powdered diamonds. While the price has not been revealed, we can leave it to our imagination.
A paint job that is more expensive than $10,000 is in most cases for those who want the more modern type of paint job.
If you decide on this type of paint job, be very careful not to scratch it.
Alternatives to Painting a Car
Plasti Dip is a good way to easily change the look of your car. It's easy and cheap, so if you don't like the results or want to try something new later, you can easily remove it!
The good thing about Plasti Dip is that it is easier to use and if the result is not satisfactory, you can simply remove spray paint.
Another alternative would be to wrap your car. Wrapping your car is a limited option, as the paint under the wrap must be in good condition.
The cost is very similar to that of car paint when it comes to volatility. Factors such as the type of vinyl used, the size of the vehicle, and its appearance. If your car has a lot of edges and hard-to-reach areas, the wrap will be more expensive.
Another alternative would be to wrap your car. Wrapping a vehicle is limited because the paint underneath must be in good condition, there is volatility, and the cost is similar between wrapping and painting.
Factors like the type of vinyl used, vehicle size, and appearance also affect the price – if you take a lot of edges or hard-to-reach areas, your costs are higher than average because more time is spent working on working those well. parts.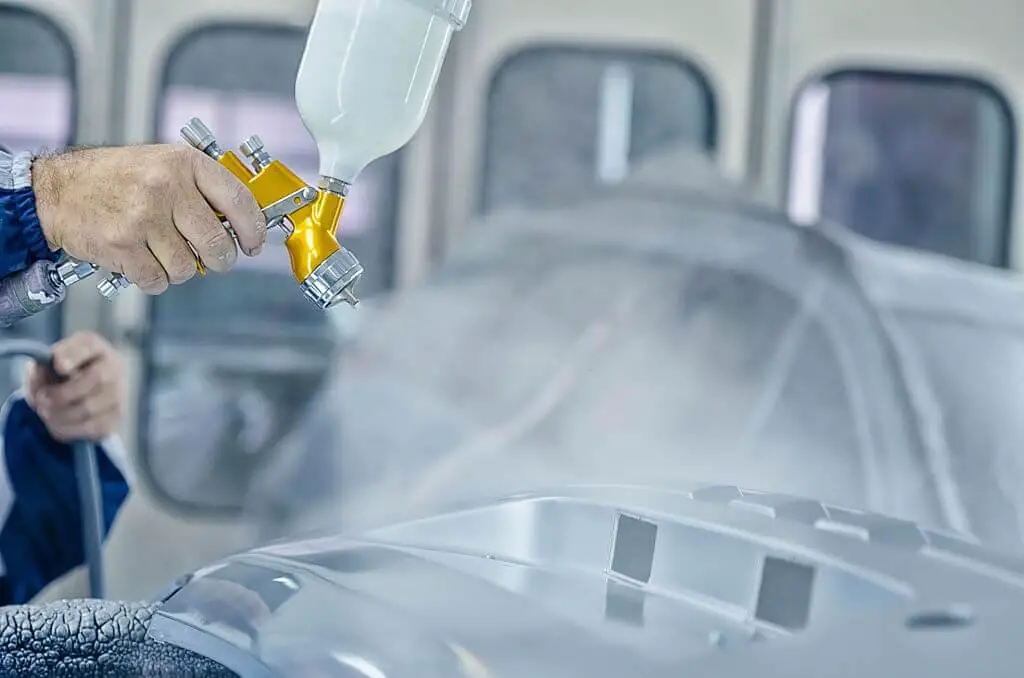 Frequently Asked Questions (FAQs)
Why Is Car Paint So Expensive?
Car paint is expensive because people are eager to pay for it. And receiving that paint to apply equally on the support and on the metal components, for some, for several years, is not as simple as you may suspect.
The explanation for it being so expensive is that people are happy to meet that cost. Like most vehicle parts, vehicle manufacturers push for an ideal price from paint makers.
What is the most expensive color to paint your car?
Red and yellow paints are usually the most expensive due to the higher cost of creating and finishing these colors.
Red car paint is very expensive because the pigments used in red are expensive. The paint is essentially tones suspended in the fluid, and those red colors are the ones that charge the most to produce.
That has nothing to do with accessibility or metal; the way the world around us works is simple.
Is it a good idea to spray paint a car?
Even if you spray a clear coat over your work, spray painting a car just prolongs the inevitable – the need for a professional paint job at some point in the future.
For more information on how to spray paint a car, talk to an expert at your local auto parts store.
Do some colors fade faster than others?
There is no evidence that some colors fade faster than others. What you might be seeing is that dark colors show a more visible fading than lighter colors.
When should you consider painting your car?
Well, as with many decisions in life, there are no hard and fast rules when it comes to deciding when to paint your car; it really depends on how much you value a clean trip.
Some people decide to paint their cars only every 5 years to save money and others feel they need a new coat of paint after any noticeable scratches or scratches occur.
In general, if you have any type of bodywork, such as major dent removal, it usually indicates some type of collateral damage to the surrounding area that will require repainting at a minimum.
Now, this is not a law, but it is generally cheaper, faster, and easier to have a paint shop repair your body than to pay for a minor wear-and-tear accident.
How long does it take for car paint to dry?
Technically, car paint dries completely in 24 hours, but you'll still want to be careful with a freshly painted car.
Read our guide, how long does it take for spray paint.
Avoid washing it with soap for at least 30 days to give the paint time to cure. Also, stop waxing and polishing the car for at least three months.
How long does it take to paint a whole car?
Depending on the complexity of your paint job, it could take anywhere from 3 days to 1 week to paint your car.
As you shop around to find the best shop to paint your car, consider how long it takes. Stores that quote you a quick turnaround time may not provide the quality of work you want.
What color car paint is easiest to maintain?
White, silver, and gray are the easiest colors to maintain. Even without washing these colors for a few weeks, dust and debris remain well-hidden as long as the car remains dry.
Is it cheaper to wrap or paint a car?
A basic or cheap paint job can cost less than the cost of wrapping your car. But any specialty paint job or high-end paint choice can cost more than a basic car wrap job.
Paint is a permanent option, while car wrapping is temporary, which can also influence the cost/benefit of your choice.
What color car paint is easiest to maintain?
White, silver, and gray are the easiest colors to maintain. Even without washing these colors for a few weeks, dust and debris remain well-hidden as long as the car remains dry.
What size air compressor do you need for painting a car?
The most basic painting jobs can be done with an air compressor with 15 psi of air pressure and 10 horsepower that can paint approximately 20 cubic feet per minute. You can also check out our guide for the best spray gun for small compressor.
Stronger air compressors will be more efficient. Some colors depend on more air pressure or CFM, so see the paint job recommendations you have in mind for more details.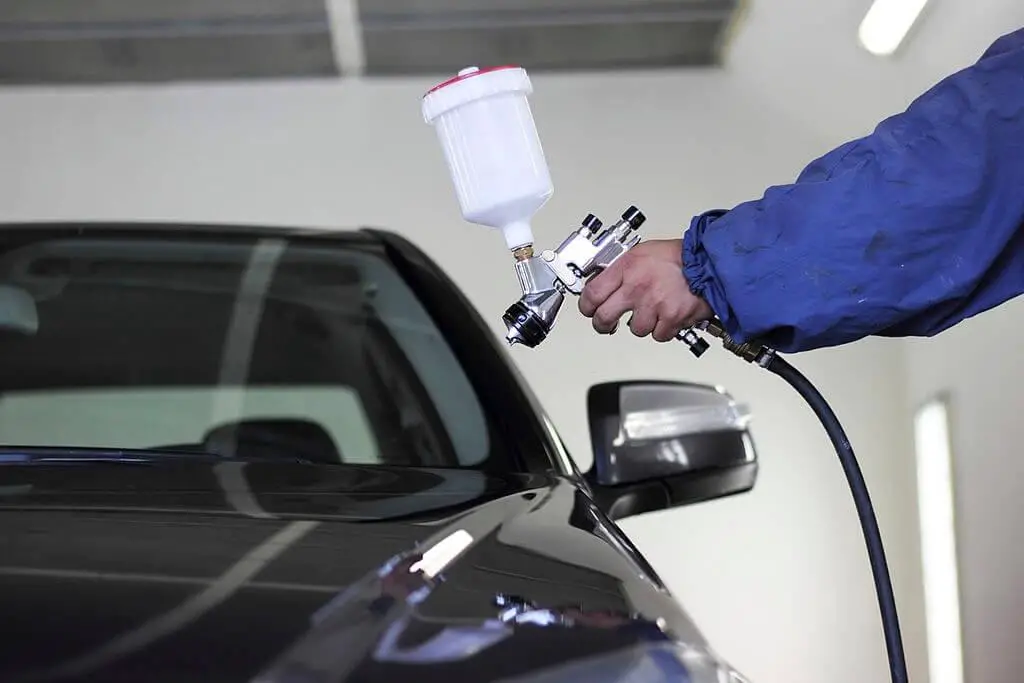 4 Factors Should Consider When Paint a Car
Painting your car is an undertaking that can bring a lot of satisfaction. Not only will your car look new, but its exterior durability can also be significantly improved. Choosing to repaint your car also requires an investment of money and time.
Before taking your vehicle to a paint or body shop, take some time to learn the facts.
Understanding what the painting process entails makes it easier to choose whether or not you want to repaint your car.
1. Painting a Car Takes Time
Some auto paint stores have a turnaround time of three days or less, but in general, you should expect your car to be in the store for at least a week.
The discoloration, oxidation, and uneven surface of an existing vehicle paint do not allow for the uniform application of a new coat.
Removal of existing paint layers and other prep work must be completed before new paint can be applied. If a car requires extensive prep work, it will also increase the total price of the paint job.
2. New Paint Won't Fix Everything
It is important to have realistic expectations with repainting or repairing paint.
For best results, the body shop should first remove the old paint from the car and repair any damage that is present. Damages can include:
Scratches
Gouges
Dents
Wells
Oxide stains
Holes.
3. Painting Adds Value
Repainting your car is an investment in many ways. Not only will a vehicle be gifted with a like-new finish, it will also increase its residual or resale value.
But, for cars over 10 years old, you need to consider whether the improved trade-in value will exceed the price of repainting the car.
If the car is not in good condition, repainting it can be more expensive than it is worth reselling.
Some insurance policies cover the cost of the body if the vehicle was damaged in an accident.
4. Painting Requires Removing the Car's Interior
Many people don't realize that auto paint shops may have to remove everything from the car's interior during the painting process.
This can include the dash, console, and even the seats. There is some risk of these items being damaged during the painting process, so they are removed beforehand.
In addition, some process steps may be inhibited by the presence of these internal components. Removing them allows the painting to be done the right way.
It is helpful for car owners to remove their belongings from the vehicle before bringing it in for paint repair. This reduces the risk of accidentally losing something important and saves the body shop time.
Conclusion
Painting your car is not as easy as taking some paint and starting to brush. Many components make up the car paint and give it its special shine, effect, and aesthetics.
Paint not only makes your car look good, but it also protects it from rust and degradation. Make sure there are no deep scratches affecting the paint.
When choosing to have your car repainted, make sure you understand how much it costs to paint a vehicle.
Therefore, after discovering the expenses, consider your financial plan with caution.
If you try to go about business as cheaply as could reasonably be expected, the job may not have a high expectation, leaving you disappointed with the outcome.