When looking for a paint sprayer, you could decide between an Airless or HVLP paint sprayer.
It will be immediately apparent to most buyers that there are many factors that go into the decision.
There are different paint sprayers systems. We will focus on the differences and similarities between HVLP vs airless paint sprayers.
Specifically, you will have to decide between HVLP or Airless paint spray systems.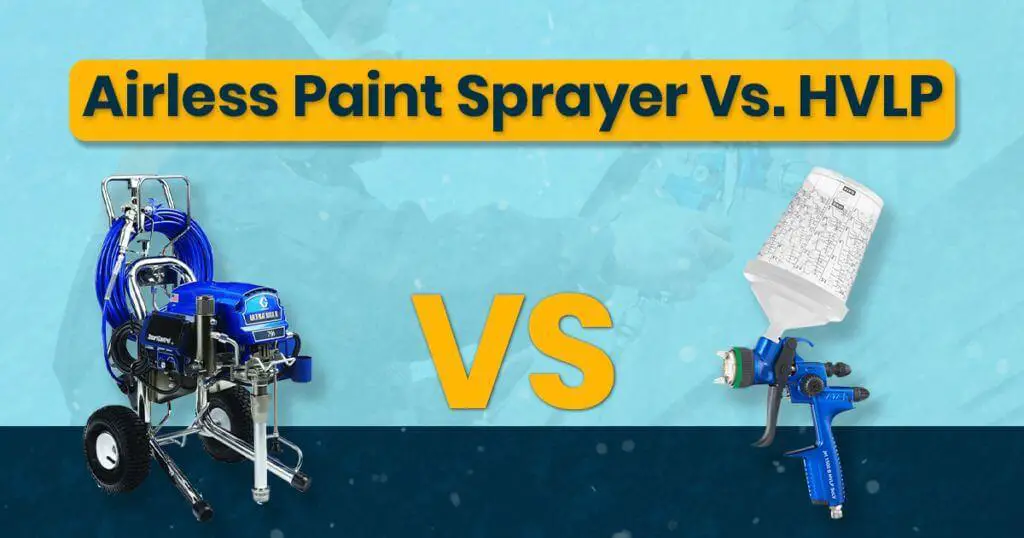 Considering how obvious it will be in the results if you get something wrong, you definitely want to make an informed decision.
However, there are some particular differences between them, and each has its own uses and benefits. Down here and consider some major differences before selecting.
Airless Paint Sprayers
Generally speaking, the airless sprayer will be used for important jobs, like painting a house or a fence, or something like that.
It is a high-volume tool. The end result will look good, of course, but it doesn't have the same level of refinement that is sought in smaller jobs.
Its pumping is extremely efficient and with very high precision, up to 3000 psi. Paint is released through a hose from a hole in the tip of the spray gun.
The tip of this spray gun is designed in such a way that the paint takes on a fan-shaped pattern based on small droplets. This pattern has a very uniform appearance.
Although you use different techniques, you can apply different types of finishes, such as fine materials, such as varnish, lacquer, or stain.
You can also confidently use a paint sprayer to apply thicker materials like latex paints. It is best for heavy painting jobs.
For example, if you are working with a 5-gallon pail of paint, all of the paint can be pumped out directly as you paint.
HVLP Paint Sprayers
HVLP stands for high volume low pressure.
HVLP is similar to any other conventional spray gun! It also uses a compressor to extract the air. But the difference is that this particular HVLP requires low pressure (LP) while using low air volume.
The turbine unit is a derived motor that contains a vacuum cleaner. This eliminates the need to use the regulator going to the compressor. You can also check out our post for the best spray gun for small compressor.
Technically speaking, you can use the systems interchangeably, but you don't want to. Both HVLP and airless paint sprayers have their own specialty. Respecting this fact will ensure that you enjoy the best possible results.
And that's that. Now that you know what these two tools are capable of, read on to check out some great HVLP and airless spray systems so you can decide which one is right for you.
HVLP vs Airless Paint Sprayer: What are the Differences?
Paint Consumption
One of the most notable differences between airless paint sprayers and HVLPs is the paint consumption of both.
Thanks to the fact that the transfer rate of an HVLP is approximately 90%, while that of an airless paint sprayer is 60%.
And HVLP is generally more preferable in this regard than the airless sprayer, especially for those who want to keep a low volume of paint to do a large volume of the paint job.
Material Viscosity
If you have selected an airless sprayer, it is not necessary to dilute it. However, always consider thinning heavier viscous material. Otherwise, the result will be direct and not uniform.
When choosing HVLP, due to the low pressure, you need to dilute the paint before use. It is very important to understand this point to handle different paint jobs.
For example, if you are using latex enamel paints, do not use HVLP as it requires high-pressure work.
When using the airless sprayers, you need to thin the paint, otherwise, the paint will come out in a direct spray. In the case of HVLP, thinning paints such as enamel latex are required.
Performance
When it comes to varying spray quality, HVLP sprayers are best suited for the job. The pressure provided by the HVLP compressor is adjustable unlike the hydraulic pumps used in airless paint sprayers. HVLP turbine units are portable and therefore useful when you need to move.
The hot compressed air from the HVLP also offers an advantage in faster drying of paint materials applied using this method.
Speaking of airless sprayers, they are capable of more paint materials compared to HVLP. The main reason is that you do not need to thin the material. Airless sprayers are portable. You can easily apply thicker paints to larger surfaces.
If you want a super-fast job, the airless sprayer will apply tons of gallons in just minutes. That's why airless sprayers are more popular with contractors working on larger surfaces.
Don't get too excited about its performance to manage work more fluently in tight spaces, though, HVLP does a better job. To control different patterns, HVLP is more efficient.
Finish Quality
Airless paint sprayers generally produce a higher quality of finish than HVLP sprayers, and therefore professionals seeking that high amount of smoothness and gloss generally prefer airless ones.
The reason for the airless sprayer's amazing finish quality is its airless pressure system, which helps reduce the possibility of air mixing with paint, thus providing a bolder, smoother finish.
Transfer Rate
Transfer rate is the measure of efficiently transferring paint from the sprayer to the surface. Airless sprayers have a 50% transfer rate, while HVLP offers 90%.
That means HVLP doesn't cause any product waste. It also reduces air pollution.
Airless sprinklers are based on high-pressure systems generally below 2000 psi, so they also produce a lot of waste. On the other hand, an HVLP works just fine with 10 psi.
Work Volume
For working with a large number of materials that are spread over a great distance, airless paint sprayers are the best choice. They help you get a lot of work done in a short time.
HVLP, on the other hand, is used for tasks that do not require as much time savings, but rather a higher degree of precision and efficiency. They help you get a small amount of work done as accurately as possible.
Price
HVLP is proven to produce better results and is environmentally friendly. Therefore, this is more expensive than a typical air sprinkler.
Air paint sprayers like HVLP are always cheaper to buy than airless sprayers.
The price range for the latter is between $20 and $100, or in very rare cases, slightly higher, while airless sprayers sell in the $200 – $1000 range in some extreme cases.
The higher cost of airless is due to its superiority in terms of ease and speed and, of course, the smooth finish.
Read our full guide on how much does it costs to paint a car.
However, if you are working on a budget, you can choose an air sprayer that is more cost-effective.
Remember that the high price of HVLP only represents better technology and endurance. Due to the higher transfer rate, the paints will last longer compared to an air spray.
Conclusion
HVLP and airless sprayers complement each other, and the choice of one or the other will depend on what you want to achieve.
From this detailed comparison of HVLP vs airless paint sprayers, it is obvious that the selection depends entirely on your type of work.
If you're doing a massive painting project, like painting an exterior wall, choose airless sprayers. It will save you time and money. Read our guide, how long does it take for spray paint.
If you need to paint small surfaces, paint graphics, or any other job that requires attention to detail, choose HVLP sprayers.
Most importantly, you must observe all safety precautions and protect yourself and those in the workplace.
We wish you all the best for whatever you choose between the two. Don is confused and you can always reread this article to clear up any doubts.