Painting a car is not as easy as it sounds. You have a lot to take care of before you even start painting your car.
Having your car professionally repainted can be an expensive proposition. However, it is possible to save some money and have a little fun doing the work yourself!
Here, we'll be talking about all the steps necessary to paint a car.
Learning how to paint a car at home and how to paint a wall at home is far from the same.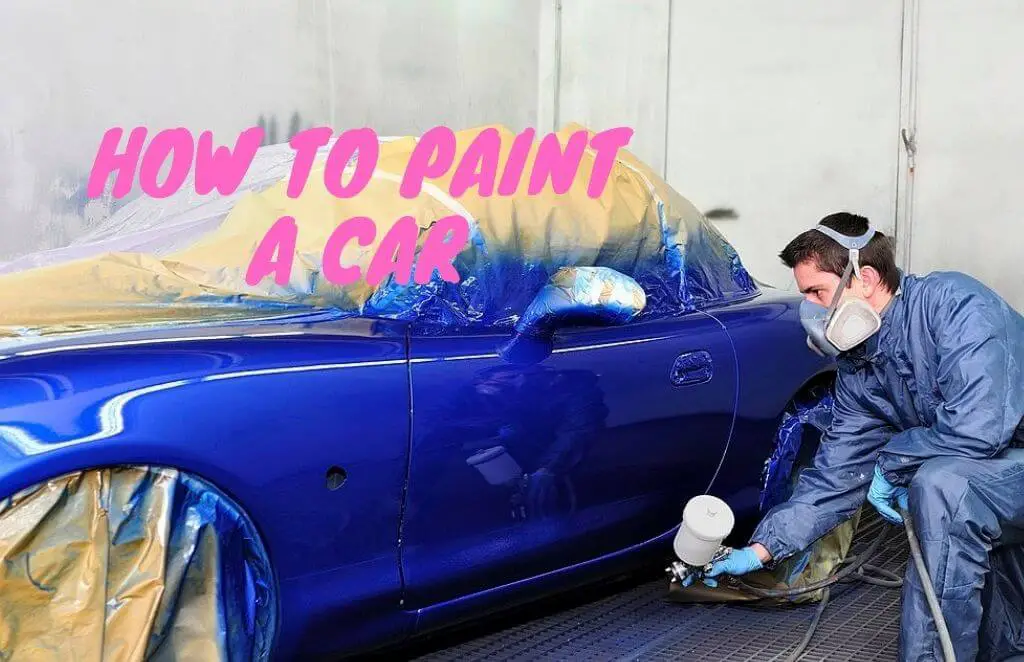 One job requires a few paint rollers and a can of paint, while the other involves a litany of products, clearcoats, primers, and sprayers. This is why professional car painting jobs can be so expensive.
The process is complex and requires some skill, but that doesn't mean you can't learn how to paint a car and give your vehicle a new look. Here we show you how to paint a car on your own.
Use the following overview as a guide, but watch an experienced painter in action and practice with a junker or two before attempting to paint your own car.
Before You Start
Before you start to paint your car you should consider these things:
Do you have a place to prepare and paint the vehicle?
Do you have the necessary tools to paint a vehicle?
Are you painting the entire vehicle (door frames, trunk area, under the hood, etc.) or just the exterior?
Will the vehicle be stripped down to bare metal or will it be painted over the existing finish?
What type of paint are you planning to use?
Single-stage, base coat / clear coat? Urethane, acrylic enamel, acrylic lacquer, water-based?
What brand of paint system are you going to use?
The Right Place
If you are considering painting your vehicle, first think about where you are going to prepare and spray it.
Do you have a dry place to store the vehicle while you prepare it? Ideally, you want to spray in a clean, dirt-free, temperature-controlled environment.
Are you renting a paint booth, painting in your garage, or painting in your driveway? Is it legal to spray a vehicle there?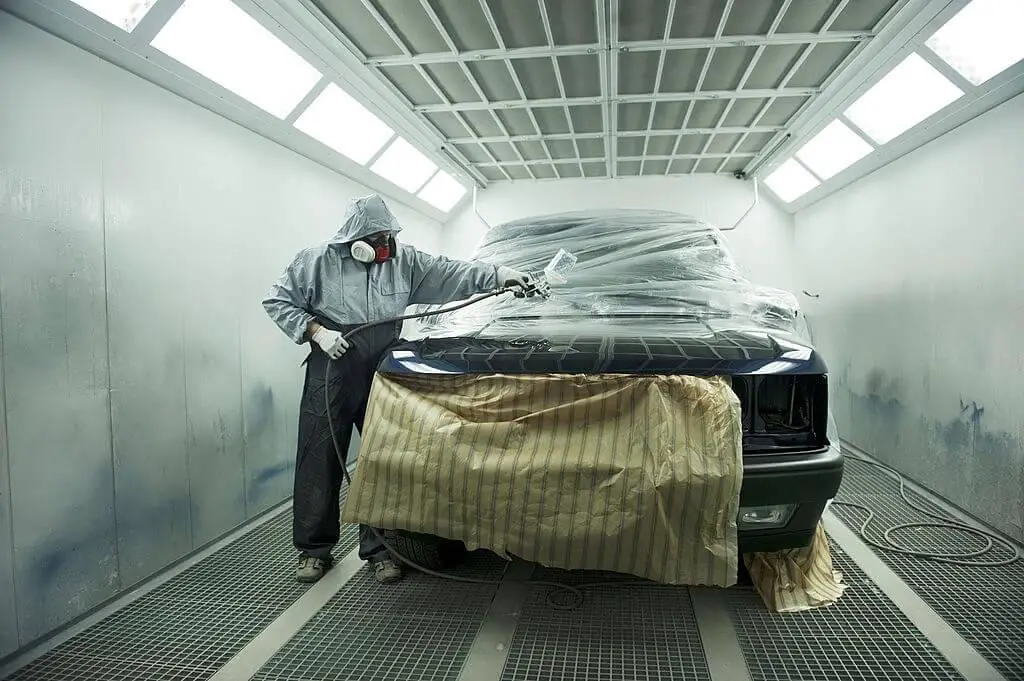 All of these factors should be taken into account before thinking about buying a paint gun.
The Right Paint
Depending on the purpose of your project, you can select different types of paint.
If you're looking for durability, urethanes, basecoat/clearcoat finishes, and water-based finishes are great options.
Before you start spraying, be sure to read the paint mixing instructions and the paint gun instructions. Make sure your paint gun is set to spray the type of finish you are using.
Materials and Tools
In order to properly paint your car, you will need a few important materials:
An electric sander
Sanding pads
An air compressor
1200 and 2000 grit sandpaper
A cleaning solvent
Newspaper
Scotch tape
Primer
Enamel, acrylic enamel, or polyurethane paint
Paint thinner
A mask
Safety glasses
Base coat / primer
A clear coat lacquer
A rag
Denatured alcohol or mineral spirits.
How to Paint a Car: Step by Step Instructions
Now there is an easier way to paint a car, without destroying the heart of your home in the process.
You can't rush a proper paint job – painting your vehicle is time-consuming, so be sure to set aside a few days to get the job done right.
Choose Your Location Wisely
Before starting any actual painting, you will need to find a suitable location for your DIY project.
Make sure its location offers enough space to work around your car and that it is well ventilated and lit.
Choose a location with minimal electricity and dust. Avoid residential garages, as they often have ovens or heaters, which pose a fire hazard when in contact with paint fumes.
Your home garage may qualify, but do not paint in your garage if it contains a water heater, oven, or other potential sources of ignition of paint fumes that will build up during the process.
Remove Rust, Dents, and Trim
Make sure your paint job doesn't accentuate any imperfections – fix visible dents, repair rust, and remove chrome or plastic trim. The trim and trim can be replaced once the painting has been completed.
Rust is a common term for the rusting process of steel and is typically caused by exposure of unprotected metal to water or water vapor.
Adding salt to the process, such as on salty roads in the winter or beach driving in the summer, only speeds up the process and can quickly turn sheet metal into an ugly, rusty, and flaking mess.
The worst problem with rust is that once the oxidation process has started, it is very difficult to stop it.
Even removing the source of moisture will not prevent the metal from self-destructing rust, so the only options are to remove the rust entirely or to stop the oxidation process chemically.
Either way, the rust must be removed or treated completely or it will come back under the paint, causing unsightly bubbling.
It is not until all of the rust on the car has been removed and replaced with new metal or treated with a rust inhibitor, that we can complete the first step in our painting process.
Now that we have a solid foundation to build on, we can begin to straighten and fill warped panels and correct other imperfections.
Sanding
Sanding will be the next important step. You can sand down to the bare metal if you want, but it's not completely necessary.
Just be sure to take adequate time to sand thoroughly and finish with the wet to dry sandpaper to make sure you've given the paint a smooth, even surface to adhere to.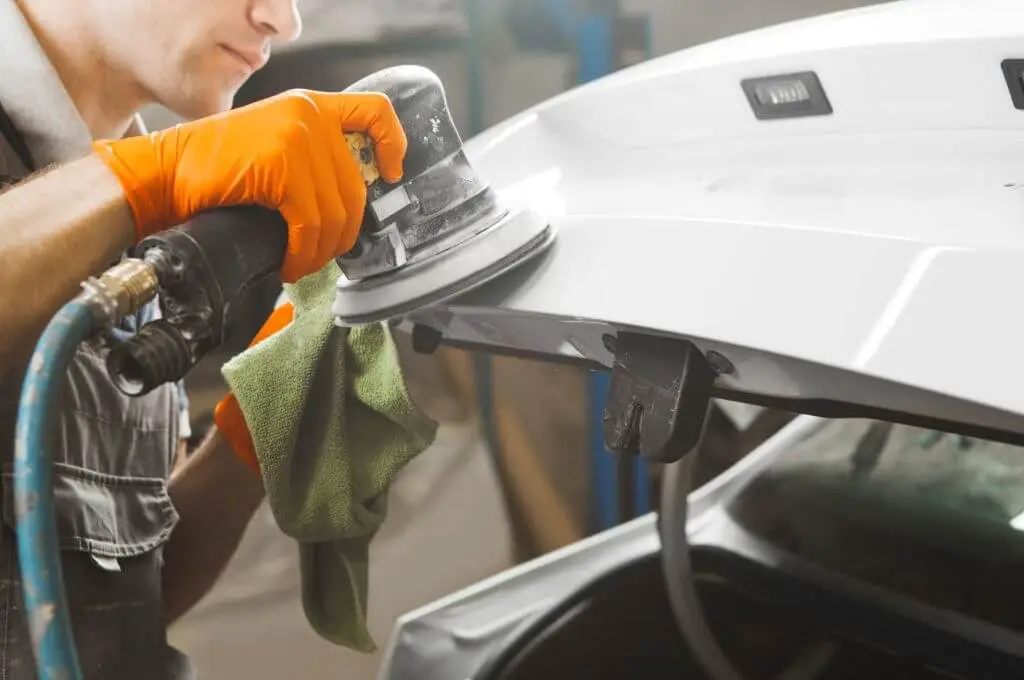 Give your paint a smooth, even surface it can adhere to Sand the entire vehicle in circular motions, either down to the bare metal, down to the original primer.
Sand in circular motions to provide as smooth a surface as possible. You may have to hand sand corners and other hard-to-reach areas.
Once you've finished sanding, clean your vehicle with thinners using a clean rag to remove dust and allow any residue to dry completely before proceeding with painting.
If you only plan to paint the exterior of the car, cover the areas you don't want to paint.
If you are going to paint your entire vehicle, you may have to go as far as to remove the engine.
Interior door sills and engine compartments will add more paint hours to the job, but if you're trying to be as thorough as possible you'll need to prepare every paintable inch.
Prim the Body for New Paint
Remove or cover with tape and plastic or paper any part of your vehicle that you do not want to paint, such as bumpers and windows.
For paint jobs that require sanding the metal, you should apply a primer-sealer to protect the metal from rust and provide a porous surface as a base for the new paint.
Once you are done with all the steps above, you are now priming your vehicle.
You can cover those areas with newspaper and tape around the edges to secure them. It will protect that area; In particular, the tires must be properly sealed before painting, so that they do not come into contact with primer.
The best way is to take your car outside to avoid clutter in a small room. And be sure to cover the lights, windows, and trunk carefully.
safety first. Be sure to wear your mask and goggles to avoid paint contact with your eyes or lungs.
Practice your spray technique first. With a scrap, hold the spray gun about 6 inches from the surface.
Spray from side to side in a continuous motion, pressing the trigger only when you are moving the gun, otherwise, the paint will be uneven and blotchy. Once you're comfortable with being able to apply a firm, even coat, it's time to move on to priming.
Each coat of primer will take about 10 minutes per panel to apply and between 20 minutes to an hour to cure.
Let the primer dry completely between each coat before proceeding to the next step.
Once fully primed, you will need to re-sand your vehicle before painting to reduce dustiness and restore a smooth, even surface.
Use the 2000 grit sandpaper and then wipe your car with thinner and a clean rag. Be careful not to use too much thinner as this can remove the primer completely, something you are not trying to achieve.
Clean out your spray gun and take the time one more time to make sure the areas you don't want to paint are covered. Tidy up your work area if necessary.
Painting your Vehicle
When you're ready to paint, make sure to follow the manufacturer's instructions and prepare the paint for spraying.
The paint is very similar to a primer. Mix paint with thinner and apply to primer.
Let it dry for an hour, like a primer. Then apply a few more final coats of the fine paint.
Two coats won't be enough, so buy another can if you don't have paint. Three to four coats are recommended to cover all areas.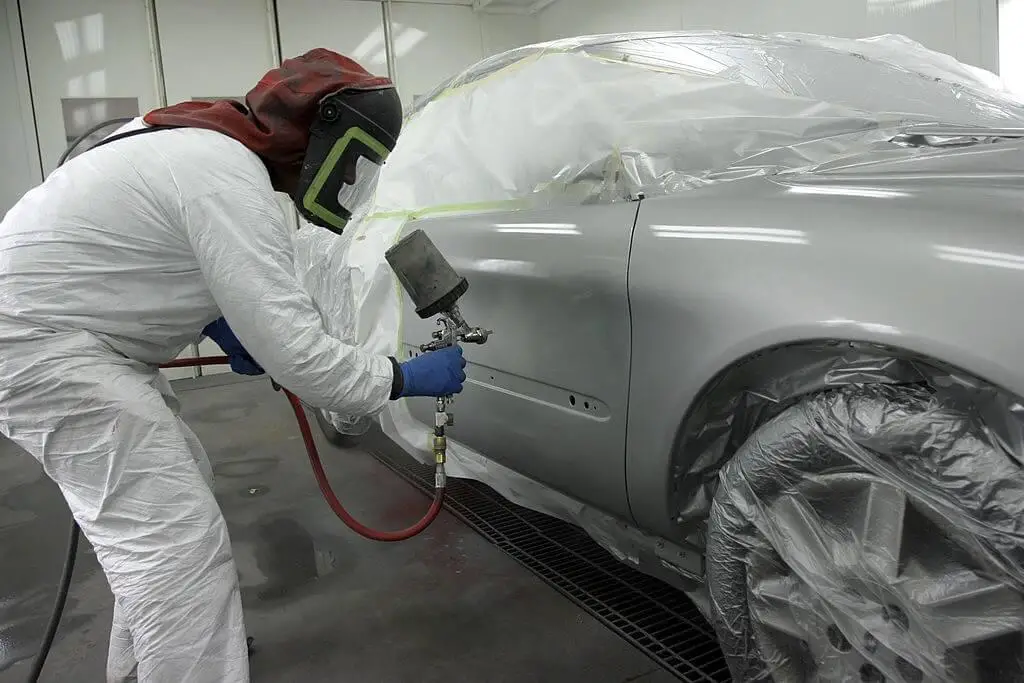 Before final painting, please wipe your car with a clean cloth. After applying the last and last coat of paint, clean the car again to the end, after the paint has dried.
In a new way forward, you will find many ways to protect your car paint.
Finishing the Job
Although painting a car yourself can be a rewarding experience, it requires a significant amount of effort and time.
This is why many people turn to a professional to do their paint job. There is also a risk that some of your paint jobs will not be smooth when you do it yourself, which would require additional work to repair.
In this case, the final cost could be comparable to having paid a professional in the first place, and you would have incurred a significant amount of stress in the process.
Professional paint job costs vary depending on the type of car, the paint used, and the intensity of the work.
If you are unsure about this or any other issue with your car, don't hesitate to call one of their mechanics today.
Car Painting Tips
There are two important tips for you
As mentioned above, an electric orbital sander is recommended, but the hand sander is very useful for edges and details, that the electric sander cannot reach.
Second, sometimes a car shows signs of immense rust. In this situation, you should go to a professional and apply a completely new coat before starting to paint.
Frequently Asked Questions (FAQs)
Can I Paint My Car Myself?
If you want to do it yourself, you'll need a well-ventilated area where dust and dirt won't fly onto the wet car and ruin the new paint as it dries.
You will also need sandpaper to remove dirt or rust, masking tape to precisely outline the area you are painting, and to cover anything you don't want to be painted.
How Much Does It Cost to Paint a Car Myself?
Supplies to paint a car yourself can cost anywhere from $100 to $1,500, depending on the materials needed.
The biggest cost of painting a car yourself is probably the headache that comes with it.
Professionals often add multiple coats of primer, paint in your preferred color, and a top coat to ensure a quality finish.
How Difficult is it to Paint a Car?
Painting a car is really a multi-step process that leads to the actual painting of the car.
Being a good painter takes a lot of patience and a certain amount of perfectionism because that shiny new paint job will reveal even the smallest imperfection underneath.
Can You Paint Over Old Paint on a Car?
Yes. You can paint over existing car paint, especially with modern paints. However, make sure the existing paint is in good condition before painting over it.
Final Words
There are many steps to take for a successful painting. It is a time-consuming job that requires hard work and patience.
If you skip steps just to complete the task quickly, you may experience poor results and do all the hard work again, sometimes twice the hard work.
Therefore, it is better to read the steps carefully and follow them. Painting a car is not a stressful job; it's quite fun if you do it without any pressure. You must have a clean, dust-free workplace and all necessary tools for painting.
After following all the steps carefully, you can achieve professional-level painting in your home.